Silver Creek Industries - Charter School
Due to the design-build project delivery approach utilized on this project, Silver Creek was able to collaborate directly with the client on design considerations during the conceptual phase of the project to ensure the modular construction systems selected would support the design intent. The project consists of a three-story structure which houses an entire charter school campus and the related functional spaces. The building contains 18 classrooms, a kitchen, multipurpose space, administrative spaces, interior corridors, an interior elevator, and interior stairs.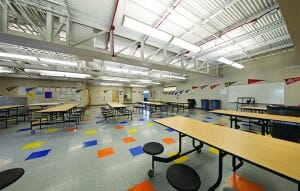 The building exterior features plaster with a bright color palette and aluminum glazing systems. The finished building reflects the coordinated efforts of all team members to provide a design focused experience.
Due to the complexity and scope of the project, the ability to perform the work in a factory environment provided the opportunity for significant cost reductions and increased quality control measures. Larger than typical modules were utilized to maximize the factory scope of work. The careful placement of the restrooms allowed those spaces to be enclosed on all sides within a single module and to leave the factory fully finished.
Spaces that could not be enclosed due to size or location were partially finished in the factory and wherever possible the remaining finishes were pre-cut in order minimize the duration of work on site. The electrical distribution system was designed to utilize larger conductors and conduits to reduce the number of electrical connections made in the field. Where possible, the ductwork was designed to be installed within a single module which eliminated the need for horizontal connections in the field.
This article originally appeared in the Modular Advantage Magazine - Second Quarter 2018 released in February 2018.
More from Modular Advantage
For this project, Forta PRO delivered 72 buildings, 144 modules, with 5,200 m2 of gross modular area. With final onsite completion in June 2023, it provides exceptional long-stay accommodation in a stunning and serene environment.