ATCO Structures & Logistics LTD. - Temporary Emergency Facility
The Montreal Heart Institute (ICM) temporary emergency building layout, comprising 42 modular units, was carefully planned with various hospital departments to meet the technical and operational requirements to run a busy emergency room. Extra width was added to corridors on the first level to allow for two-way traffic of hospital beds. A variation in floor tile patterns was used to mark bed locations and designated waiting and triage areas. In some areas, the lower half of the walls have an Acrovyn protection panel to minimize wear and tear. Two nurse's stations were installed complete with a call system for each of the 30 emergency bed locations and washrooms.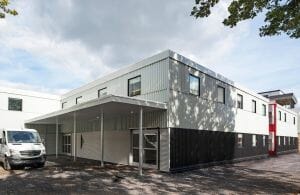 The second level has spacious doctor's offices. Large windows allow for natural light and contemporary finishes give it a less institutional feel. The install was carefully planned and executed from foundation upwards to meet the Level 02 elevator and corridor link to the hospital.
Because the building is only required for 4-5 years, and being on the neighbor's property, it was essential the design be modular. The design includes moduleto-module interconnections of all building services to minimize work performed on site. The replacement of surface mounted fluorescent fixtures in the crawl space with DEL lighting provides a more economical and more efficient lighting in a confined space.
Redirecting the exhaust air from the suspended ceilings to the crawl space also provides ICM with a more economical and more efficient solution to heat and ventilate the mechanical crawl space. The use of driven and screwed steel pile foundation also provides for a more economical solution for dismantling at the end of project versus a standard concrete foundation. The "L-Shape" complex had the structural, electrical and mechanical building systems designed to be converted to (8) smaller single-story complexes post project at low cost.
This article originally appeared in the Modular Advantage Magazine - First Quarter 2018 released in February 2018.
More from Modular Advantage
Roland Brown never imagined his life
would turn out this way. He retired from a nearly 50-year-long career, starting off as a draftsman in the mobile home industry to becoming the VP of Design and Development at Ramtech Building Systems, Inc., a design/build construction company in Mansfield, Texas with its own modular
manufacturing facility.