As the biggest steelmaker in Korea, MBI member POSCO played a crucial part in helping PyeongChang, Korea prepare for the 2018 Olympic games. The company constructed, delivered, and, installed the International Broadcast Center (IBC), Media Residence Hotel and the Kwandong Hockey Center with its World Premium Products and innovative construction
solutions.
The media hotel is particularly noteworthy as 100 percent of the building was constructed off-site via modular construction. The 110,000 sf facility was constructed and opened in just 184 days! Compared to the time it would take to build a traditional concrete building of the same scope, the construction period for the Media Residence Hotel was 18 months shorter. Since each room is a relocatable building unit, it will be moved to a different venue and recycled as another hotel or dormitory.
The building consists of various units (room units, side exterior wall units, roof units, stair units and hall units). Modular room units (size 10.8ftx23ftx10.5ft) were designed with mobility and sustainability considerations. The unit exterior was designed to minimize the decorative elements and emphasize the aesthetic of natural material's characteristic to be functional. The lobby interior was designed as class and comfortable space with texture of steel itself and emotional design. Structure in ceiling of corridor was left exposed as an architecture design element. Performance and design were enhanced by adopting the unique texture of steel; high corrosion-proof steel instead of tile for high-grade unit bath system, fabric textured color-printed steel plate for system interior wall and clear color steel plate for the fire door. Free from potential nailing and taping scratches, artwork or photo frames can be posted on the wall magnetically.
The rate of factory manufacturing was increased dramatically with the adoption of a wire-tension system for assembling units, eliminating on-site work for bolting units. The exterior wall of the modular unit was manufactured in the factory as well. Unlike North American manufacturers, the UBR POD system (including whole bathroom system from framing to plumbing/wiring) was prefabricated in a separate factory and installed in the main factory. Vertical pipes in the space for pipe and duct which was usually worked on-site was prefabricated in the factory as well. Additionally, the electrical wiring system in the ceiling was prefabricated to save time and cost.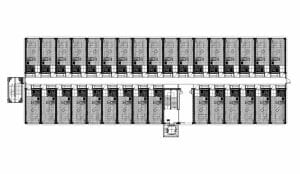 According to the International Forum World Design Guide: "Most buildings created for the Winter Olympic Games have ultimately become "white elephants". To avoid this problem, the PyeongChang Winter Olympics media residence was designed using relocatable building (RB) units as the media residence during the Games. Afterwards, the buildings were dismantled, and the site was restored to its original condition. Best of all, the RB units will be relocated and reused. To achieve this, the building design followed a fourfold concept: relocatable; reusable; recyclable (steel-based design); and reduced (100% factory made).
This article was adapted from an Awards of Distinction entry. Browse more projects.
More from Modular Advantage
For this project, Forta PRO delivered 72 buildings, 144 modules, with 5,200 m2 of gross modular area. With final onsite completion in June 2023, it provides exceptional long-stay accommodation in a stunning and serene environment.