How the Modular Building Industry Responded to COVID-19: Non-Space
Companies in the industry have helped in some creative and unexpected ways that don't involve building or deploying space.
For example, JMO Modular owns some road barriers. "We have hundreds of these things," says JMO Modular's President, Joe Helleny. "We rent them out for local festivals. They're used to direct people for ticketing."
The City of Marion called JMO Modular to ask if they could use the barriers for a different purpose.
"Restaurants in my hometown [couldn't] serve inside, but [they were] allowed to have tables outside. But they [needed] to limit access and [couldn't] have people just walking in and out," Helleny explains. "The City thought those barriers would help maintain physical distancing. So we donated the use of them to help local businesses get back off the ground. When you help another business owner, you feel pretty good."
Along with 'physical distancing', the term 'PPE' has become part of the vernacular during the pandemic — mostly because of shortages of it. Wilmot Modular Structures didn't have a problem with finding enough masks for their team, though.
"My son, Chris — who is also our videographer — has a 3D printer," says Vice President and Chief Operating Officer, Kathy Wilmot. "He started printing masks the first week of the pandemic, and we've been able to give masks to all our employees."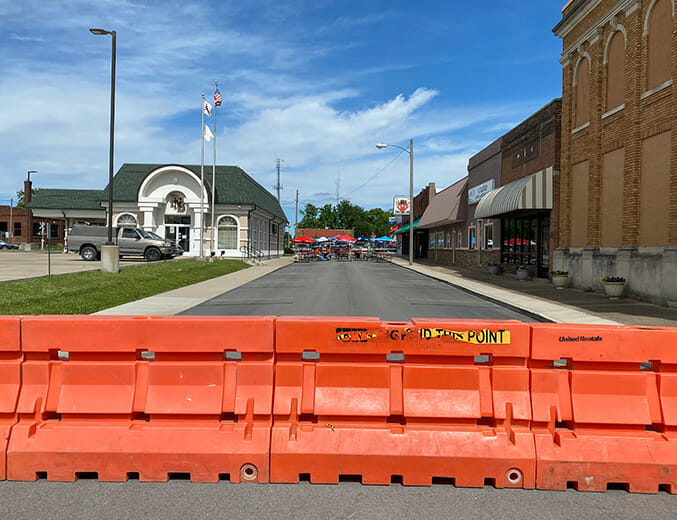 JMO Modular repurposed road barriers to help local businesses with social distancing.
Chris Wilmot explains that each mask contains "a HEPA filter that's commonly used in HVAC units. It was perfect for what we wanted to achieve."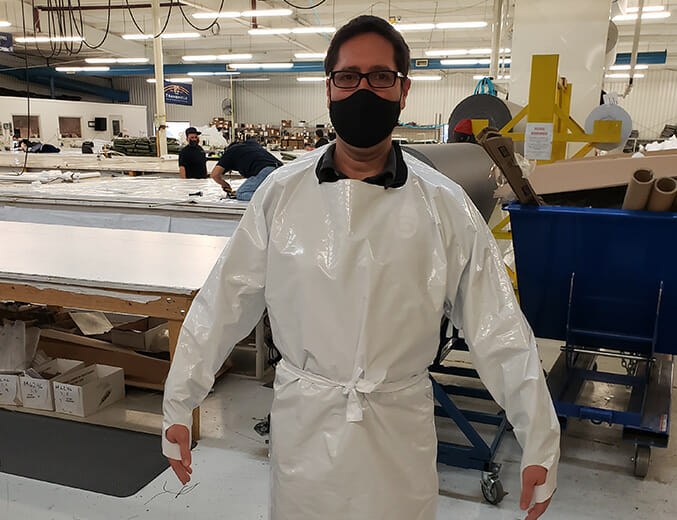 Transhield used their modular wrap material to create hospital gowns.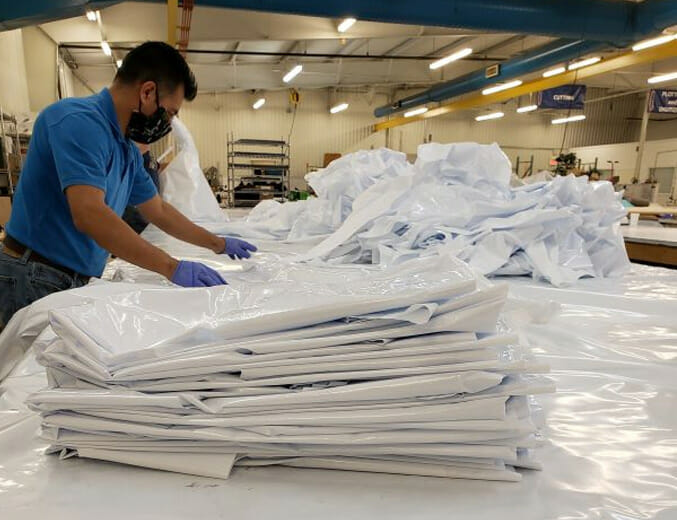 Transhield also created divider curtains for a regional hospital.
The PPE shortage was also addressed by Transhield, a company based in Indiana, USA. Transhield manufactures the wraps for modules when they go on the road or when they're stored.
When the pandemic hit, a hospital in Terre Haute, Indiana couldn't source enough protective gowns. They reached out to Transhield for help.
"Based on their design, we produced a prototype made with one of our thinner materials, so people wouldn't sweat so much when wearing it," explains Matt Peat, Executive Vice President of Transhield. "We sent it by overnight delivery to the hospital and they loved it!"
Transhield produced a thousand gowns for the hospital.
"We were just covering our costs — but it was keeping our people busy until we had other work for them.Some of our senior executive even came in the evenings to help prep the material for the sewing staff."
Another hospital in Indiana contacted Transhield with a different need. In anticipation of a surge of COVID-19 patients, the hospital needed to increase capacity and turn single rooms into double rooms.
"They asked us to make washable privacy curtains to run between patient beds," says Peat. "Our non-laminated boat cover material worked. We put grommets in so they could run a cable through them and attach the curtains to the walls."
About the Author: Zena Ryder is a freelance writer, specializing in writing about construction and for construction companies. You can find her at Zena, Freelance Writer or on LinkedIn.