How the Industry Responded to COVID-19: Diagnostics & Hygiene
Many modular companies have quickly built, mobilized, or developed space for health and hygiene purposes. These include testing, screening, handwashing, showering, and disinfecting.
Quarantine Pods, Screening and Testing Pods
Headquartered in Alberta, Canada and Colorado, USA, PCL Construction operates in Canada, USA, Australia, and The Bahamas. Their modular division, PCL Agile, collaborated on developing two products: Quaran-Tin Pods and Citizen Care Pods.
The Quaran-Tin Pods are retro-fitted shipping containers, designed for care and isolation of COVID-19 patients. Each unit has its own HEPA filtering system and negative pressure, to avoid spreading the virus.
Citizen Care Pods are also built from shipping containers. They're designed for safe COVID-19 screening and testing — and, [now], vaccination.
The multidisciplinary development team involved a number of different companies. It took less than a month for them to develop Citizen Care Pods from concept to completion.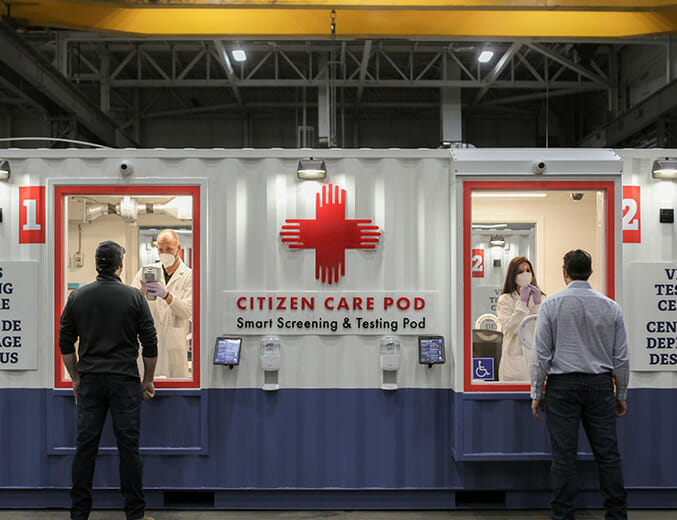 Administering COVID screenings at one of PCL's Citizen Care Pods.
Each pod has a built-in Internet of Things (IoT) platform to monitor and issue notifications about temperature, pressure, and humidity inside the pod. On the outside of each pod, AI-enabled cameras collect data on how many people are waiting and for how long. This information can be used to predict future needs for staffing and supplies.
"A challenge we faced was prototyping and manufacturing a product while normal supply chains were disrupted," says Troy Galvin, Manager of PCL Agile. "So the team designed and built the Citizen Care Pod using only materials and parts that were already available."
Galvin credits the speedy development of the pods "to the passion and can-do attitude of the partnership group, providers, and suppliers."
Testing and Quarantine Spaces
JMO Modular is based in southern Illinois, USA. The President, Joe Helleny, explained that the weather can change quickly in the area. The changeable weather was causing problems for the local hospital system that had been using tents for COVID-19 testing sites.
"They wanted more robust testing locations," Helleny explains. "So we're placing three containerized offices for their mobile outdoor testing sites. That was a proposal last week, a project next week."
Speed was also a factor for quarantine space JMO Modular deployed for a veterans' home in Anna, Illinois.
"The building was already set up like an exam room, so it was perfect," Helleny says. "They signed a contract within 48 hours and we had it on site and ready to go within two weeks."
Quick Deployment
WillScot has a large inventory across North America. "We have about 80 million square feet of modular space," says Scott Junk, Director of Marketing. "About a quarter of it is ready at a moment's notice. Another 50% could probably be ready in a week or 10 days."
So they're well placed to help in an emergency. Many of the buildings they've deployed are panelized. Panels can be swapped out to customize the buildings for clients. Different sized windows and doors can be put in. And the modules can be placed in different configurations, including stacked.
They've deployed space for testing and screening in New York and New Jersey, USA. The General Jewish Hospital in Montreal, Canada is also using some of WillScot's buildings for assessment and testing of employees before they enter the main hospital buildings and come into contact with patients. The company has also deployed handwashing stations in locations across North America.
Showers for Medical Staff
Wilmot Modular Structures is based in Maryland, USA. They've deployed screening space and handwashing stations, and also built shower space for medical personnel.
Vice President and Chief Operating Officer, Kathy Wilmot, explained that some hospitals in the area are caring for COVID-19 patients in converted convention centers.
"We built some shower containers for these retro-fitted convention centers," Wilmot says. "At the height of the pandemic, it was hard to find the fixtures, but our purchasing guy worked practically 24/7 to procure everything we needed!"
Supply chains were challenging in other ways too. Once the pandemic hit, some of Wilmot Modular's existing customers asked to switch their soap dispensers for touchless, motion-detection versions. "But this kind of thing was hard to get!" Wilmot says. "We had to go outside our normal supply chain and find new suppliers. That's good — because it improves our ability to find materials and parts in the future."
Pre-Screening Spaces
Canadian company, Horizon North, provided a structure for pre-screening outside a hospital in Ontario. In Western Canada, they've also rented out "quite a bit of space for pre-screening in workplaces, such as on construction sites," says Joseph Kiss, President of Modular Solutions at Horizon North.
As well as providing health and safety spaces for others, the company's own health and safety practices were scrutinized. "Our Grimsby, Ontario manufacturing facility was third-party inspected for our COVID-19 safe work practices and protocol," says Kiss. "We came out with flying colors."
As well as manufacturing modular buildings, Horizon North deploys and runs workforce accommodation. Their health and safety practices on this front were also endorsed by a third party. Rod Graham, Co-Chief Executive Officer of Horizon North Logistics says, "The Minister of Energy in British Columbia adopted our COVID-19 hygiene protocol for any industrial work camps in the province."
Assessment Centers & Washroom Facilities
The Black Diamond Group has two business units — Modular Space Solutions (which includes the Boxx and Britco brands) and Workforce Solutions (which provides workforce accommodations). They serve customers throughout Canada, USA, and Australia.
"Our industry as a whole does a great job of responding to crises: forest fires, hurricanes, tornadoes — and pandemics, apparently," says Toby LaBrie, Executive Vice President and Chief Financial Officer of Black Diamond Group.
Black Diamond Group itself is no stranger to helping out in a crisis.
"We supply buildings to fire fighters during forest fire season," says Christoph Neufeld, Regional Manager at Britco. "We helped out during the California forest fires and during the Fort McMurray fires a few years ago. When there's a hurricane in the US and people's homes or offices are destroyed, we provide temporary space. We're proud to do our small part to help communities affected by a disaster."
They've been able to provide COVID-19 assessment centers in a number of jurisdictions. And they've also seen increased demand for washroom facilities.
"Large construction sites might have three hundred people working onsite for a few years," says Neufeld. "In the past, portable toilets were acceptable. Now, they want proper washroom facilities, which we've provided."
About the Author: Zena Ryder is a freelance writer, specializing in writing about construction and for construction companies. You can find her at Zena, Freelance Writer or on LinkedIn.