Examining the Global Modular Construction Market w/ DORCE Ltd. [podcast transcript]
Examining the Global Modular Construction Market w/ DORCE Ltd.
In this episode of Inside Modular, Mehmet Yucesoy, business development manager at Turkey's DORCE Ltd., shares DORCE's 40-year story of international success and details how modular construction can be applied to almost any construction market around the world. Mehmet also gives advice on how modular companies can begin to expand their globalization efforts.
John McMullen
Hello and welcome to Inside Modular: The Podcast of Commercial Modular Construction brought to you by the Modular Building Institute.
Sponsored ad
With a compact footprint, variety of unit options and seamless system management, City Multi-Variable Refrigerant Flow Zoning Systems from Mitsubishi Electric Train HVAC US are a one-stop solution for modular projects. With efficient operation and the ability to connect to commercial ventilation equipment, third-party systems, and comprehensive control solutions, City Multi-VRF can help you meet energy and performance goals on your next project.
From off-site development to on-site assembly, you can trust our manufacturer-level support to guide you from system selection to design to startup no matter the application.
To learn more about our offerings visit Mitsubishipro.com
Welcome everyone. My name is John McMullen and I'm the Marketing Director here at MBI. Today I'm talking with Mehmet Yucesoy, Business Development Manager at DORCE. Mehmet is here to talk about the challenges and opportunities of the commercial modular market in Europe and the Middle East. Mehmet, thanks so much for your time today.
Mehmet Yucesoy
Thank you very much John. Thank you very much for your time and attention of this process for us.
John McMullen
So, for those who aren't familiar, tell me more about DORCE itself. Where are you based and how did the company get started?
Mehmet Yucesoy
Well, we're a company more than 40 years old and I will try to explain very briefly what is the stage at the moment for DORCE. I mean our company DORCE is one of the first established and the leading company based in Turkey, on prefabricated modular steel structure manufacturing, exporting and also including the contracting services. So, at the moment, we can provide full turnkey services for prefabricated modular structures for more than 60 countries including the production, logistics, assembly, infrastructure and superstructure works, testing and commissioning. Also, we're able to provide all the international quality standards. We build prefabricated modular steel and conventional structures with the support of our engineering and contracting capabilities.
John McMullen
So, you mentioned that DORCE has been around for 40 years, that's very impressive. How has your company evolved in that time?
Mehmet Yucesoy
Well, I think the legacy first of DORCE started track back to 1980s, I mean, in 1982, the company started with small virtual operations based in the capital of Turkey in Ankara, with the production of minor steel construction works steel furniture's. The company quickly evolved to become a key supplier of prefabricated steel structures as Turkey's biggest construction and manufacturing company on the light gauge steel structures in the first 15 years. With that, we have two different capabilities and the locomotive sectors. The first one is the as the industrial manufacturer company and the second one is the contracting identity. So, with the combination of these two capabilities after approximately the 2000s, we became one of the biggest contractors in the world especially for the engineering procurement construction projects. After 2000s our company manufacturing facility is reached to a production facility which is approximate to 100,000 square meter total area with 60,000 square meter closed workshop area.
John McMullen
It's an amazing bit of growth, very impressive. I've read that DORCE's manufacturing production capacity is one of the largest in Europe. Can you tell me more about your capacity and the capabilities that you have now?
Mehmet Yucesoy
Sure, with the coming years DORCE evolved a lot in the oil and gas mining power plant and the petrochemical industries, especially in CIS region and Middle East. Then we reached out per month capacity as the biggest manufacturer of Europe on light gauge steel structures, approximately 160,000 square meter panelized prefabricated buildings or 4000 units of containers manufacturing capacity per month, or 2000 tons of pre-engineered heavy steel structure capacity. So, which is the right now the largest capacity, calculated base of Europe as a company based in Turkey.
John McMullen
That's a huge amount of production. What challenges have you guys faced as such a large company?
Mehmet Yucesoy
Well, almost all of the projects of DORCE have been special. We can easily say that. I mentioned about the 4000-container manufacturing capacity per month. So, our projects are always very urgent, and you have to complete your projects on time, with the highest quality and the best reasonable prices. So that gives the success of DORCE but also gives us some challenges because we are working in defense industry. We completed approximately 100,000 people capacity military camps in Afghanistan in Iraq, also aircraft and helicopter hangers in Djibouti, Somali and different parts of Africa. So, all these projects have specific designs, and you have to comply with all the local regulations, all the quality standards, and especially for the oil and gas companies. We work with ExxonMobil, ENI, Shell, PETRONAS. From Malaysia to Middle East, to South America, we complete our projects everywhere. So, we're able to work from minus 50 degree to plus 50-degree areas, which means that you have to comply with all the quality regulations in the limited time in different geographies. And, you have to train the local workforce with a specific design team and R&D team. You have to overcome all these challenges in different countries. Apart from that, there is another aspect, this is an organization job not only a manufacturing, or not only construction, it's also a combination of engineering capabilities because we complete different projects in different fields. So, these are the main challenges that we face, but we always overcome these obstacles. And also, we go to success with these lines, together with ours with the support of engineering capabilities.
John McMullen
Well, again, it's just very impressive. I guess I was not surprised to read that engineering news record, ENR, has listed your company as one of the top 250 contractors globally, which is very impressive. Congratulations. What can you tell me about your contracting capabilities?
Related Reading:
DORCE Designs and Exports Volumetric Modular Buildings to 6 Continents
Volumetric modular buildings from DORCE can be used as a traditional accommodation as well as temporary – volumetric modular accommodation in disaster and war zones; they are also used as temporary residential camps or permanent accommodation facilities at construction sites, oil & gas, mining, drilling, offshore and pipeline sites.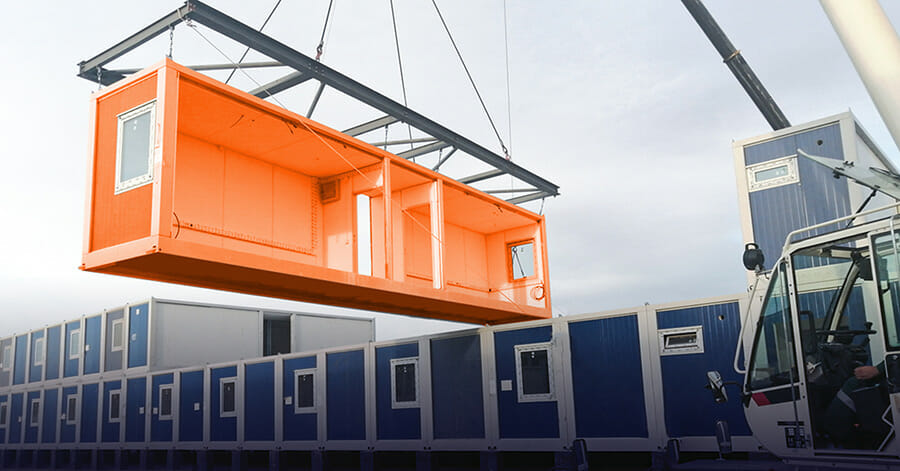 Mehmet Yucesoy
Well, thank you very much John. We're listed as one of the top 250 contractors for the past decade. DORCE is the leading manufacturer of Europe, on this light gauge steel structure manufacturing. But apart from that we are also listed in the contract in the top 215. The main background of this rating is that we are also a pure contracting company. We have right now actually, I can give you an example for that, we have two ongoing projects in Iraq there. Those are pure concrete projects. The one is 400 plus four to six VIP bed capacity 15 story concrete I mean general conventional method of construction, a university training hospital, which is the largest building of the Basque region of Iraq, and which has a helicopter pit on top of it.
Apart from that, we have another ongoing project, which is almost finished right now. A 1400 housing project in Buster region of Iraq. And apart from that, these projects are fully completed full turnkey with DORCE's manpower, DORCE equipment with the local registered companies. And we complete many a conventional system MSP buildings in different parts of the world. But these are the pure contracting capabilities. Apart from that our contracting ratings are generally the revenues come from the major oil and gas projects. So, which means that we have an ongoing project in Mozambique right now for 10,000 people labor accommodation facility, or we finished a 100,000 people capacity refugee camp facilities in Middle East and Turkey also. So, in order to complete this project on turnkey projects on turnkey basis, the manufacturing is not only you know if you need to finish a call the city's infrastructure. So, these are the main contracting capabilities where the contracting ratings come from for DORCE.
John McMullen
Wow, you guys are busy. So, you guys are all over the world doing all these different projects. I want to turn our attention to modular construction here for a second. In general, what can you tell me about the market for commercial modular construction in the Middle East and Africa? Is it an emerging market is modular, widely used there? What can you tell me?
Mehmet Yucesoy
Well, it totally depends on those sectors in the country. Also, some of the countries in the Middle East and in the region...They have to finish up the projects very quickly. So, as you know that's the main reason it's accomplished. For example, in Gabon, we have finished 600 housing projects within a six-month period, because the government wants something very quickly and they want to give the housing units and the modular housing structures to people immediately. So, it took, let's say, a six-month period to complete 600 housing units or in Oman, in the Middle East, there was an industrial area. The people in Middle East Asia...they have to finish the hotel project within 150 days. So DORCE was the solution provider for that for a three-star hotel project full turnkey with a modular construction prefabricated system. So, we manufactured the unit ready and transported to the site location immediately, and the project finished in 160 days. So, it's totally time and the money. These are the two most important aspects. Then coming to your question, the Middle East and Africa, they are the emerging markets. And the modular systems already started the US for the past 10 years...especially for the housing units for oil and gas for the mining the number of the projects increasing day by day.
As you know that in Saudi Arabia, there is a huge project called the Neon City Project. So, they are going to use the prefabricated modular systems for the mining and for oil and gas, especially in Qatar, in the United Arab Emirates, you have to finish the project immediately. Those have the regulations are much better than the general conventional systems. For example, in United Arab Emirates, we have finished the 26,000 people capacity and Labor Rate residential city project for the superstructure within a one-year time period. So, the time was very important, because the area was rented for the investors for 30 years, and they gave a timeline for the completion of the project for one year. So, in a commercial system, you can finish the project within three and a half years, but when you finish with the modular construction system; you gain three unhealthy years, and you rent the labors three, two and a half years, and you make much more money. So, depending Yeah, I mean, it's not only for the commercial, it's not only for the housing, it's not only for the different sector, but a lot of projects are also coming up in Middle East in Africa. And these are the developments, some parts of the countries that development, some parts like UAE, Qatar, they already got to go up to some point. So, all the modular containers, temporary emergency facilities for refugees, immigrants, for Syria, I mean,...the modular construction is everywhere in these parts of this world. It's very important and developing very quickly.
John McMullen
So, you touched on a lot of the benefits of modular construction all over the world. How would you say, in your experience, how does the market for modular construction in the Middle East and Africa compare to the North American market?
Mehmet Yucesoy
Modular construction is actively being used in North Africa, in Canada in the United States. Let's say, especially in California, when we look at the earthquake areas, the steel structure and the modular systems to compare the left. Also right now, in Turkey, let's say since our company based in Turkey, I want to give an example for one of our ongoing projects. After the earthquake the city called Malatya, we have been almost counterpoints. With the completion of 1,500 units of housing projects as the government program with the prefabricated modular systems. These are the villages in the top of the mountains in the middle of the city everywhere, very quickly finished projects. Also, comparing rates of the North American market in the Middle East and Africa, fire resistance and earthquakes are very important, which means that especially for the commercial modular systems for the housing units and the shopping malls, the numbers are increasing. We came out with a modular system and, of course, I think there are 506,000 units, detached houses in California.
Of course, it's not very popular like that, but it's very important, especially for the big cities like Doha and Istanbul because the modular system and prefabricated system is much shorter construction time, safety and security is much higher; climate conditions are much better. Also, it's very ecofriendly and the traffic, when it comes to very high population cities, traffic is a very important issue for the construction. So, you've finished the project immediately. So, these are very important points and compared to North America, the numbers are increasing, especially over the past 10 years.
John McMullen
So, what market trends have you noticed over the past few years? Where do you see the global industry headed?
Mehmet Yucesoy
This is a very good question because right now, the modular building systems are changing with the support of the technology. We have a motto for DORCE, what we say, DORCE is Turkey's global brand in modular buildings where the construction evolves with the technology; so, we industrialize the general conventional system. This is where we're going to be happy not for the global industry. Let's say fire resistance is a must for the oil, gas and mining industry at the moment, for up to three years. So, this is the only way that you can go with the steel and lower carbon footprints. Also, the steel is the ultimate green material, especially for the recycling, you can use whenever you want and up to two or three different recycling methods, you can use this model for 100 years; those are very safe, the production is under control. It's very important for funding companies, let's say if you're a funding company, you need to check all the details.
So, you can check on the manufacturing facility and complete the project without any obstacle. Modular is more used for the portable and demand table and rebuildable structures, which means that you can move the structures from one point to another. The model system is very important for the emergency response after the disasters. I think in the following 10 years, almost in every country, the modular construction, I mean, the MMC model, the metros of construction are going to be applied, and the companies in the United States or companies in Turkey or in the Middle East, they're going to be growing up a lot with the support of this technology.
John McMullen
I think you're absolutely right. And speaking of some of the other countries where you operate elsewhere, if you give me some current projects in Africa, or the Middle East or the CIS countries where you operate, can you give me an example specifically of one of the R&D related design solutions that you put in place?
Mehmet Yucesoy
Sure, R&D is applied in error in our any project that the DOJ executes because we have a very developed team that we have seventy- five architects at the moment; engineers, technicians, drafters and we work as a team for each project specific specifically. What I'm saying is that we have an ongoing project as mentioned in Mozambique right now for the Mozambique LNG. We designed the project step by step, the manufacturing totally accordingly with the manufacturing items, and without any problem project execution process is going on. But I have another example right now, we just finished a project in Qatar, I think which might be the largest capacity for the COVID currently in hospitals. We have finished the project in Qatar, for 4,000 people currently in hospitals, and coming up to an R&D facility that I think also we have ongoing housing projects at the moment in Africa and CIS region. But for the R&D it's related to design solutions. I can come up with a very interesting example because we have 40 years with the use of the new generation materials and construction technologies for the sustainable innovation.
As an example, we just finished helicopter portable containers, which is the abbreviation of HPC. This is for the modular structures. You have a container empty you can imagine a container which combines the three packages, and each package is approximately 300 kilograms. So, you put the three packages on the top of the teacups, or the helicopters and you put them on the top of the operation fields a mountain or anywhere and wishes and arrange double legs and two soldiers can make the installation without using hand tools. So, at the end, when you finish the module without using enhanced tool by their hands, you can have an accommodation model for eight soldiers, you can have the WC units, or you can have shower units or colonics. So, when we start this for the defense sector after we noticed that we received the requirements, actually from the different sectors from NGOs, from United Nations, they really liked the installation without using any hand tool, and its very light structures. So United Nations already requested from us, for Bangladesh for different parts of the world, these modular units. And these are also requested from drilling companies for oil, gas and for mining. So, when you use the R&D, it was first started to carry out with this course, helicopters, to the operational fields now, we develop these units to different parts for different sectors, and we're sending 1000s of them to different parts of the world.
John McMullen
I love that idea. I'd love to see some pictures if you can share any or a case study or anything like that. I think lots of people would be interested in that kind of a project.
Mehmet Yucesoy
Sure. I will send that to you.
John McMullen
Thank you. What has made DORCE so successful as a global business over these 40 years? What advice would you give to companies that are trying to become more globalized?
Mehmet Yucesoy
Well, you mentioned we started 40 years ago, the manufacturing we pushed ourselves to be very successful in the manufacturing. I mean, our factory is a very huge factory. If anyone would like to see, effectively they can come to Turkey and see the factory, no problem. But it's in the center of the industrial hub. So, when we request any method, we don't need to search them in the factory. So, we can just buy, or we can just manage the supply chain from the neighboring factories. So, it's very important to be centralized in the industrial hub. The sector from our manufacturing facilities are coming for that. We were lucky to have the company in Turkey because it's very easy to transport the materials from Turkey to the ports from Mersing, Istanbul or Antalya no problem to Africa, from CIS-to-CIS region or Europe. So, we can transport them everywhere in the world. As an example, we finished a project in Australia for the housing units, because the compelling case for Turkey is labor costs, the material costs and the currency changes.
The housing unit was very expensive to finish in Australia. So, we finished the manufactured the units and transported to Australia, or we completed hospital projects in Venezuela. So, we manufactured them, and it was very cheap to send them with our prices to the other companies in the area. To complete the project in Chile hospital projects were very cheap. So, the location was another advantage and experienced workforce, and the training of the workforce. These are very important. And most importantly for the global companies to become more globalized, you need to check all the details of the localization and the local regulations of the country that you are going to make export, contract export and contracting activities. So, we always go to the country that we are going to export we complete full feasibility studies. We spend time over there, we meet with the local and government authorities, we study the regulations, we always work with the professional law companies over there. And, we checked with the full details for the cultural dynamics.
You need to be fully ready for these aspects. And you need to finish strong market research. You need to know all the details for the custom and the tax details. And most importantly, we created very successful joint ventures and partnerships with the local companies. Then you train the local workforce when you work with the local companies. You always finish your project on time. You always deliver your projects on time and with the success over completion certificates. When you're if you're very successful also on the HSE and quality regulations, I mean there are many different points to be successful in the global market, but these are the main points which comes to come to my mind at the moment. So, these are very important and with a shipment of these points, then you can be very successful company on the global market.
John McMullen
Thank you that was that was great. So, Mehmet, tell me about DORCE. For North America, are you guys looking to expand over here? Do you have relationships with companies over here? Tell me about that.
Mehmet Yucesoy
John, thank you for this question. We're have very actively been working with the companies from North America for more than 25, actually for 30 years. I mean, in Mauritania, we finish their project with the Kinross, gold from Canada, for gold mining company for 10,000 people. Labor camp, we also have been actively taking part for the projects of nature for 20 years, and we have been working with KBR and US Army for NATO in different parts. We finished a lot of projects for floor, and we finished a lot of projects for the United States government, especially in Algeria, we finished the embassy structures. Also, for United Nations, we finished a lot of projects in Ghana, we finished projects with Bethel for 600 housing projects. We are very much familiar with the support of these references with the support of these revenue estimates and other United States standards. Therefore, for the past couple years, United States, Canada and North Africa is an interesting market for DORCE company.
So, we're planning to register a company, we are very much open to creating new partnerships with the companies from the United States, from Canada in different fields, especially in the construction. We would like to share our know how, and we would like to learn more about the standards from them. So, we are very much open for the North Africa and North American market. And, we are interested to meet with funds from North America to work with them for our projects, interesting projects in the third world countries. Since we are very active in the other countries, we have been receiving hundreds of projects, very specific and very nice projects, especially for the housing units, for the mining for oil and gas for the modular construction.
So, it will be also very interesting for DORCE to meet with the funding companies, and we're open to create new opportunities and open to work or to partnerships with DORCE. So, this will be great for us.
John McMullen
Well, that's great to hear. We were talking before about World of Modular and we're planning to be back in Texas next year. So, I hope to see you there.
Mehmet Yucesoy
Sure. We previously participated in the exhibition and the booth over there. It was an amazing event. I met with a lot of people over there from the modular construction industry. I mean, I will be very glad to participate to event once again, I come to Texas, to see you to meet with you and to see other participants.
John McMullen
What's next for DORCE? What can you tell me about your upcoming projects.
Mehmet Yucesoy
Our sector, I think, for my personal it is the best sector because right now there's the COVID-19 situation going on, unfortunately, it's affecting everybody and all the governments. All the oil and gas major projects, the major EPC projects, all of this stuff. So, we noticed that there is an emerging market at the moment folded and in we supplied 25 different countries, the superstructure of the COVID-19 hospitals: intensive care units, mobile hospitals, and clinics. Before COVID in the conflict areas, we were able to complete military camps because it was an urgent need to finish the military camps to protect the NATO and NATO related countries. Apart from that there is migration, so this sector is always booming. This is what I'm trying to explain for the question because I think after this, the economy will probably get much better.
So right now, we're building a lot of refugee camps. After this process, we don't need to build military camps, refugee camps or COVID-19 hospitals that most major oil, gas and mining projects going to this third thing, and the government's going to be revising up their economic health budgets with the macroeconomic dynamics; which means that the government's going to start their housing programs, there are 1000s of housing units required right now for Africa, for the United States for Turkey for South America everywhere in the world. I believe that housing projects, school projects and education projects where prefabricated modular systems are going to be blooming and we are going to be taking part for these kinds of projects and we are going to be taking part I believe for major LNG and renewable energy camp projects.
John McMullen
Well, that's just an amazing amount of work. I want to thank you Mehmet for your time today. I know people here in North America tend to think of modular construction, as you know, relocatable buildings at construction sites and housing and that type of thing, but you've given some great examples of how modular construction can be used, really in any different type of industry. I really appreciate your time today. It was great to get your global perspective. I really appreciate it.
Mehmet Yucesoy
Well, thank you. Thank you very much. Thank you.
John McMullen
My name is John McMullen, and this has been another episode of Inside Modular: The Podcast of Commercial Modular Construction. Until next time.