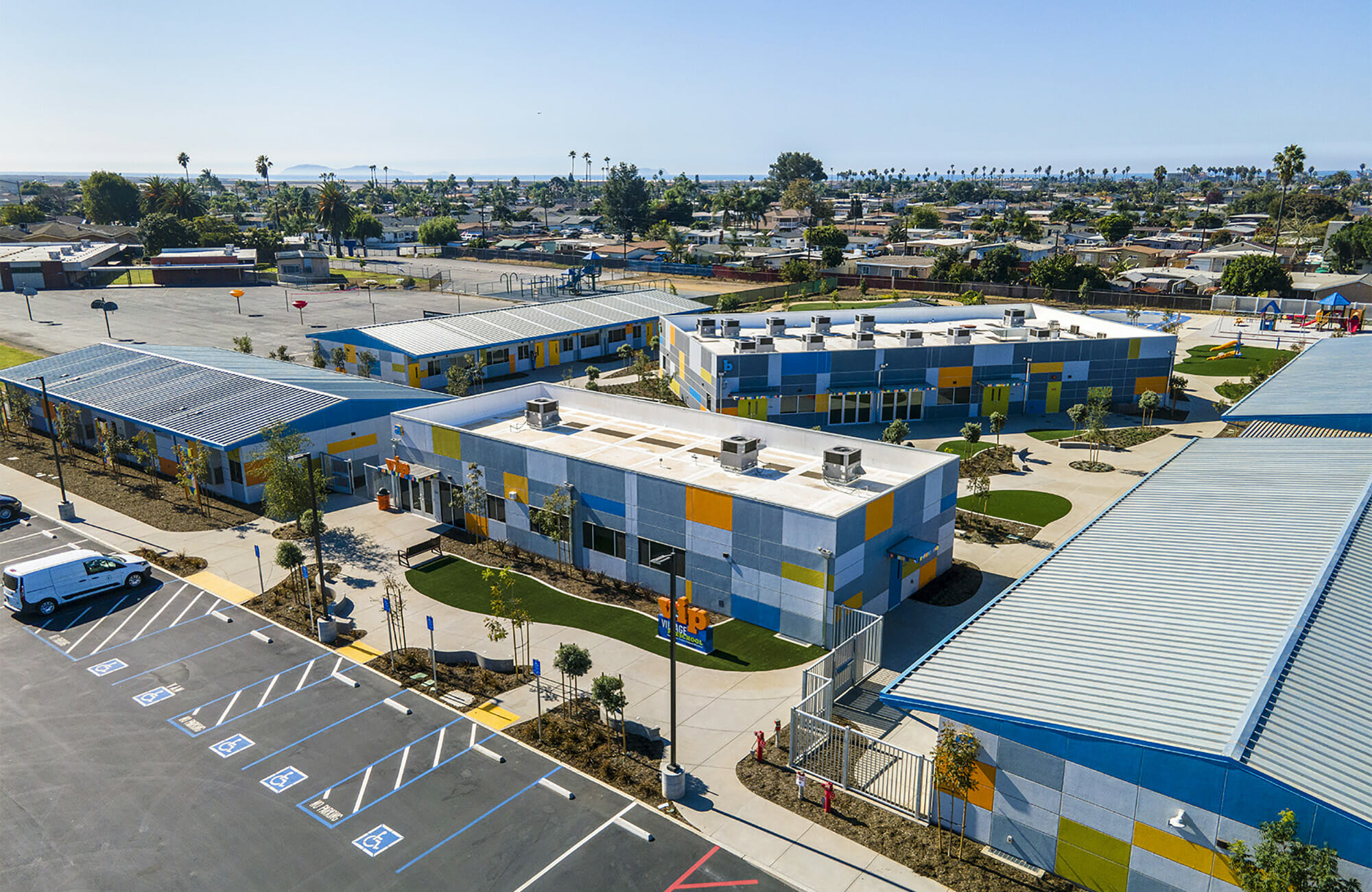 Main Category: Modular Building Design
Company: Silver Creek Industries
Location: Imperial Beach, CA
Building Use: Pre-School
Gross Size of Project: 30160 Square Feet
Days to Complete: 212
Award Criteria
Architectural Excellence
The project consists of a fully modular preschool campus including 7 buildings ranging in size from 2,560 SF to 6,480 SF. There are 5 classroom buildings which feature 21 classrooms with dedicated toilet facilities and 2 staff workrooms. The administrative building contains 6 private offices, a conference room, a lobby, a nurse's office, staff restroom facilities and various support spaces. The multipurpose building houses a large multi-use assembly and lunch room, a kitchen, a staff lounge and restroom facilities. The building exteriors utilize a stucco finish system with a series of aluminum reveals and a flourish of colorful accents. Large overhangs with a standing seam roof system provide shade and weather protection at classroom entrances while the canopies provided at the multipurpose building creates visual interest while providing protection for the building entries. The classroom interiors feature vibrant accent colors and provide a comfortable learning environment.
Technical Innovation & Sustainability
To meet the project requirements in the most efficient and cost-effective manner, a project specific modular design was utilized. The module widths varied from 10'-0" to 12'-0" and the lengths varied from 32'-0" to 60'-0". The multipurpose building used open web trusses for the roof frame system with direct applied tectum panels which maximized vertical clearance while absorbing sound within the large room. The multipurpose building also features a lightweight concrete floor system which was poured in the factory. High efficiency lighting with occupancy sensing controls and daylighting controls were used throughout the project. Manual dimming controls were provided for all classroom lighting to allow teachers to adjust the light levels for specific learning exercises. Wall assemblies separating classrooms were designed to provide acoustic separation for sound mitigation. Low-VOC and high recycled content materials were used throughout to provide a healthy learning environment.
Cost Effectiveness
The project owner recognized early in their planning process that a modular construction solution was the most cost-effective project delivery method for their new campus. By utilizing off-site construction methods they were also able to realize significant schedule advantages as compared to traditional construction. The accelerated nature of a modular construction process allowed the project to reduce development impact on the project site and on the neighboring home owners. During the design process careful consideration was given to interior space planning to maximize the factory construction scope. The classroom and administrative building restroom facilities were designed and located to be fully contained within a module to allow those spaces to be completed in the factory.
See More Awards of Distinction Winners