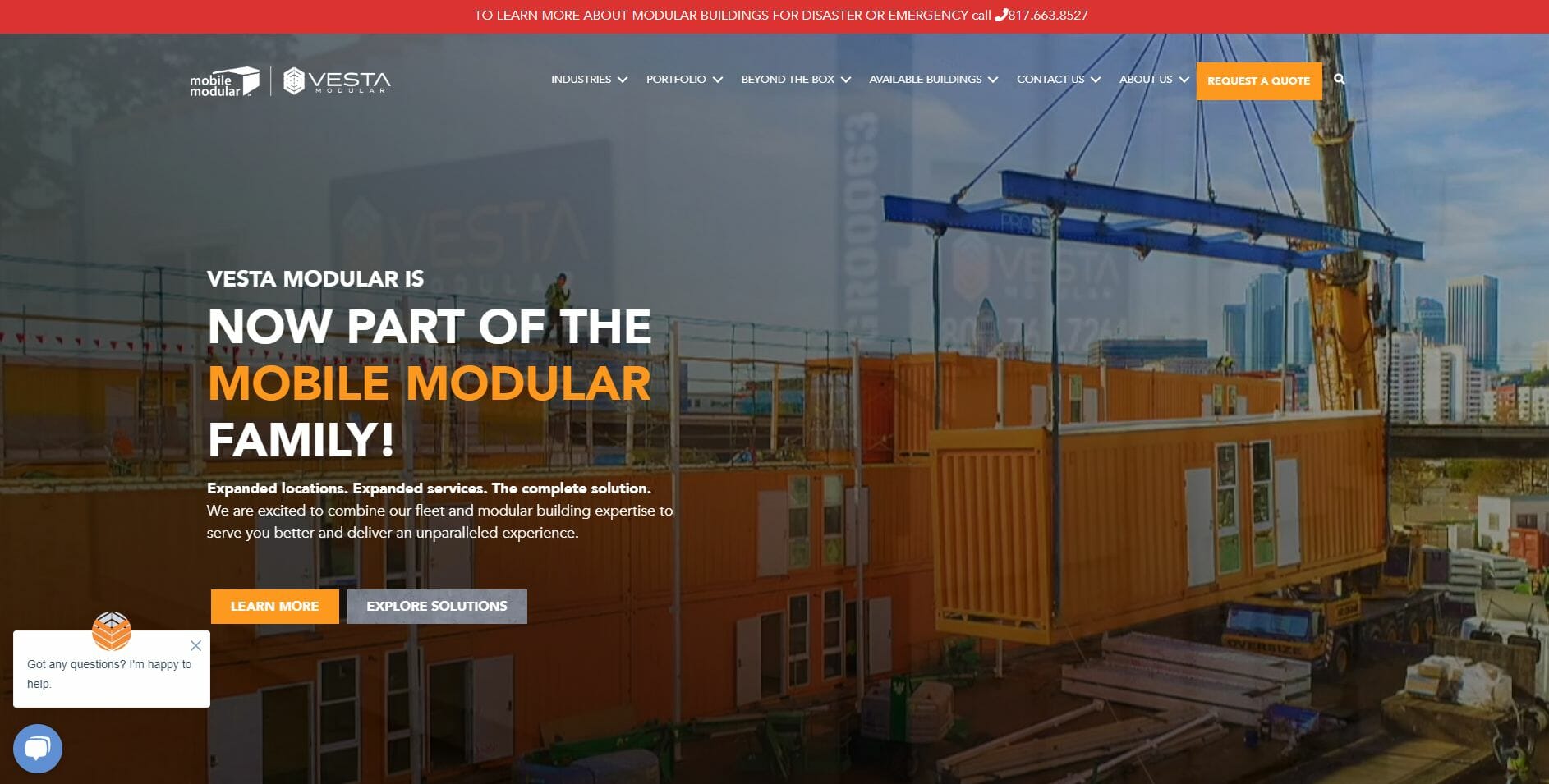 Main Category: Marketing Piece Entry
Entrant: Vesta Modular
Award Criteria
Specific Medium Used
Target Audience
Targeted industries looking to use modular solutions to solve their storage and space needs.
Message to be Communicated
Providing temporary or permanent modular buildings to customers seeking a solution for space needs
Distribution
Drive awareness through digital channels such as social media, blogs, PPC ads and email distribution
Entry Objective
The new site has been re-designed and updated with a sharp look and feel including a revamped navigation menu, categorized by industry and product type, to make it more intuitive. The new website offers a clean, modern design, easy navigation and helpful tools and resources. With a heavy focus on our core industry of leasing and selling modular offices and jobsite trailers, we have also included our products for education, healthcare, containers, and specialty units, to deliver consistent, relevant information and resources. With user experience and access in mind, the website has been designed using the latest technology to expand our customers' knowledge and understanding of how modular construction is the building block of the future. By relying on extensive competitor, keyword, and market research, we were able to ensure that the website would help achieve core business initiatives and serve customers, while maintaining our strong digital presence and search engine optimization.
Effect on Sales, Visits, or Inquiries
With our aggressive content creation based on keyword research, our customers are coming to the website directly with an increase of 44% average time spent. Direct traffic has increased 137% year over year and total site traffic has increased 58%. By adding prominent Calls to Action and quality images on our more relevant home page and location pages, the conversion rate has increased 24% on those pages. Goal completions for initiating contact through our various channels have increased 29.35% resulting in an increased total conversion rate of 34%. Organic leads have had a significant increase since optimizing our SEO and the deployment of the site. With the customer experience and easy to navigate content, our site has seen an increase in our monthly form submissions of 29.35% resulting in more quality, nurtured leads. With the addition of our available inventory page and easier to navigate portfolio page, we have seen an increase in engagement of our downloadable content as well.
See More Awards of Distinction Winners