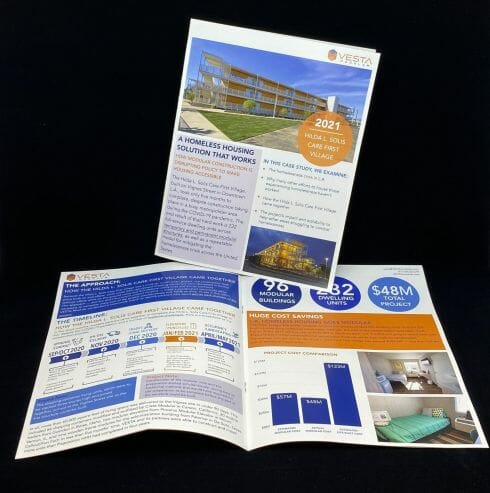 Main Category: Marketing Piece Entry
Entrant: Vesta Modular
Award Criteria
Specific Medium Used
Case Study eBook
Target Audience
Government and non-profit entities that focus on developing solutions to homeless housing.
Methodology
It was written to follow the project's progression, including photos and graphics to tell the story.
Message to be Communicated
We have the capability to provide homeless housing solutions that can be replicated in other cities.
Distribution
Published on our website and distributed via email newsletters, drip campaigns, and social media.
Entry Objective
The Hilda L. Solis Care First Village is an important story to tell. We wanted to ensure the case study highlighted the project from start to finish, focusing on the challenges, process, and solution, as well as the positive impact it had on the community. The project, built on Vignes Street in Downtown L.A., took only five months to complete, despite construction taking place in a busy metropolitan area during the COVID-19 pandemic. The result of the collaborative effort between VESTA, L.A. County, and the design and construction teams resulted in 232 full-service dwelling units utilizing permanent and temporary modular structures. Using photos and graphics, this marketing asset allows us to communicate the scope, budget, and timeline of the project in a visually appealing way. We hope that the success of this project resonates with potential customers, and we can replicate this solution in other areas across the United States that are impacted by homelessness.
Effect on Sales, Visits, or Inquiries
The Hilda L. Solis Care First Village case study has been a successful tool for our team to introduce modular housing solutions to potential customers, showing how a project of this magnitude can be accomplished on an accelerated timeline. It is used to highlight our capabilities which can be applied to various initiatives beyond homeless housing, including workforce, dormitory, transitional and affordable housing projects. The eBook has over 1150 views online with 46 form submissions to date and 2 currently active opportunities. We are continuing to increase awareness of the project with subsequent social media ad campaigns and emails to targeted lists of city, state, and county government officials, housing authorities, community action agencies, universities, and other non-profit organizations.
See More Awards of Distinction Winners