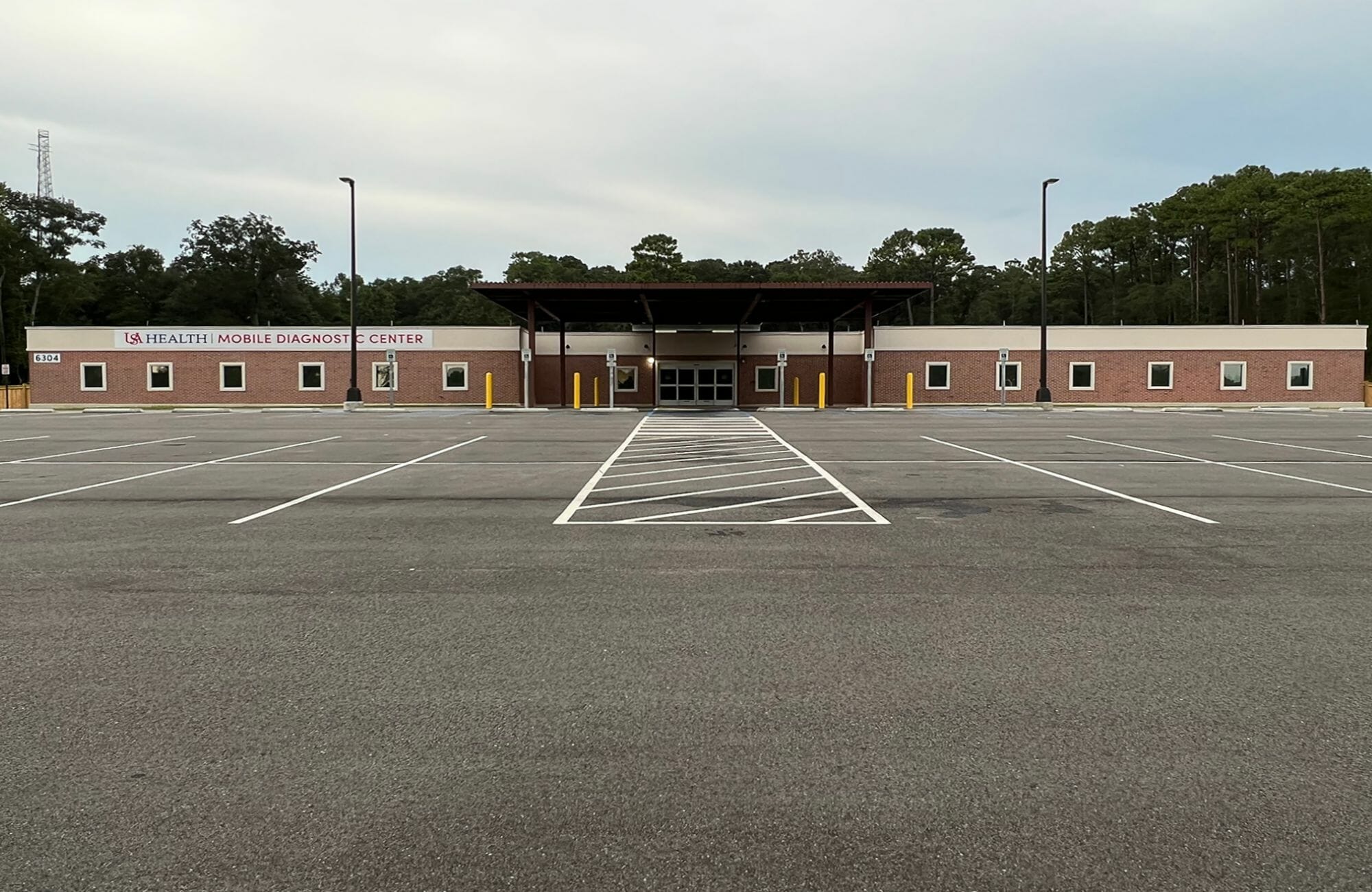 Company: Persons Services Corp., Diamond Builders, Inc. & Quick Buildings Modular, LLC
Location: Mobile, AL
Gross Size of Project: 28700 Square Feet
Days to Complete: 215
Award Criteria
Architectural Excellence
The owners, University of South Alabama Healthcare Authority, were instrumental in the design. Working with the modular dealer, the team of medical professionals laid out a plan that worked patient flow within the clinic. There are 57 exam rooms, X-ray, Dexa scan, (2) ultrasound rooms, 2 phlebotomy draw rooms, processing lab, lobby with waiting room, (3) sub-waiting rooms, conference room, restrooms, break rooms, janitor closet and storage closets. The exterior siding is reversed Hardi Panel with an EIFS system troweled onto the panel. The exterior resembles the brick structures on the campus but was created using a brick plaster stencil. The "bricks" were then hand painted to mimic the variations of the brick on campus. The interior is a Level 4 finish on 5/8" Type X gypsum with solid core-stained doors and 9' 6" finished ceilings. Exam rooms and restrooms have an impervious rolled tile, heat welded and self-coved to the wall. Other areas have a luxury tile with rubber base cove.
Technical Innovation & Sustainability
Persons Services' project manager and site supervisors kept this fast-paced project on schedule even though there were material delays beyond anyone's control. Diamond Builders had all components factory installed except for the ASHRAE 170 HVAC systems and main distribution panel. These items were installed at the end of the project making all interior finish a challenge. The State of Alabama has an unusual process that requires strict adherence to the Division of Construction Management, thereby creating a layer of bureaucracy to the project. All fire sprinkler pipe, ductwork, plumbing in the walls, internal drain system and LED lights were factory installed, however due to the paint finish, emergency and exit lights were installed after painting. Ductwork connections, fire sprinkler, alarm system was completed on site. The front auto doors were also site installed. The building is built to 170 MPH vult.
Cost Effectiveness
Since the Healthcare Authority lost their lease which was housed on another hospital's campus, they were in urgent need to get a new building right away. The Authority researched several other possible sites which would have been renovated to meet their needs, but that process was timely, expensive and they wouldn't own the building. Therefore, the Authority was at a crisis point. As soon as the agreements were signed Diamond began ordering materials and the site work began for a stem wall and pier foundation. As soon as the site was prepared the units were brought in and crane set. As each pod was set, generators were installed so that drywall crews and painters could get started. Work continued through most weekends to stay on schedule. Once the MDP and HVAC's were set, the furniture was brought in and 3 days later the first patients were seen at this new location.
See More Awards of Distinction Winners