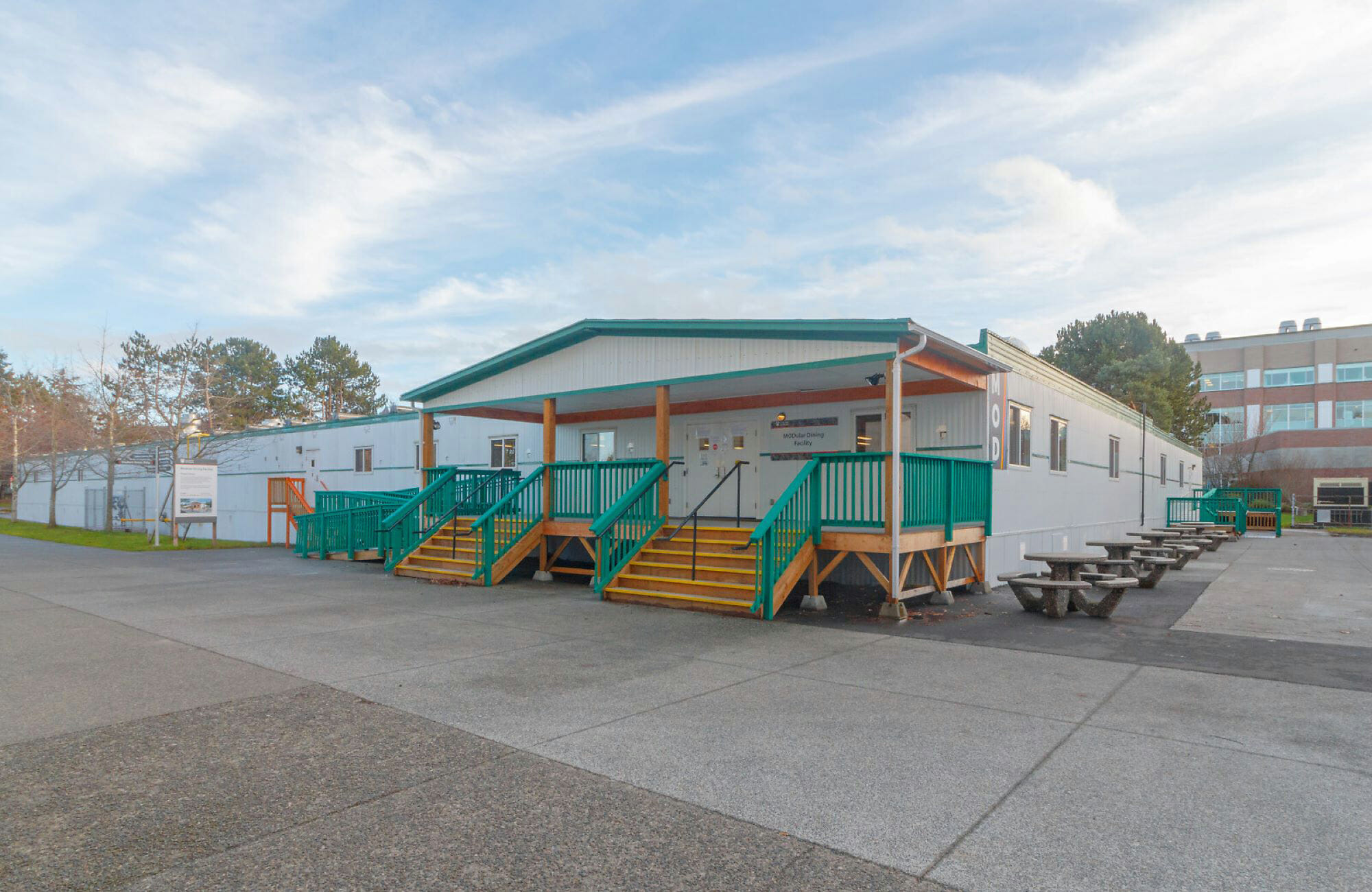 Main Category: Modular Building Design
Company: Reliant Asset Management, LLC
Affiliate: Northgate Industries Ltd.
Location: Victoria, British Columbia
Building Use: Main dining facility for students
Gross Size of Project: 26000 Square Feet
Days to complete: 305
Award Criteria
Architectural Excellence
Complexed on a paved parking lot of a University campus are 33, 12' x 60' frameless modular kitchen units. These units are secured to a foundation that includes 197 concrete blocks with brackets to mitigate any seismic activity risks that are typical on the West Coast. The complex consists of a retrofitted dining area able to accommodate 500 students at a sitting, two serving lines with point of sale, two cooking lines (one electric one gas), dry and cold storage, prep area and a dishwash area. The complex was originally used as a kitchen for a large camp in Northern Alberta and then redesigned to serve as an institutional kitchen for students at the university while they are building a permanent dining facility and additional student housing.
Technical Innovation & Sustainability
This kitchen dining complex was originally built in 2011. The project lasted 5 years before it was returned and was placed in storage. In 2018, the University of Victoria approved the build of new student housing which also included the demolition and construction of a new dining hall. The University required a replacement while constructing the dining hall and RAM Modulars 33 unit kitchen was large enough to handle the student capacity and perform day to day operations. Once identified as a solution RAM worked with subcontractors to renovate the complex as per the specific requirements of an institutional dining hall. This included conversion to natural gas from propane, and adding an additional electric cooking line that tied into local services. A catering module was also retrofitted along with the addition of a shipping and receiving dock. After a majority of the retrofit was completed locally, each module was transported by land and barge 1300 kilometers and staged for set up.
Cost Effectiveness
This relocatable modular kitchen that was pre built and in storage was the most cost effective solution for the main contractor and the University as it was quickly installed over the summer with minimal disruptions to students at the campus. Operations that included catering and student dining were still able to continue as they tore down the old kitchen commons and began construction on the new permanent facility. By using a temporary modular complex the contractor was able to expedite construction on the permanent facility by several months saving time and money. The complex was redesigned to the Universities requirements and was retrofitted in a controlled environment at the builders location before being shipped to site 1300 kms west.
See More Awards of Distinction Winners