Trethewey Avenue Supportive Housing Complex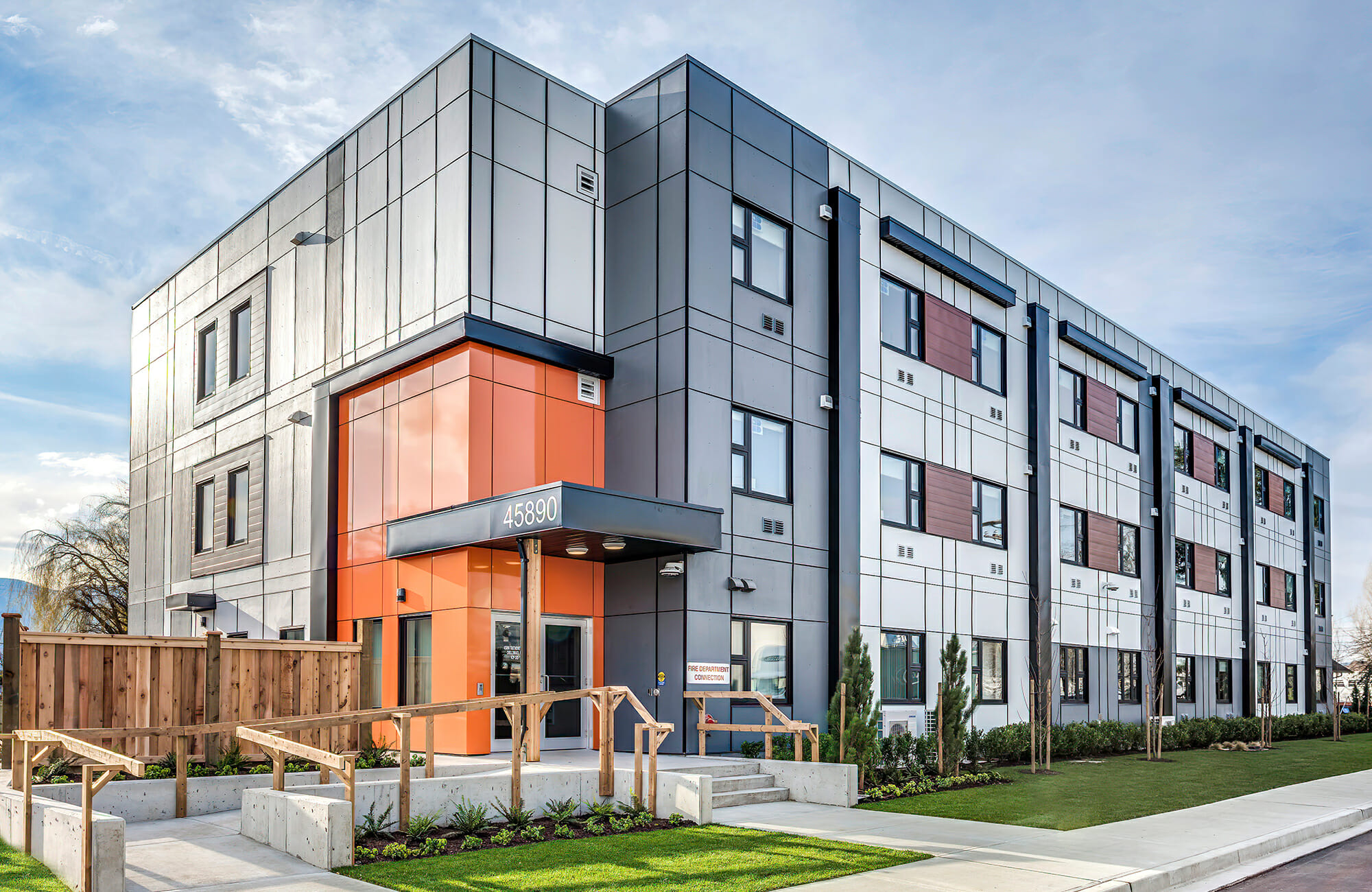 Main Category: Modular Building Design
Company: Nomodic Modular Structures Inc.
Affiliate: Grandeur Housing
Location: Chilliwack, British Columbia
Building Use: Supportive housing
Gross Size of Project: 2272 Square Meters
Days to complete: 299
Award Criteria
Architectural Excellence
This permanent modular building is three stories in height and is comprised of 11 modules per story for a total of 33 modules. The modules were frameless units of wood structure, ranging in size from 8' x 47' (3 modules) to 12' x 60' (30 modules). It features 46 self-contained suites: 5 designed specifically for people with disabilities, which are approximately 350 ft2 and include a bathroom (complete with sink, toilet and shower), kitchenette, and bedroom/living space. The first story is comprised of office space, tenant support rooms, commercial kitchen with pantry, common dining room, heat treatment room, storage, and laundry facilities. The building was designed with a common corridor down the middle of the module to maximize space and achieve the greatest number of tenant suites within the footprint. The exterior design has a bold, contemporary aesthetic and uses common commercial and residential building materials such as Hardie Panel, Alucobond panels, and HF-12 panels.
Technical Innovation & Sustainability
The complex incorporates a number of innovative features. For example, the mechanical design of the suites was such that all suite HVAC was completed in the factory, which greatly reduced the amount of HVAC work required on site. This was achieved by installing a LifeBreath HRV and an Innova 2.0 heating/cooling unit in each suite. The Innova 2.0 units were chosen as they offer high performance and do not have an exterior unit, unlike typical PTACs, thereby reducing the amount and size of penetrations which allows a more air-tight building. In addition, the lack of the exterior units means no aesthetic impact to the building. The complex was built in accordance with B.C.'s Energy Step Code, achieving specific energy targets set by BC Housing. This included meeting envelope and interior partition air leakage requirements, and exceeding typical building code with energy-efficient building features including LED lighting, energy star rated appliances, and triple-glazed windows.
Cost Effectiveness
Naturally, one of the largest cost-effective methods in modular construction is the ability to reduce onsite construction time and overall construction schedule. Nomodic took advantage of this, completing the excavation, underground utilities, and foundation while the modules were being fabricated. Approximately 80% of the building's electrical, plumbing, sprinklers, HVAC, and carpentry were completed in the manufacturing facility, where trade labor rates are less than rates in the field. In a further effort to reduce costs, Nomodic engaged a sprinkler contractor who was able to utilize local resources at both the manufacturing facility (Manitoba) and site (B.C.), which also resulted in no scope gaps. In addition, the building's adherence to the B.C. Energy Step Code meant that long-term value has been delivered to the client in the form of energy savings.
See More Awards of Distinction Winners