The Moxy Downtown Oakland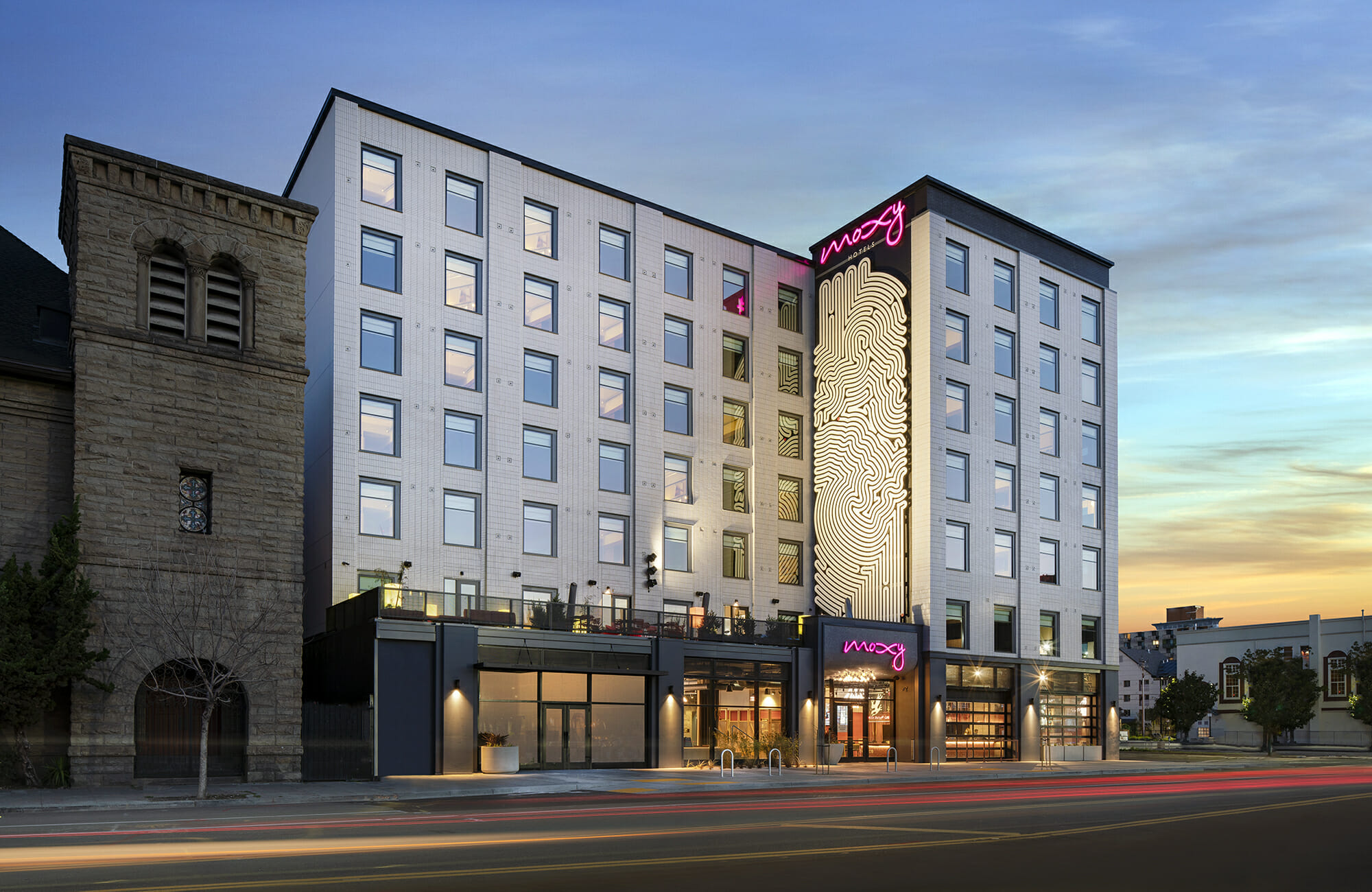 Main Category: Modular Building Design
Company: Lowney Architecture
Affiliate: Suffolk Construction
Location: Oakland, CA
Building Use: Hospitality and Entertainment
Gross Size of Project: 72000 Square Feet
Days to complete: 549
Award Criteria
Architectural Excellence
The Moxy Downtown Oakland, a 7 story, 173 key hotel boasts several notable firsts: first hotel in downtown Oakland in 20 years, first modular project completed in the downtown core, and first modular Moxy hotel completed in the U.S. Utilizing the city's opportunity zone investment program, the hotel anchors the developing KoNo neighborhood in the Arts District and fosters new opportunities to boost the local economy. The building consists of five levels of wood, factory built rooms over two levels of site built rooms, common space, and public tenant space. A visually porous ground level façade with operable roll up garage doors paired with an open lounge enhances the pedestrian experience, providing direct, yet organic connection to the street. The exterior and common spaces celebrate Oakland's vibrant art scene and surrounding art deco environment with an outdoor installation by Faulders Studio, colorful murals from local artist Bud Snow, and curated pieces from Creative Growth.
Technical Innovation & Sustainability
While the two story podium was under construction in Oakland, the King Standard, King Accessible, and Bunk-bed rooms were fabricated in Idaho. Interior finishes were installed in each unit before shipment to control quality and streamline construction. This allowed the project team to take advantage of just in time delivery and installation. Once complete, the units were shipped to California and set on site. The engineering team coordinated and detailed the modular unit set direction, modular floor framing, modular stud and shear walls, and modular ceiling framing plans. To accommodate a small site and maximize the number of units, the structural engineers designed 11'-1" wide modular unit types with short shear walls. The stacked modular units create the overall seismic system: floor and ceiling sheathing for the diaphragms, plus shear walls for the vertical elements. The structural engineering team accomplished the design criteria of forming an articulated building exterior.
Cost Effectiveness
The COVID-19 pandemic impacted the project's timeline, with issues stemming from supply chain management, federal and local site restrictions, and changing work processes on the site. The team came together in effort to reduce cost and schedule impacts by making strategic design changes and sequence shifts with construction activity. One way the team collectively reduced cost impacts on the project was creatively and strategically concentrating the thin brick areas on the exterior of the building where the brick look would be most impactful, and installing more readily available, less expensive products elsewhere.
See More Awards of Distinction Winners