The Hilda L. Solis Care First Village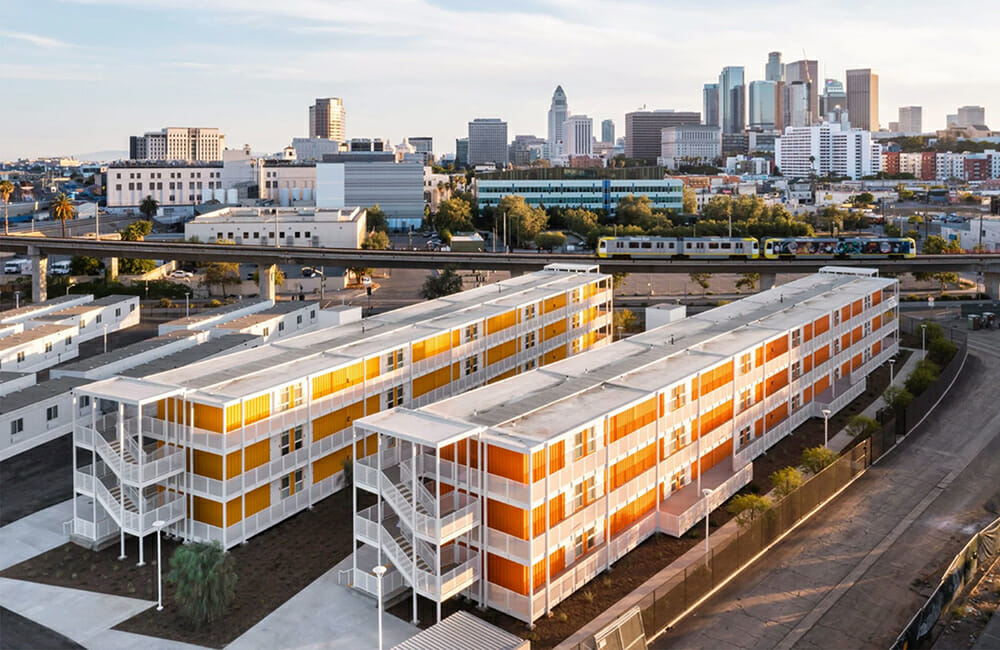 Company: Vesta Modular
Affiliate: CRATE Modular, Inc., Guerdon LLC & ProSet Inc.
Location: Los Angeles
Building Use: Temporary Housing
Gross Size of Project: 60,000 Square Feet
Days to Complete: 182
Award Criteria
Architectural Excellence
The Hilda L. Solis Care First Village consists of 232-bed homeless housing units along with a supplemental administration building, using various modular construction solutions. 132-beds were delivered through two 3-story buildings using 66 retrofitted shipping container units. The remaining 100 beds were constructed using 20 temporary style modular wood structures. The administration building was built using a permanent wood framing solution, consisting of 9 modular units. Two modular elevators were fabricated off site and installed for the project. Aside from the typical dense shelters for homeless housing that were rendered inefficient with the ongoing pandemic, this project adopted a design that allows each occupant to have their own living quarters, including a sleeping area and bathroom. Greater than 50% of the units were designed to be ADA compatible.
Technical Innovation & Sustainability
With time and cost efficiency as the main drivers, a modular design-build method was the ideal way to meet the requirements. The project had various levels of challenges, including taking place during a novel pandemic with ongoing supply chain issues and abrupt shutdowns, on a contaminated site and through major holidays. Project timeline from inception through occupancy took only 6 months, making it one of California's most unique projects for the type of solution incorporated and timeline to complete.
VESTA had to configure a solution that would meet the County requirements while navigating the challenges due to the pandemic. A nationwide search reached a solution that proposed the use of different type of modular construction (retrofitted shipping containers, temporary and permanent wood structures, using three factories in Desoto, TX, Boise ID and Carson, CA) as well as prefabricated elevators from Vernon, IL.
Cost Effectiveness
To build 232 dwelling units using traditional construction, the cost of the project would have been much higher. At the 2019 average cost of $531,373 to construct a living unit with site-built methods, this 232-unit project would have cost $123,278,536. The average cost per unit for the Hilda L. Solis Care First Village was around $245,689 — less than half the cost compared to traditional construction. Adding to the societal benefits of supportive housing is the benefit to the taxpayer. For each person experiencing chronic homelessness, taxpayers pay an average of $35,578 per year. The annual cost of supportive housing for one person is around $12,800. The financial benefits are numerous and defined. The approach of the project provides a scalable solution and repeatable model for mitigating the homelessness crisis across the United States.
See More Awards of Distinction Winners