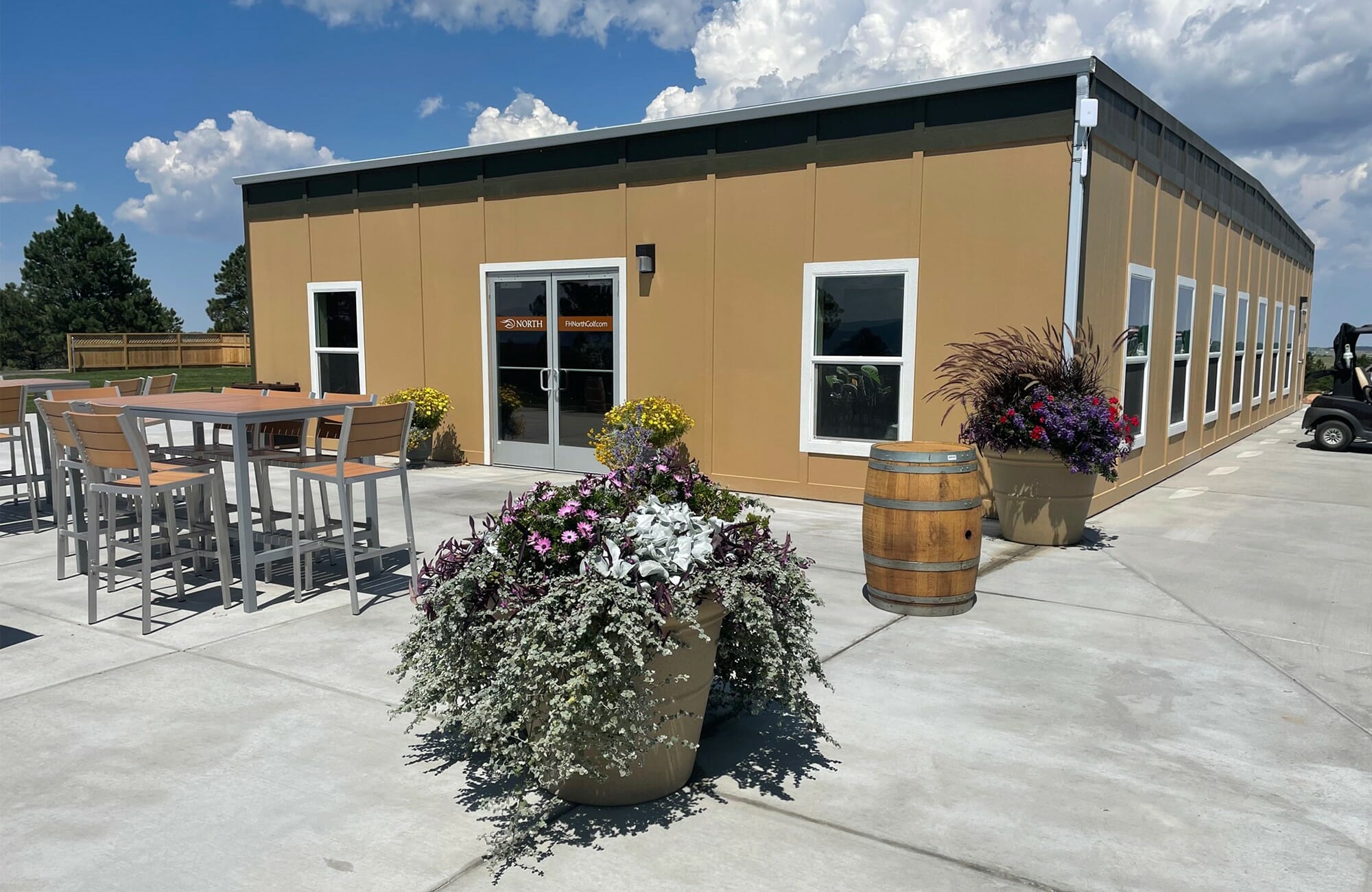 Main Category: Modular Building Design
Company: Vesta Modular
Affiliate: Advanced Modular
Location: Colorado Springs, CO
Building Use: Temporary Golf Clubhouse
Gross Size of Project: 2160 Square Feet
Days to complete: 77
Award Criteria
Architectural Excellence
Flying Horse Golf Club was looking for a building solution that would serve as a pro shop for their customers and be ready for the start of golf season. Modular was the only option that fit the time and budget for the project. Flying Horse needed a building that would be aesthetically pleasing and functional for their members. VESTA provided a design for an open wide 36'x60' building with two restrooms that the customer could outfit the retail space with their own counters, tables, and other interior features to coordinate with their existing facilities. The building was set on a concrete slab and finished with outdoor seating and landscaping for a cohesive look. We delivered the modules in December and the project was open for business early March. Flying Horse loves their modular clubhouse, and it has been a hit with their members!
Technical Innovation & Sustainability
To meet Flying Horse Golf Club's strict timeline, VESTA utilized an existing pre-approved 2160 sf building design that could be customized for their pro shop. Countertops, racks, shelving, and kitchen equipment were site installed to make full use of the triple-wide open layout. Interior drywall and carpet tile was installed on site after the building was set to provide a completed look. The concrete slab foundation was extended to create a porch in front for patrons to enjoy outdoor seating.
Cost Effectiveness
Providing Flying Horse with a temporary new building allows them to save time and money while a permanent solution is being designed. The club already had their own standard interior furnishings, so VESTA was able to provide an open layout for them to customize to meet their needs. This solution makes it easy to reconfigure and reuse the space for future projects. The building can be used and outfitted to meet any customer requirements.
See More Awards of Distinction Winners