The Center for Well-Being, University of Maryland, Baltimore County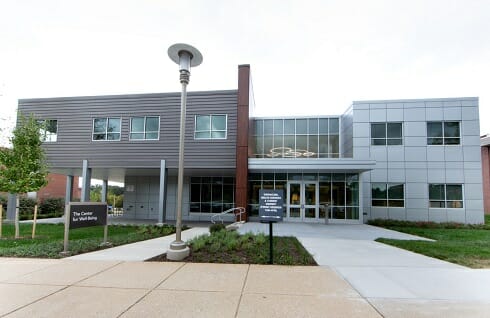 Main Category: Modular Building Design
Company: MODLOGIQ
Affiliate: Whiting-Turner
Location: Baltimore, MD
Building Use: Student Health & Wellness Center
Gross Size of Project: 24600 Square Feet
Days to complete: 295
Award Criteria
Architectural Excellence
Exterior juxtaposes metal siding/rectangular panels against striking vertical feature walls clad in simulated wood grain. Ground floor wraparound patio is overhung by second floor cantilever to provide protected picnic area. Main entrance features 2-story glass curtain wall showcasing multi-story lobby. Wood grain vertical columns inside lobby continue the motif of the exterior feature walls. Lobby accesses expansive, open spaces of the Spirituality and Meditation facilities with floor-to-ceiling windows, or open stairway with glass railings that leds to striking 2nd floor balcony overlooking 1st floor lobby and glass curtain wall. Co-location of Counseling and Health Services on second floor lets both departments share check-in/out, waiting, and records – maximizing usable space. Custom millwork, fully equipped medical exam rooms, labs, dispensary, as well as high-tech meeting rooms, offices, admin, storage, and mechanical spaces provide maximum functionality in a compact footprint.
Technical Innovation & Sustainability
Using MODLOGIQ's unique "Build Together" method, the finished structural steel modules were all bolted together into the final structure. Then electrical switch gear and MEP systems – including conduit, plumbing lines, and other runs – were installed with pre-planned "breaks" at module mate lines. Reconnection pieces were attached via zip tie at the pre-planned "breaks" before disassembly and transport. This accelerated reconnections and reduced completion time. Floor-to-ceiling windows in the Spirituality and Meditation facilities – as well as drywall, standard windows, ceiling grids, lighting, flooring, etc. – were built at the factory and transported/installed without breakage, accelerating completion. Constructing the modular, multi-story lobby space featuring 2-story panelized glass curtain wall at the factory ensured smooth integration/installation at the site. Elevators shafts were all finished at the plant, allowing for rapid elevator installation within days of module set.
Cost Effectiveness
The Director of the Facilities Management department at UMBC, who manages many projects on the UMBC campus, said: "This was actually a fun project." The official Facilities Management webpage stated that off-site construction delivered "a superior product at a lower cost than typical full on-site construction." Despite an accelerated schedule and days of unprecedented severe weather (Hurricane Ida generated a record-setting amount of rain), the project was still delivered on budget with minimal change orders. This cost certainty combined with reduced downtime from the start of demolition of the existing health and wellness facility to the opening of the new Center for Well-Being delivered better overall value. Further, optimization of the usable space in the new facility allowed UMBC to also incorporate the offices of Student Conduct and Community Standards into the project, further boosting ROI.
See More Awards of Distinction Winners