St. Mary's Community Corrections Center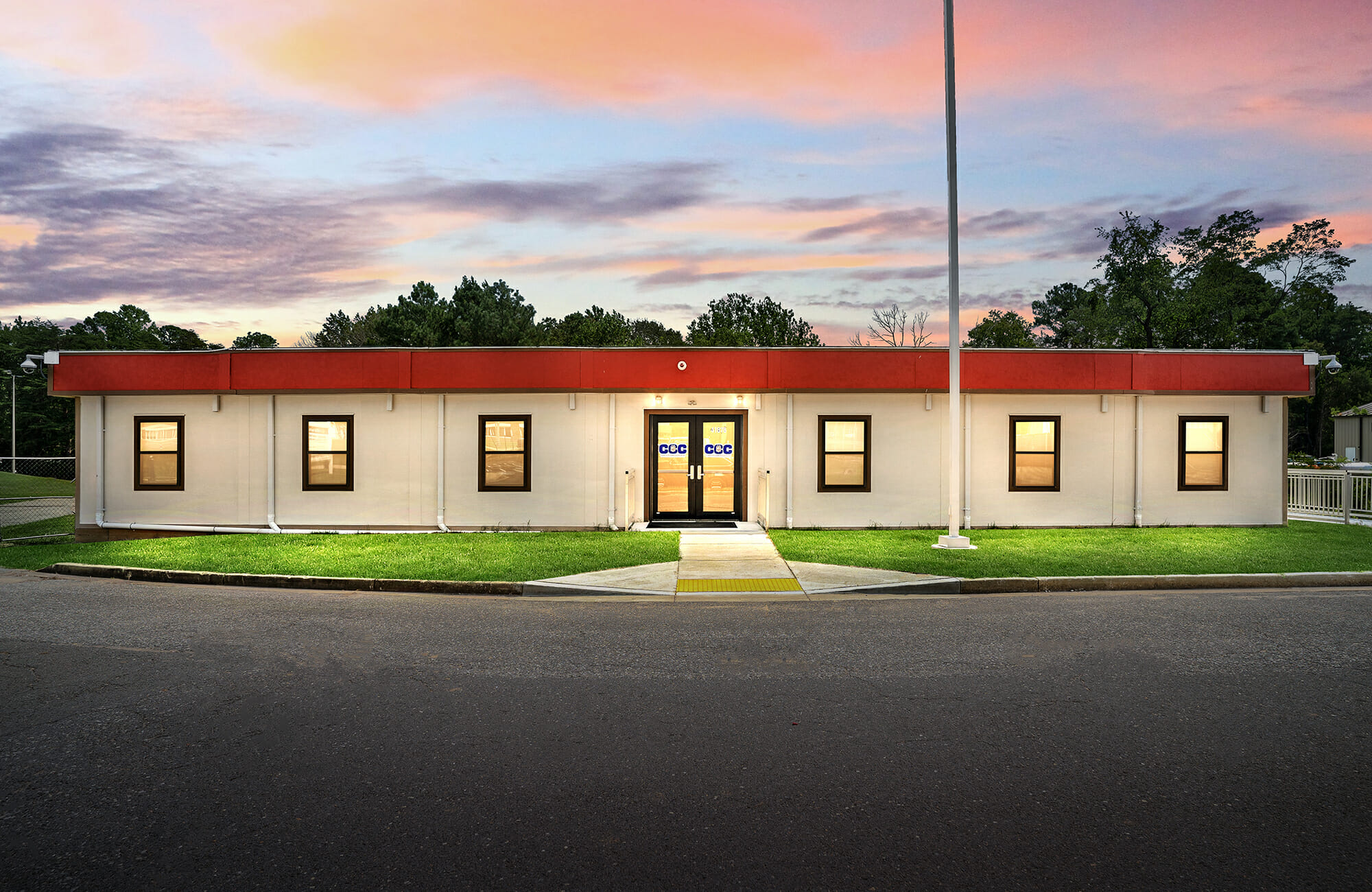 Main Category: Modular Building Design
Company: Modular Genius, Inc.
Affiliate: First String Space
Location: Leonardtown, MD
Building Use: Correctional Center Non-Violent
Gross Size of Project: 5040 Square Feet
Days to complete: 181
Award Criteria
Architectural Excellence
The St. Mary's County Equity Task Force, comprised of the St. Mary's County Sheriff's Office, the St. Mary's County Health Department, and the St. Mary's County Public Schools had plans to launch a new Community Corrections Center. A relocatable modular building was identified as the fastest method to fill the immediate need. To provide this facility, it was proposed to use a 5,040 gross square foot freestanding modular building for speed to occupancy to accommodate the program. The facility would be located at the rear of the existing Detention and Rehabilitation center. The shape of the modular building is square to fit symmetrically on the property. The exterior was painted an off white with red trim to match similar visual aesthetics of the campus. Landscaping of indigenous plans was desired to ensure the project looked presentable and planned.
Technical Innovation & Sustainability
A Modular building was an ideal solution due to funding received from Coronavirus Aid, Relief, and Economic Security Act (CARES Act). The funding required the structure to be operational within the year that funding was approved. Site utilities and foundations were constructed while the building was manufactured in an off-site facility. The soil conditions of the site required excavating until subsurface conditions were adequate with depths up to ten feet below grade. Flowable fill material was back filled to allow a stable foundation to be constructed for the modular building's piers to rest. A crane was used to set the modules on to the piers safely. Off-site construction included installation of features inside the modular building such as wall, ceiling and floor finishes along with counters and cabinets in the breakroom. More durable materials were used in the offenders waiting room, interview room and lab.
Cost Effectiveness
The modular building and utility infrastructure costs were paid for as part of the CARES Act. The budget was maintained by Modular Genius utilizing subcontractor trades within nearby proximity to the site. MBI member team partners Upside Innovations, providing prefabricated aluminum entrances, and off-site construction facility First String Space constructed an all-encompassing building which was a factor that yielded cost effectiveness to the project. The installation with a crane sped up the time on site allowing reduced labor costs. Since the project was completed during the height of the COVID 19 pandemic and modular was the select building method due to labor and material shortages. The cost comparison vs conventional building far outweighed the benefits.
See More Awards of Distinction Winners