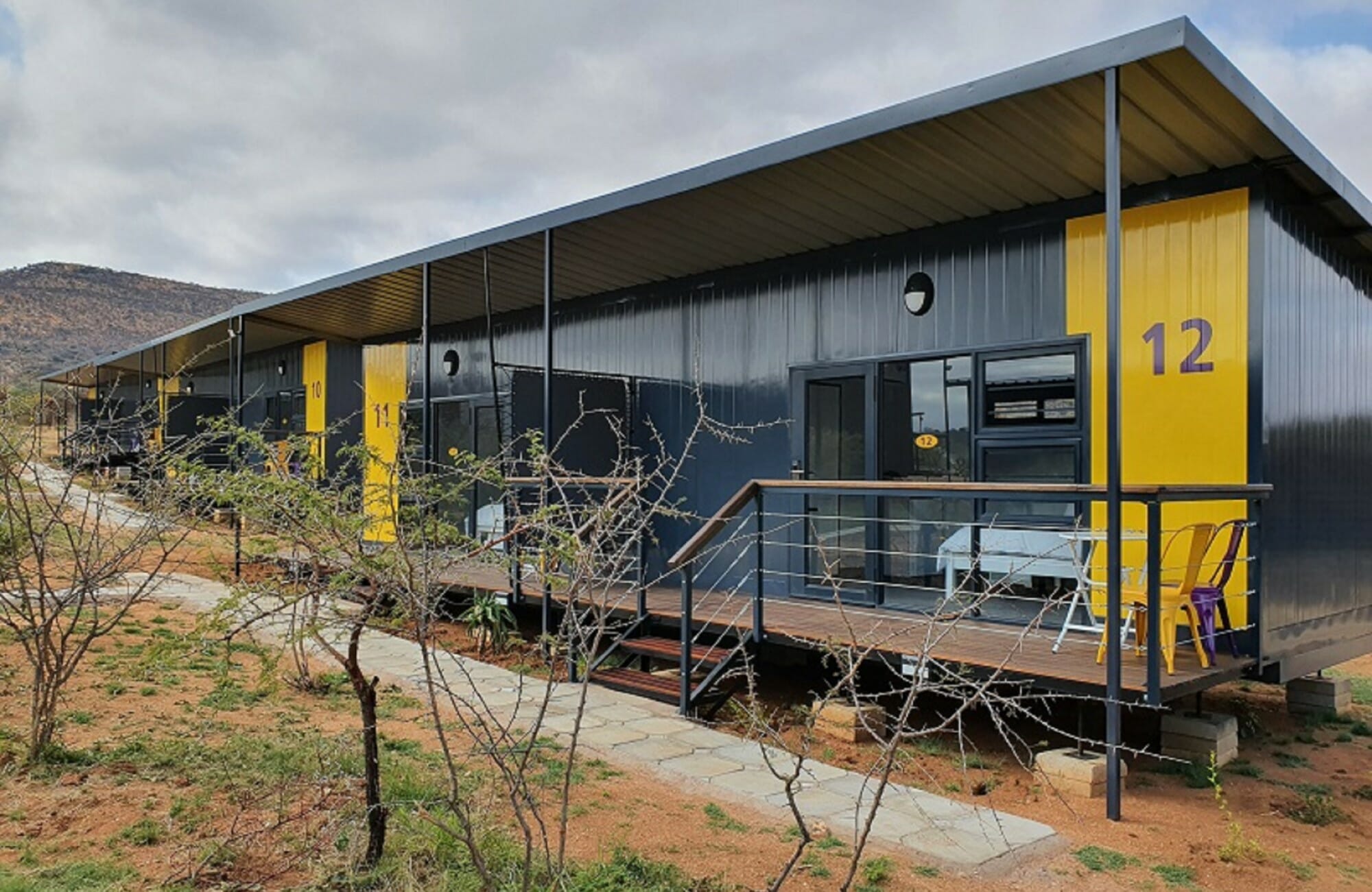 Main Category: Modular Building Design
Company: Modular Site Solutions Ltd.
Location: Polokwane, ZA
Building Use: Easy Access Motel Accommodation
Gross Size of Project: 11260 Square Feet
Days to complete: 105
Award Criteria
Architectural Excellence
The site layout is, and follows the contours of the mountain slope on which they are placed. 15 units, (split into 2 mirrored units per module providing 30 double bed sleepers) are unevenly spaced around an elliptical in shape, based largely on the existing flora, which was to remain undisturbed during the fabrication and project phases. Constructed of 40mm insulated sandwich panels, which provide high levels of insulation to keep the units cool in the heat of summer, and warm in the colder winter months, each 12m unit is split into 2, with a double bed room housing a toilet & shower on suite. Primarily north east facing, units are warm in the mornings, and provide, cool afternoon shade on the balcony's at sunset. Externally finished in grey, with a distinct yellow panel indicating the unit number, these crisp modular units stand out from their harsh, external environment, insinuating a contrast that offers respite and relaxation to its potential occupants.
Technical Innovation & Sustainability
Chassis were pre-manufactured and delivered to site at ground breaking, and carried by hand into position between the existing flora, which was to remain undisturbed. In addition to the modular chassis, an additional chassis was required to accommodate the long, split balcony required in the design, and was bolted on during the construction phase. This was clad with Saligna decking and bridges the gap between the natural flora and the units. Built with a mono pitch design, the pitch of the roof allows for the catchment of rainwater, and maximizes light into the units with the high apex over the balconies. Chromadek insulated sandwich panels, corrugated on both sides, provide for good durability and thermal insulation properties. With limited site access, much of the project was kept in a knock down state until fabrication. Local labor was used to get material to each build site in manageable sizes. Material supply was direct to site as per the project timing plan.
Cost Effectiveness
Due to its location from our manufacturing facility, 350km (or 220 miles), transport of material and resources was always going to be a factor. The majority of material was delivered directly to site, either from the manufacturer or from branches of the primary supplier based in Polokwane. This involved lean planning and execution of supply in order to maintain stocks on site and to ensure there were no material shortages that hindered manufacture. By default, this reduced the material cost to site, and allowed for faster delivery of materials to site, than if we had supplied from our manufacturing site in Johannesburg. A further cost initiative was the use of modular units for site accommodation. In addition, canteens and ablutions were provided to the assembly staff, and this allowed for an early start and a full working day on site, all this at the cost of transport only. This reduced storage area required on site, and the associated shrinkage due to theft and damage.
See More Awards of Distinction Winners