Sierra Preparatory Academy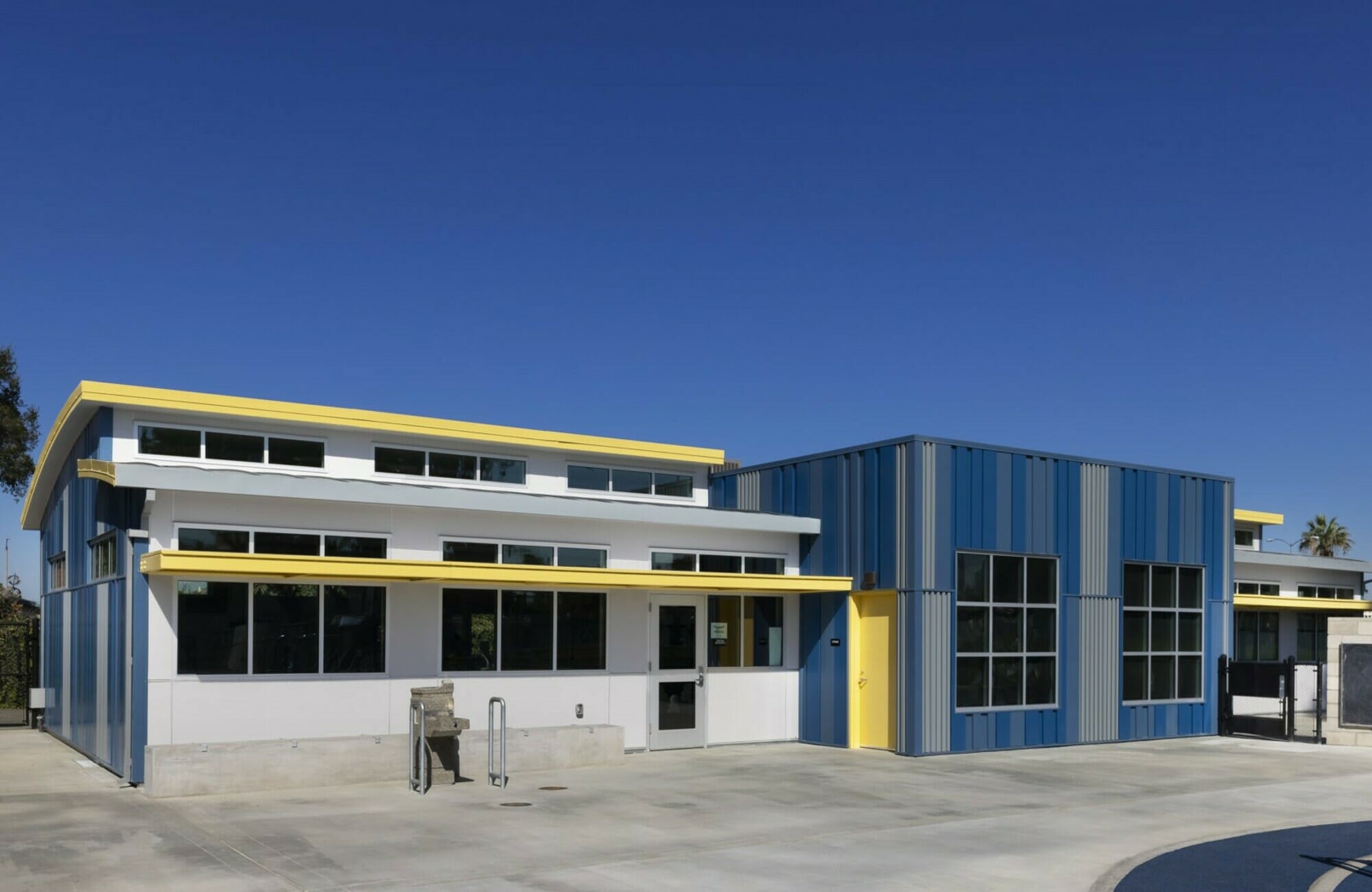 Main Category: Modular Building Design
Company: Silver Creek Industries
Location: Santa Ana, CA
Gross Size of Project: 6384 Square Feet
Days to complete: 93
Award Criteria
Architectural Excellence
Utilizing a design assist project approach allowed the design architect and the modular building design team to collaborate on design considerations during the early in the design process to ensure the modular construction systems selected would support the design intent. The project consists of two structures which each house two Pre-Kindergarten classrooms. A separate modular restroom building was provided to serve the adjacent playground. Each classroom contains student restroom facilities, ample classroom equipment storage and an additional storage room for outdoor learning and play equipment. The buildings' exterior is covered with a mixture of fiber cement siding panels and multi-color vertical metal siding panels to create a striking architectural presence. The building interior features large windows, and clerestory windows, to provide abundant natural light in every educational space. The classrooms utilize a curved roof and ceiling which provide ceilings as high at 14'-0".
Technical Innovation & Sustainability
To meet the project requirements while providing a unique architectural form a project specific module design was utilized. The module widths vary from 10'-0" to 12'-0" and the module lengths vary from 32'-0" to 43'-0". The curved roof portion of the building utilizes modules that are approximately 16'-0" tall. A light weight concrete floor system was poured the in the factory for all modules. High efficiency LED lights with occupancy sensing controls and automatic daylighting controls were used in all spaces. Manual dimming controls were provided for all classroom lighting to allow the teachers to adjust the light levels for specific learning exercises. Wall assemblies separating classrooms and adjacent spaces were designed to provide acoustic separation for sound mitigation. Low-VOC materials were used throughout the project to provide a healthy learning environment. Low-flow plumbing fixtures were used throughout the project.
Cost Effectiveness
Based on previous successful modular projects the project owner determined early in their planning process that modular construction was the most cost-effective construction method for their project. By utilizing off-site construction, they were also able to realize significant schedule advantages as compared to traditional construction methods. During the design process the interior spaces were carefully planned to maximize the work that could be performed in the factory wherever possible. The restroom facilities were designed and located to be fully contained within a module to allow those spaces to be completed in the factory. Panelized exterior finish systems allowed the modules to be delivered with a majority of the exterior finish pre-installed.
See More Awards of Distinction Winners