Secwépemc Child and Family Services (SCFS) Agency Office Building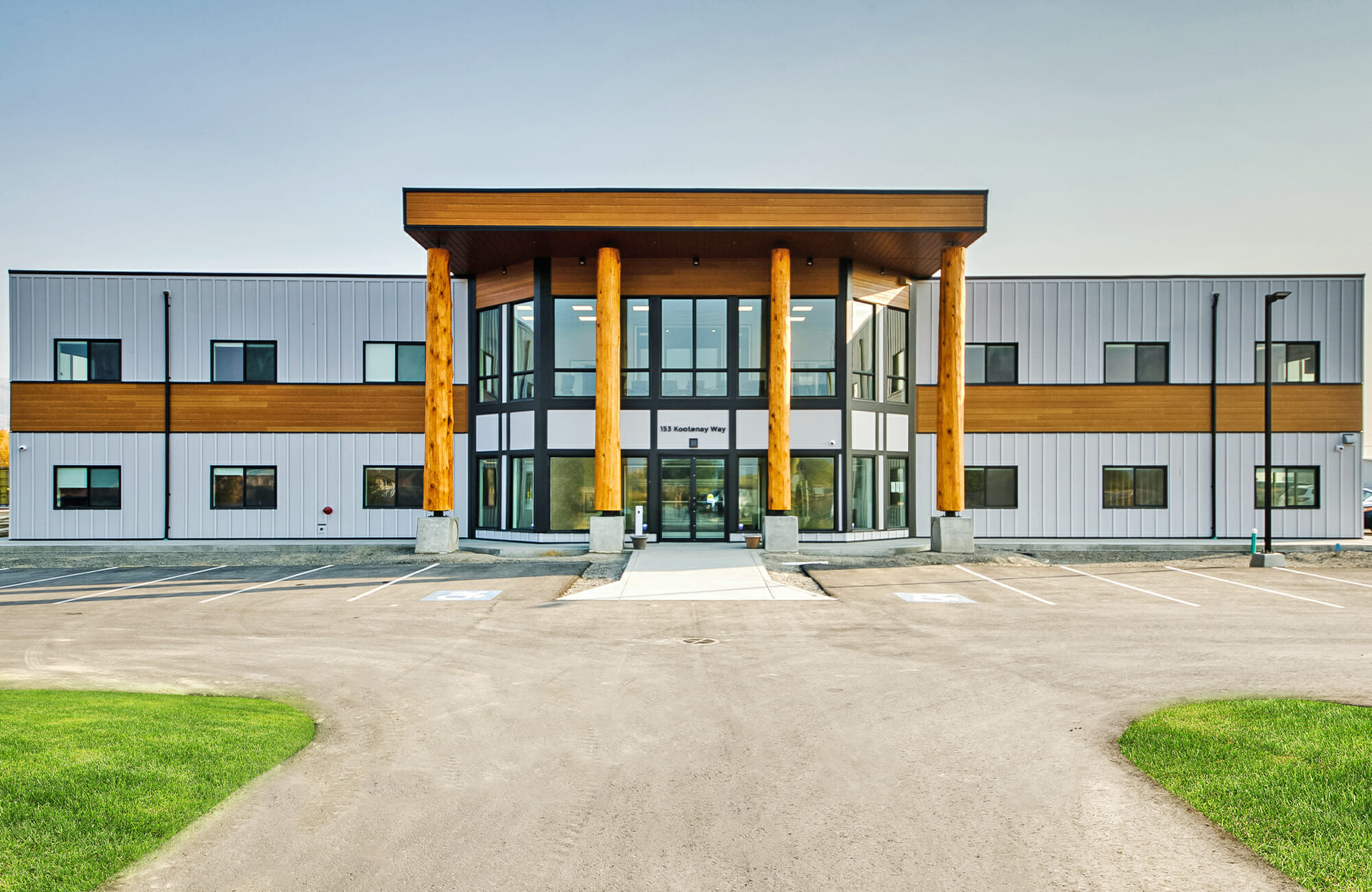 Main Category: Modular Building Design
Company: NRB Modular Solutions
Location: Kamloops, BC
Gross Size of Project: 31000 Square Feet
Days to complete: 433
Award Criteria
Architectural Excellence
The 31,150 square feet, two-story, U-Shaped wood frame modular SCFS office building was originally envisioned to be a space of gathering. Construction occurred in a timely manner and provided insulated space for the trades to work within a few months. This building boasts 77 offices, 9 large meeting rooms, a staff room, a family resource centre, a commercial kitchen, and a large courtyard. Highlighting the main entrance are log cedar columns on a designed concrete pilaster. There is a gathering space recessing into the floor, which allows for presentations and discussion platforms. The U-Shaped floor plan allows most of the offices to have a view outside or exposure to natural daylight. The main lobby is open to the second floor with glass railings trimmed clerestory, providing a sense of tranquility. Black metal windows and doors with black flashing allows the building to blend into the backdrops of the dunes and hayfields beyond.
Technical Innovation & Sustainability
The Secwépemc Child and Family Services (SCFS) Agency building was placed so that it did not interfere with the archaeological sensitive zones of the property according to the TteS Heritage Conservation bylaw. The delivery of 42 modulars was easy as the modulars were constructed at the factory 2 blocks from the site, reducing costs and greenhouse gas emissions. Providing modular construction for the building helped to reduce the amount of construction waste. As well, it provided better quality control to the manufacturing of the modules. With a team of over 150 employees, NRB Modular Solutions was able to produce one module a day on average in their heated plant. Their ability to stock materials helps reduce the amount of delivery vehicles needed for one project. Other notable features include a state-of-the-art Kaba Access Control System which was installed with a full fob access system for the first and second floors of the building.
Cost Effectiveness
This project was located less than 1 km away from our manufacturing plant in Kamloops, which naturally came with cost savings due to location and transportation logistics. The main components of the modules were built in the factory while foundation and site work were being completed, allowing the project to be completed much faster and more cost-effectively than conventional construction. Even though the modules were 75% complete before leaving the manufacturing plant, the proximity to site meant that NRB could do more of the finishings on-site, further cutting down costs. Collaboration with local contractors was a benefit for this project since they were close to or in Kamloops. Having a preferred partner for this one-of-a-kind design feature helped save time and cost. The client worked with an owner's representative which helped streamline information and negotiations after contract. Having this representation saved time and limit costings to keep the project schedule on track.
See More Awards of Distinction Winners