Seattle South Lake Union Hotel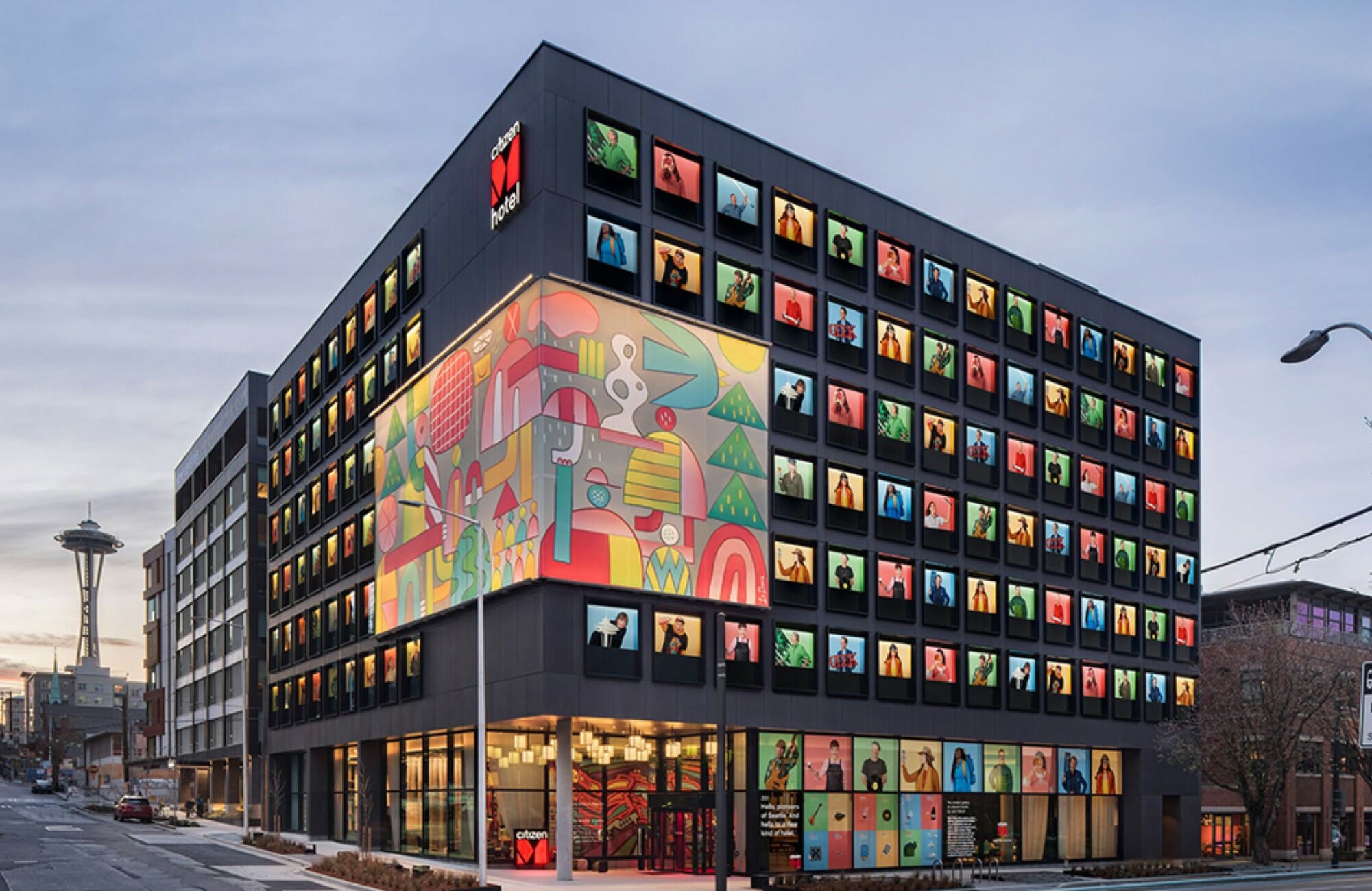 Main Category: Modular Building Design
Company: Polcom Modular
Location: Seattle, WA
Building Use: For business and leisure
Gross Size of Project: 82000 Square Feet
Days to complete: 578
Award Criteria
Architectural Excellence
This unique hotel has six levels of guest room modules and two traditionally built levels (basement and grade). Site built construction included the entry level providing long-span volumes for the lobby, living rooms, meeting spaces, and café and below-grade MEP spaces and gym. The 264 fully finished and furnished hotel rooms, approximately 8ft wide, were delivered to site ready to stack and connect above the lobby transfer level. Scientifically proven to alleviate the common stresses of travel: anxiety, sleeplessness and lack of focus.
Technical Innovation & Sustainability
citizenM in Seattle is one of the first modular mid-rise structures built in a high seismic zone. Taking the structural modular design from the East Coast to a highly seismic region on the West Coast required a unique approach that meant working from the top down instead of the ground up. The modules are stacked on top of a concrete transfer slab and rely on a pair of concrete cores as the primary lateral system for the building. At each level, the prefabricated structural diaphragms are in the ceiling of each module. They are then tied together by a series of steel collector bars and shear plates that carry seismic loads back to the cores and then down to the foundation. The primary challenge in high seismic modular design is that the steel modules need to accommodate large inter-story drifts as adjacent floors move back and forth during an earthquake, without yielding the slender columns in the module frame. The modules also needed to remain rigid during transport and erection.
Cost Effectiveness
Within the guest modules, each room features an active chilled beam, which achieves low energy usage, low noise criteria, and low maintenance costs as chilled beams have no moving components. Each room also has a smart controller that uses an iPad, or citizenM's award-winning mobile app, to operate the blinds, HVAC, TV, and lights. Overall the design team was able to reduce the services footprint in the floorplan while maintaining the floor-to-floor height of the modules. The building uses a dedicated outdoor air supply and heat pumps that provide simultaneous heating and cooling. Unique for a hotel setting, excess heat is captured by the heat pump to preheat the domestic hot water. With the addition of solar panels on the roof, the entire hotel saves 29% in energy usage compared to the baseline and achieved LEED Gold certification.
See More Awards of Distinction Winners