Satellite Shelters, Inc. Website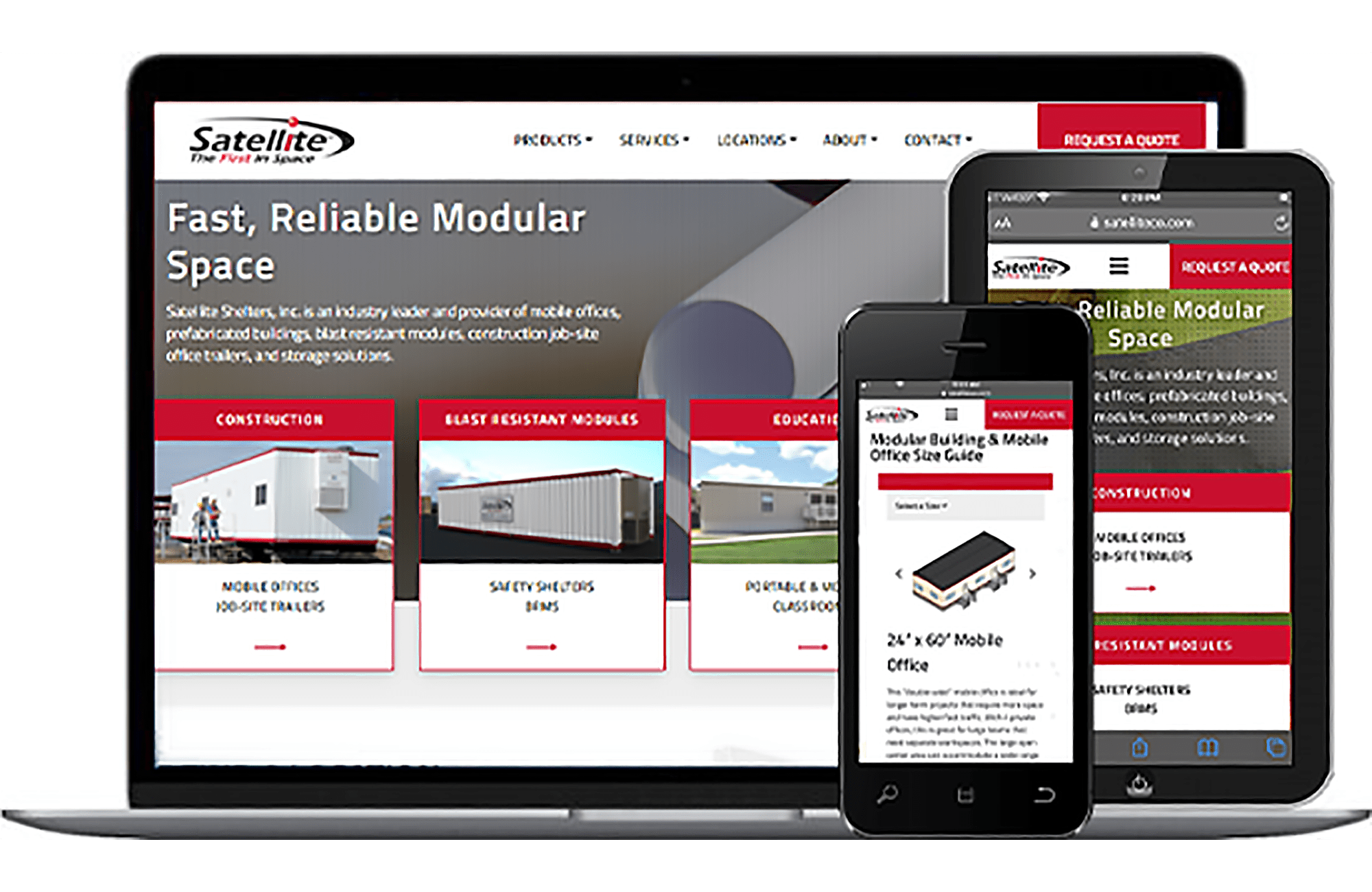 Main Category: Marketing Piece Entry
Entrant: Satellite Shelters, Inc.
Date of Initial Distribution: 11/25/2020
Award Criteria
Specific Medium Used
Website Redesign
Target Audience
Companies and individuals looking to use modular construction as a means to solve their space needs.
Methodology
Satellite's website was designed to promote our brand as a premium modular provider in the US.
Message to be Communicated
Satellite Shelters is your local source for high quality modular solutions in the United States.
Distribution
Digital marketing initiatives across social media, blogs, PPC ads, PR articles, and SEO efforts.
Entry Objective
Using extensive keyword and market research, Satellite's design team combined industry trends with our well-established branding to overhaul our digital presence. An updated navigation menu puts the journey in users hands with clearly labeled products, services, locations, and contact information, reinforcing confidence in Satellite's brand. While we are a small company, we wanted to portray our national reach with individual location pages and a new "find your nearest location" feature. This empowers site visitors to reach out to their local office directly and makes finding their local office a breeze. Each location page features address and contact information as well as photos of the local modular experts so customers can get to know their local teams. Satellite also launched a new "size guide" tool to help customers visualize their modular space solutions. Customers and employees alike are finding this tool to be extremely helpful in narrowing down the different options available.
Effect on Sales, Visits, or Inquiries
Satellite's new website design is seeing increases in session numbers, average time on page, form fills, and goal completions. Direct traffic is up 15% year over year (YOY) and total site traffic is up by 4%. The updated content and keyword strategy are effective and informative as customers are showing they are comfortable with Satellite's new website and are coming back without searching first. Average time on page has doubled on our homepage and product pages seeing a 253% and 195% increase respectively. Goal completions for contacting Satellite have increased 40% YOY resulting in an increased conversion rate of 34% YOY. Customers are engaging with the content on our website and requesting more information about modular construction. Our updated location pages have seen an increased conversion rate of 41% YOY. Average monthly form fills have increased 46.4% resulting in additional opportunities to educate site visitors on the benefits of modular construction.
See More Awards of Distinction Winners