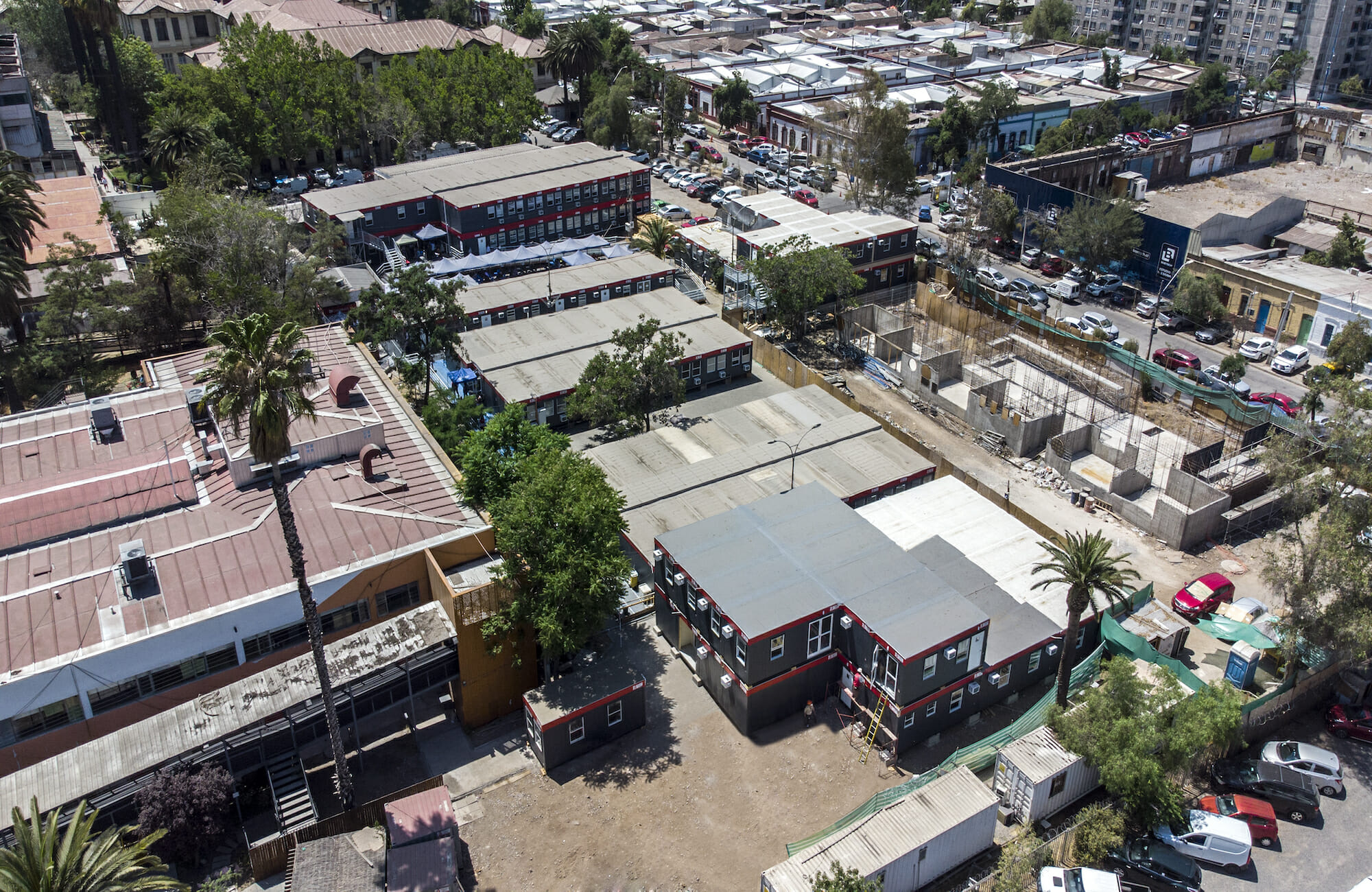 Main Category: Modular Building Design
Company: Tecno Fast S.A.
Location: Santiago, Chile
Building Use: Attention to public hospital
Gross Size of Project: 28201 Square Feet
Days to complete: 282
Award Criteria
Architectural Excellence
San Borja Hospital is one of the oldest and largest hospitals in Chile, located in the heart of Santiago, with a capacity of 700 thousand patients. This hospital suffered a terrible fire, rendering part of its facilities unusable. Faced with the impossibility of closing their doors, considering its size and the ongoing Covid 19 pandemic, they decided to try a modular construction solution with Tecno Fast. We built 5 buildings in 3 stages; the 1st building delivered in just two weeks, has 664m2 and is used as a waiting room with bathrooms and 13 service boxes. The 2nd, 3rd, 4th and 5th buildings consider 168, 980, 510 and 480 square meters respectively, totaling to over 2800m2. Spread throughout one or two floors per building, the project also considers: 4 waiting rooms, multiple bathrooms, 36 service boxes, 34 administrative offices, intensive care units, staff rest areas, 5 private showers, 5 break rooms, 3 dining rooms, a training room and a large recovery box.
Technical Innovation & Sustainability
One of the main features of this project is that it began as a one-building project and later developed in five interconnected buildings. For the second stage, the time of delivery was also critical, therefore the two-story building considered quick-to-build 1.20m x 2.40m corridor modules. These served a double purpose, the lower part served as the first floor ceiling and the upper part as the second floor flooring, thus achieving the delivery of the 2nd stage in just 2 weeks. Additionally, between the first and second floors, skirting was installed joining the modules, granting them added structural resistance and an improved finish. One of the units was adapted, reinforcing the flooring with a diamond plate enabling it to support the weight of heavy hospital machinery. On the first floor, special 60cm x 60cm x 75cm foundations were built, which adapted to the uneven terrain. In addition, 2m x 4m wooden frames were made joining the foundations to evenly distribute the loads.
Cost Effectiveness
San Borja is a leasing project, so the modules can be reused for other projects. They are standard units, which can be refurbished into an office, a classroom or another use. On the other hand, we were able to get this project out in record time mainly due to the use of modular corridors, which allowed us to save one and a half weeks in assembly. Another advantage of Tecno Fast, is that the world's supply crisis has not affected us, as we count with the materials we need to manufacture our modules stored in our warehouses.
See More Awards of Distinction Winners