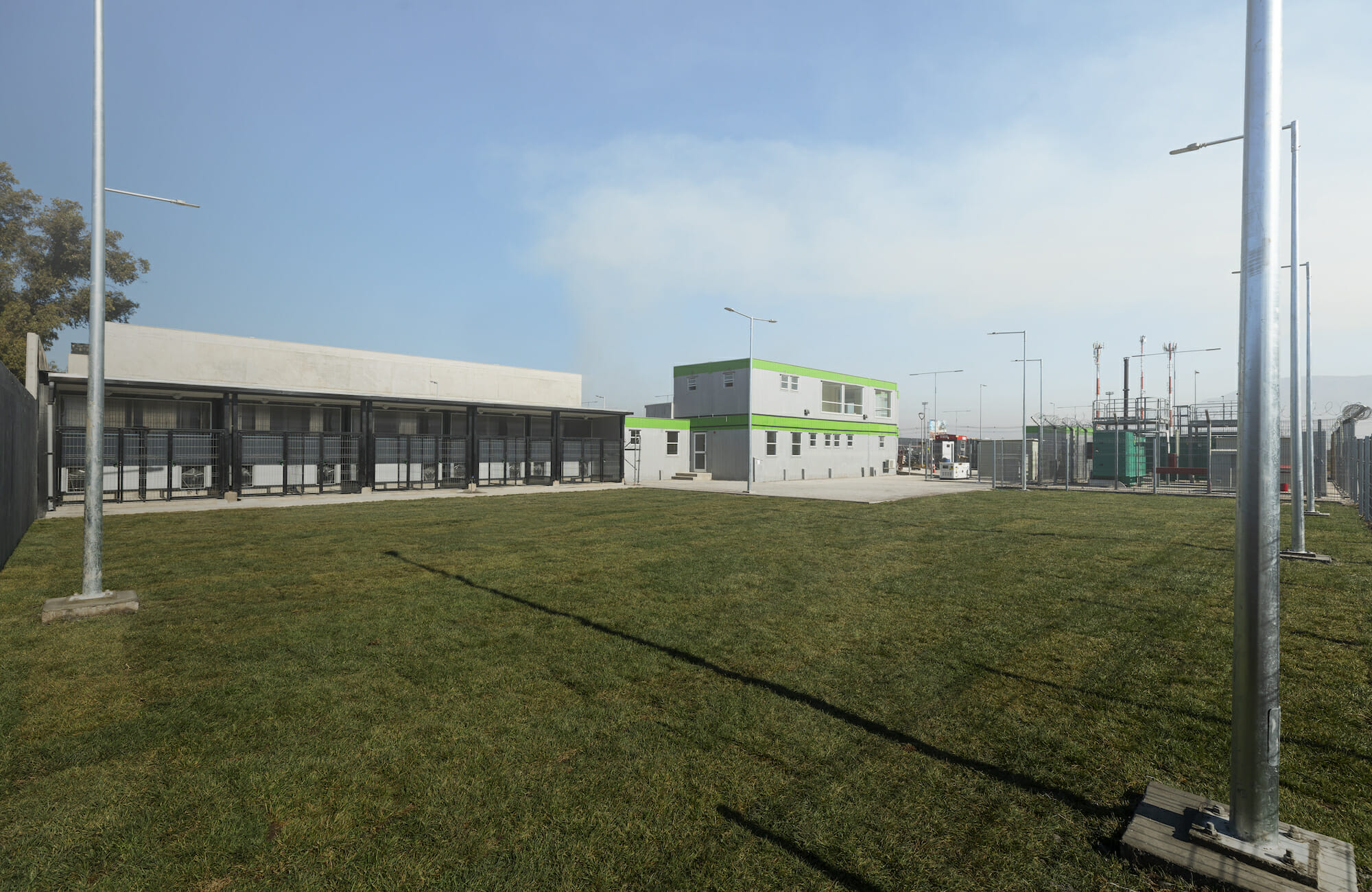 Main Category: Modular Building Design
Company: Tecno Fast S.A.
Location: Santiago, CL
Building Use: Dog Kennels and Offices
Gross Size of Project: 6049 Square Feet
Days to complete: 128
Award Criteria
Architectural Excellence
Our client was the SAG (Agricultural and Livestock Service), the official Chilean state agency in charge of supporting the development of agriculture, forests and livestock, through the protection of animals and vegetables. The client asked us for a very special 100% turnkey project consisting of offices and dog kennels, consisting of a 530m2 two-level modular building. The first floor contains offices, universally accessible bathrooms, an emergency system control room, a risk control and server room, dog care rooms, a veterinary room, a dog bathing room, a storage room, a transition space to prepare the dogs for airport duty, and 16 modules containing 32 kennels in total. The second floor contains a meeting room, a living room, a lunchroom, and two dressing rooms with bathrooms, showers, and water heaters ensuring a continuous supply of hot water.
Technical Innovation & Sustainability
This is one of our first 100% turnkey projects, where apart from the modular construction work we also carried out the complementary civil works. These were executed in a modular fashion to increase efficiency and ensure modular standard. Some of the complementary works that we delivered include the foundations, concrete slab, green areas, pavement works, exterior lighting, and the complete sewer and drinking water systems. It was the first time we designed modular kennels, each consisting of two areas: a main space connected through transparent acrylic swing doors to the dog's sleeping quarters. In addition, we built an internal discharge point within each kennel directly connected to the gutter system, significantly easing their cleaning. The veterinary and dog washing rooms consider floor returns on the wall to comply with humidity resistance requirements. The lighting solution was designed to not affect the dogs' sleeping quarters, illuminating the corridors instead of the kennels.
Cost Effectiveness
Within the many ways of constructing, both clients and builders share an important task: developing projects that optimize time management and are financially and energetically efficient. Modular construction counts with these considerations. When talking about modular construction, we highlight the accuracy of building schedules due the standardization of its construction processes, as well as highlighting the ability to develop various processes simultaneously, such as building the modules offsite while developing civil and sanitary works onsite. This form of construction allows control over processes and coordination of the execution and assembly, translating as a major benefit for our final client. The SAG Offices and Kennels is a prime example of this, where the project was executed according to the special needs of our client, distinguishing the reliability of TECNO FAST.
See More Awards of Distinction Winners