Retail Branch Bank, JPMorgan Chase Bank, N.A.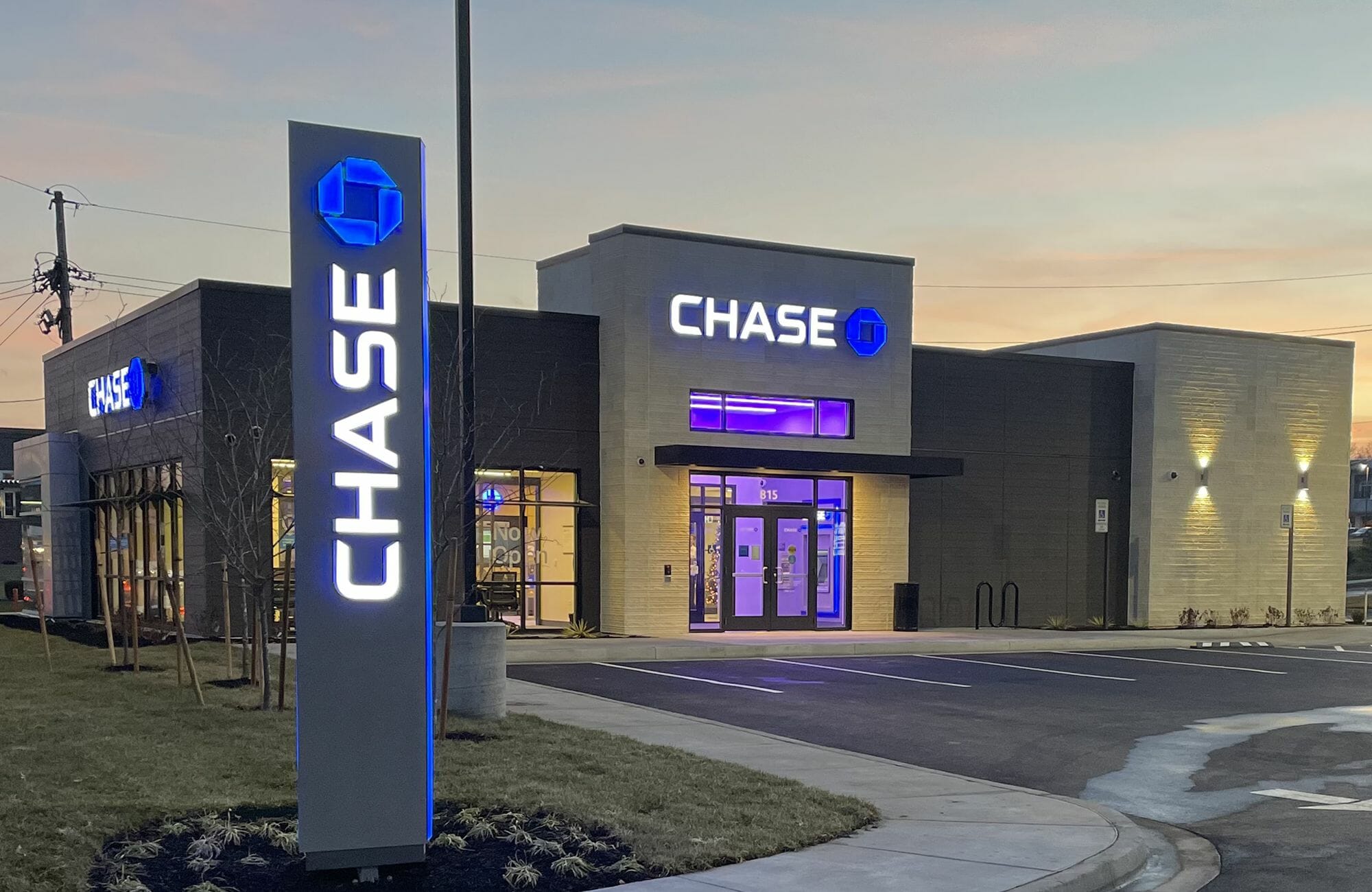 Company: MODLOGIQ & Providence Engineering Corp.
Location: Blue Springs, MO
Gross Size of Project: 3300 Square Feet
Days to Complete: 213
Award Criteria
Architectural Excellence
Complex exterior façade is comprised of multiple, unique components: Precast Stone, Architectural Metal Cladding (AMC), and Fiber Cement Panels fabricated to look like custom wood were affixed to modules/parapets. Corner glass curtain walls added high-end aesthetics of Chase brand. All were installed at the factory to make site completion highly turnkey – and shipped over 1,000 miles with insignificant damage. Custom high hat created a monumental entrance leading to expansive lobby with raised ceilings via 2 more custom high hats. Teller area backed by focus wall with media/tech displays serves walk-in, drive-thru, and online customers. Personal electronic banking stations augmented with privacy buffers and sound-absorbing wood slat ceilings, private banking client suite, staff offices, safe area with bullet-proof "panic room" barriers, secure back-office space, staff restrooms, and more create a modular branch that delivers all the functionality of a conventionally built branch.
Technical Innovation & Sustainability
With MODLOGIQ's unique "Build Together" method, modules could be finished at factory to ~90% completion, including exterior façade, windows, entryway, floor, ceiling, lighting, drywall with first coat of paint, MEP, and HVAC systems and more. The result is seamless installation, no remediation, and faster completion. Transport by lowboy trailers enabled maximum module heights for higher ceilings throughout the building. High hats not only provide monumental, multi-story appearance outside and expansive, open interior inside, but also provide hidden space to house the mechanical systems.
Cost Effectiveness
Fiber Cement Panels delivered the high-end appeal of custom wood siding, Precast Stone looked like hand-laid stone but was much more cost-effective. Metal Cladding (AMC) completed the brand's signature "Jewel Box" aesthetic look. These high-end finishes were applied to modules, high hats, and parapets to deliver the monumental, multi-story appearance key to Chase retail branch bank branding. Importantly, all this exterior finish was built at the factory, which saved time/money on site completion expenses and allowed the branch to open months sooner for faster time-to-revenue.
See More Awards of Distinction Winners