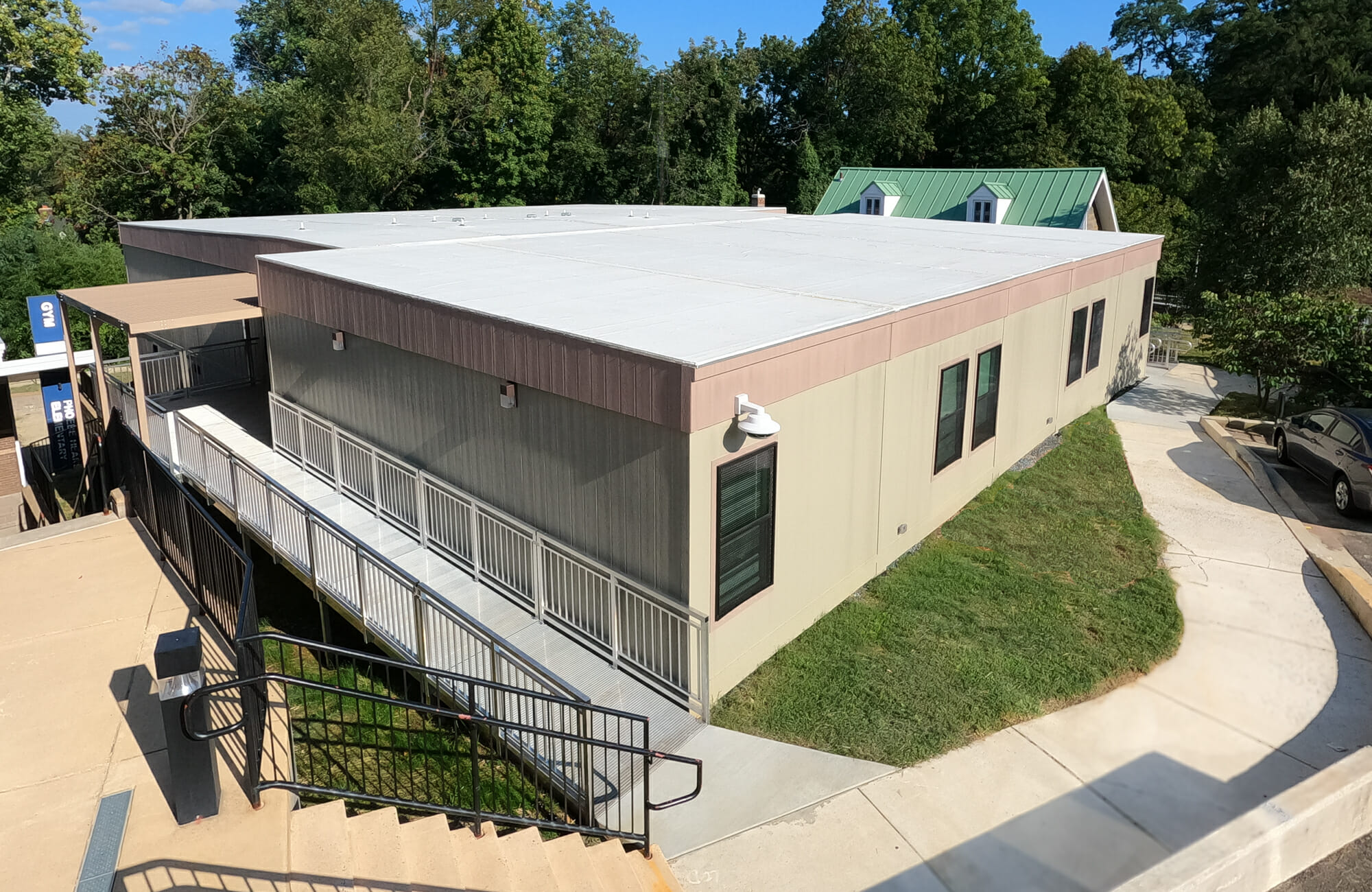 Main Category: Modular Building Design
Company: Wilmot Modular Structures, Inc.
Affiliate: Diamond Builders
Location: Alexandria, VA
Building Use: Education
Gross Size of Project: 2128 Square Feet
Days to complete: 92
Award Criteria
Architectural Excellence
The original layout did not accommodate the number of students required to meet their budget. Walls were modified to increase the number of classrooms which raised the number of children enrolled in their program. The proximity of the existing church required the exteriors to be upgraded with Custom vinyl horizontal siding and vinyl shingled mansard in complementary colors that would blend with the existing brick exterior on the church. Luxury Vinyl tile was added in the classrooms to give a modern look. Aluminum canopies were added by exterior doors and run to the main sidewalks providing coverage from weather.
Technical Innovation & Sustainability
It was important to the school that classrooms be near the existing church. But the only location was on the back side of the church, and it was encroaching on their property line. 2,240 sf of classroom space was required, but the site size made it impossible to maneuver large box sizes. The solution was to use 4 – 14'x38' boxes. In addition, the property had to be rezoned. A lot of time was expected to be taken to go through the permitting process. It was critical that the modular process be used so the construction time could be minimized and the overall schedule could be met. The building needed to be updated so Low e Windows were added to increase the natural light, new modern flooring and lighting were added and the layout was updated to accommodate today's more interactive learning methods.
Cost Effectiveness
The main problem faced by the church was low enrollment due to space constraints and a huge waiting list from students of families belonging to the neighborhood. A renovated used building was the best way to provide them the space needed and to keep the project within their budget. Adding the classrooms enabled them to increase enrollment which brought in enough revenue to continue operations. Wilmot handled the zoning change, permits and utility connections, saving the customer time and money.
See More Awards of Distinction Winners