QUBE Pilot & Technology Demonstration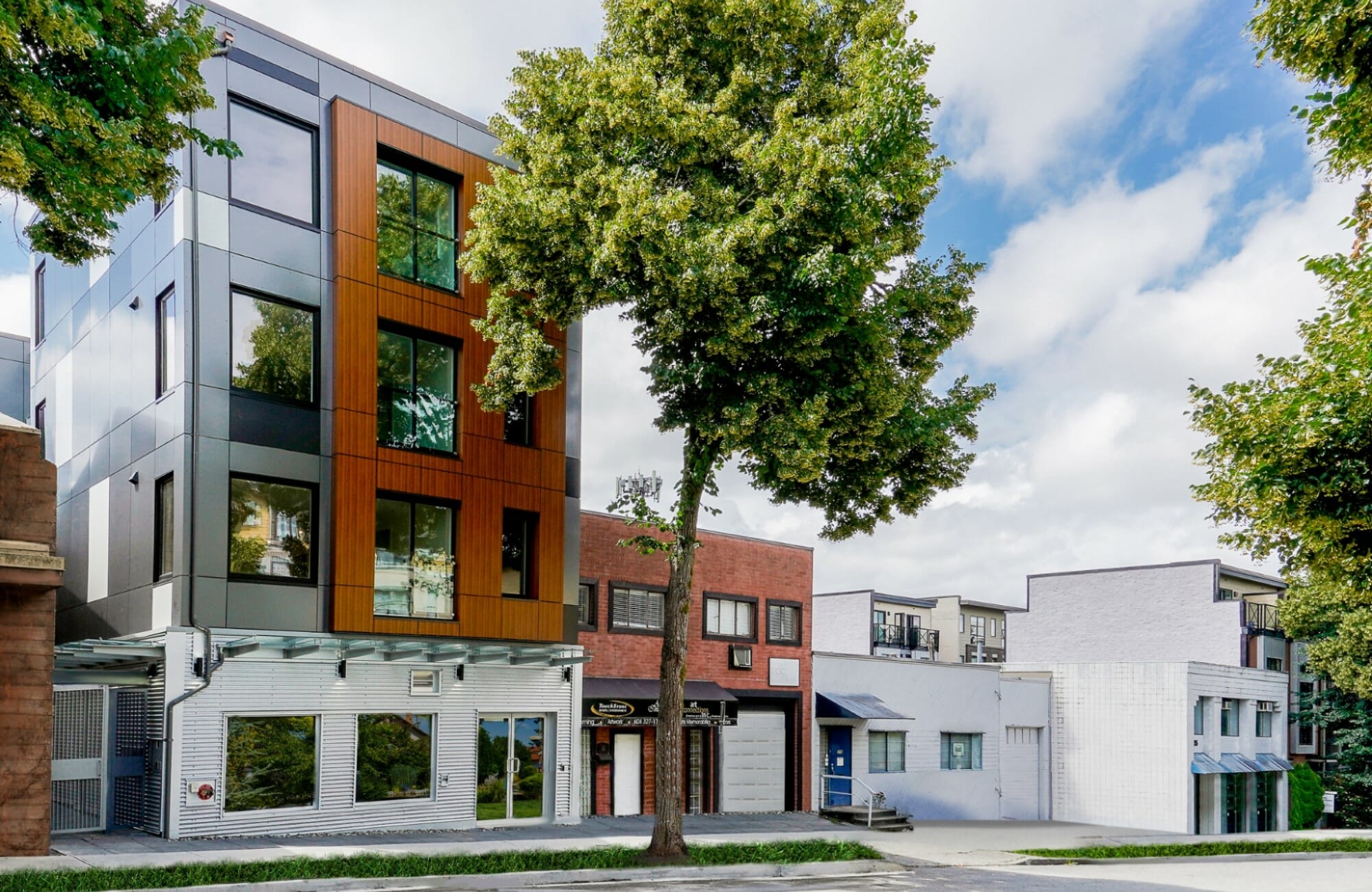 Main Category: Modular Building Design
Company: QUBE Projects Inc.
Location: Vancouver, BC
Building Use: Mixed-use, commercial & residential
Gross Size of Project: 11000 Square Feet
Days to complete: 320
Award Criteria
Architectural Excellence
This purpose built, multi-family rental was permitted under the City of Vancouver's secure market rental policy which offered a density bonus in exchange for protected market rental housing. Two modular buildings are oriented around a South-facing courtyard to increase spatial separation, maximize light and provide an increased connection to the public realm. Ground level commercial units are capped by three levels of residential suites. Designed for livability, the building features a continuous insulated facade system, high performance HVAC systems, and spacious, open-concept floorplans with oversized operable windows to maximize light and fresh air. An onsite shared, hybrid vehicle is managed by Modo; occupants received a free membership. This community minded infill is walking distance to public transit and at-grade bicycle storage is available for tenants. We pursued the highest standards for design and urbanism while successfully profiling QUBE's industrial construction system.
Technical Innovation & Sustainability
The pilot & technology demo features QUBE's componentized, 'kit-of-parts' building system. Designed as a product, and engineered as a process, the integrated building system is ideal for volumetric assembly of buildings. The non-combustible, steel-based technology is interlocking, stackable and transportable. The project also incorporates a self-aligning/self-sealing modular facade system – a high-performing and Continuously Insulated (CI) building envelope affixed outboard of the structural frame, complete with windows and other pre-finished penetrations. The application eliminates thermal bridging and provides an air, vapor and thermal barrier direct from the factory. In addition, the factory installed, modular roof system required only seaming of module mate lines at site to complete. These enhancements expand industry practices (the state of the art), enable a higher level of volumetric finish, speed project delivery and eliminate costly and time-consuming site work.
Cost Effectiveness
The pilot & technology demo exhibits a non-combustible, fire-rated, steel and concrete building where otherwise conventional development at the site would have incorporated timber frame construction and typically a lesser standard of building specification. Highly efficient HVAC with Energy Recovery Ventilation (ERV) pre-installed in suites, combined with a factory installed building envelope, greatly enhances building performance, occupant comfort and livability. The building's design service life also far exceeds that of a conventionally constructed timber alternative. A unique residual value proposition also exists; modules can be disengaged/uninstalled as easily as they are installed. Delivered at a cost not dissimilar to in situ construction, this project encompasses great value. The project lender, Vancity, provided higher ratio lending, lower interest rates and longer amortization periods through its community impact division in support of a "Better Building".
See More Awards of Distinction Winners