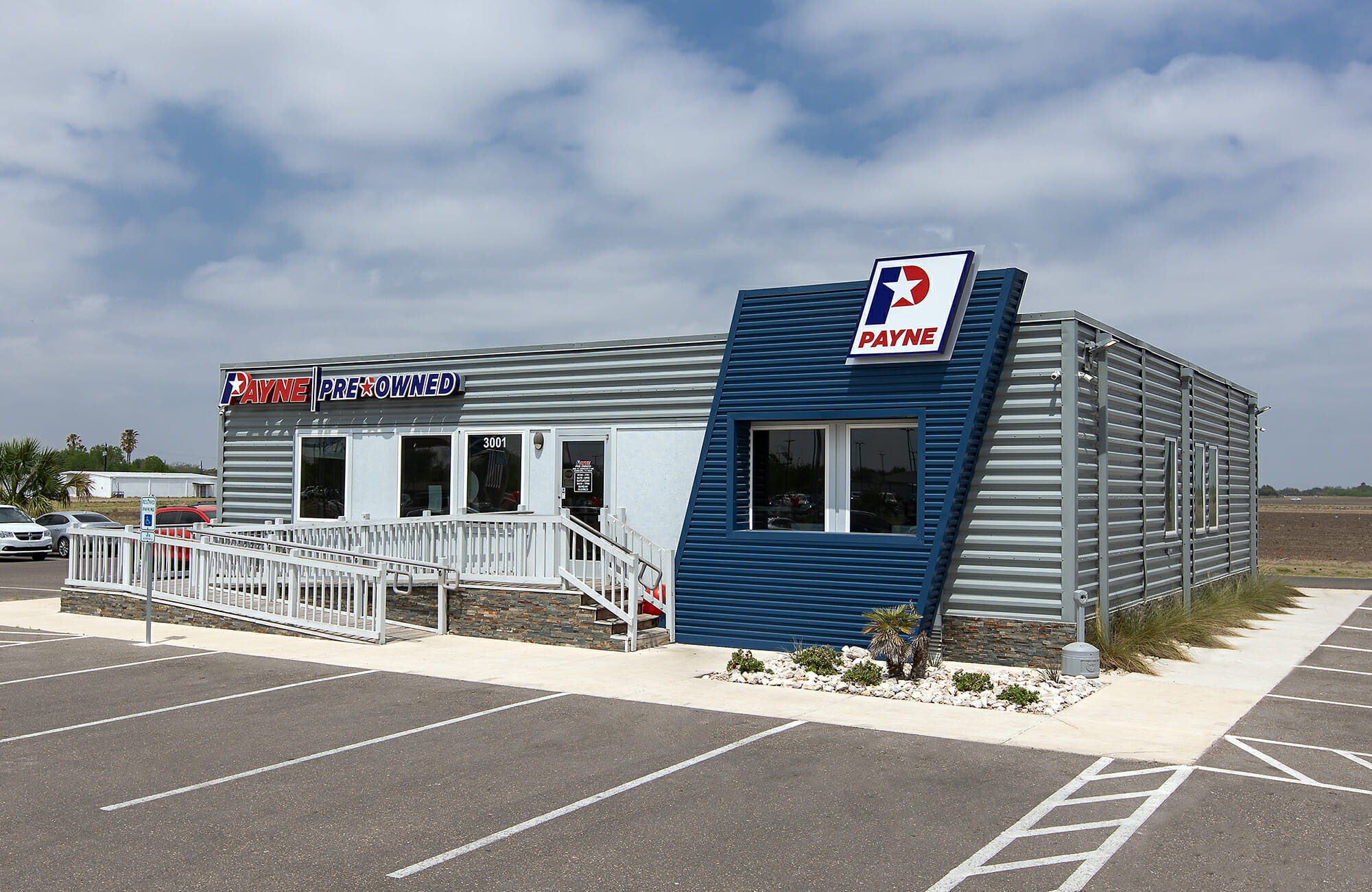 Main Category: Modular Building Design
Company: Ramtech Building Systems, Inc.
Location: Edinburg, TX
Building Use: Pre-owned auto sales center
Gross Size of Project: 2400 Square Feet
Days to complete: 57
Award Criteria
Architectural Excellence
This pre-owned vehicle sales office provides ten private rooms for the company's managers, sales agents, and support staff, 950 square feet of open customer lounge and waiting area, and two restrooms. As a sales office for higher-end pre-owned autos in a high-profile auto mall directly off a major thoroughfare, curb appeal was very important to the owner. Ramtech's design team developed an exterior look utilizing horizontal high-rib steel siding, and a combination of both painted stucco-embossed and smooth HardiePanel siding. The installation of larger windows was also used to enhance and provide a more attractive front elevation for the building.
Technical Innovation & Sustainability
The type VB buildings were built using Ramtech's pier and beam permanent modular construction process with a poured concrete foundation system. The building was designed for forces capable of withstanding 130 MPH wind speeds. The facilities feature nine offices around the perimeter of the building, with 4'0 x 6'0 windows for convenient viewing between rooms, a large customer waiting and reception area, and an employee breakroom. The exteriors feature a parapet wall design with a combination of HardiePanel and 26-gauge high-rib steel R-Panel siding. The interiors are finished with vinyl covered gypsum on the walls, with the floor coverings being a mix of vinyl composition tile, Allure resilient laminate wood plank flooring, and commercial grade carpet.
Cost Effectiveness
Payne While no sustainable rating system was applied, the owner did desire to incorporate as many sustainable features as their budget would allow. The building is designed for compliance with the 2015 International Energy Conservation Code. Insulation values incorporated into the structure were R-30 for the floors, R-19 for the walls and R-30 for the roof. An Energy Star ™ white TPO single ply membrane roofing material was used to aid in heat reflectivity. The HVAC system consists of a zoned high EER self-contained 208V, 3-phase high efficiency spilt system able to handle the high latency conditions for the south Texas coastal region. The digital HVAC controls provides for a four-zone seven-day setback feature. The domestic hot water is provided by point-of-use electric units. The interior and exterior lighting is provided by 120V LED fixtures throughout the building.
See More Awards of Distinction Winners