Parramatta Eels Head Office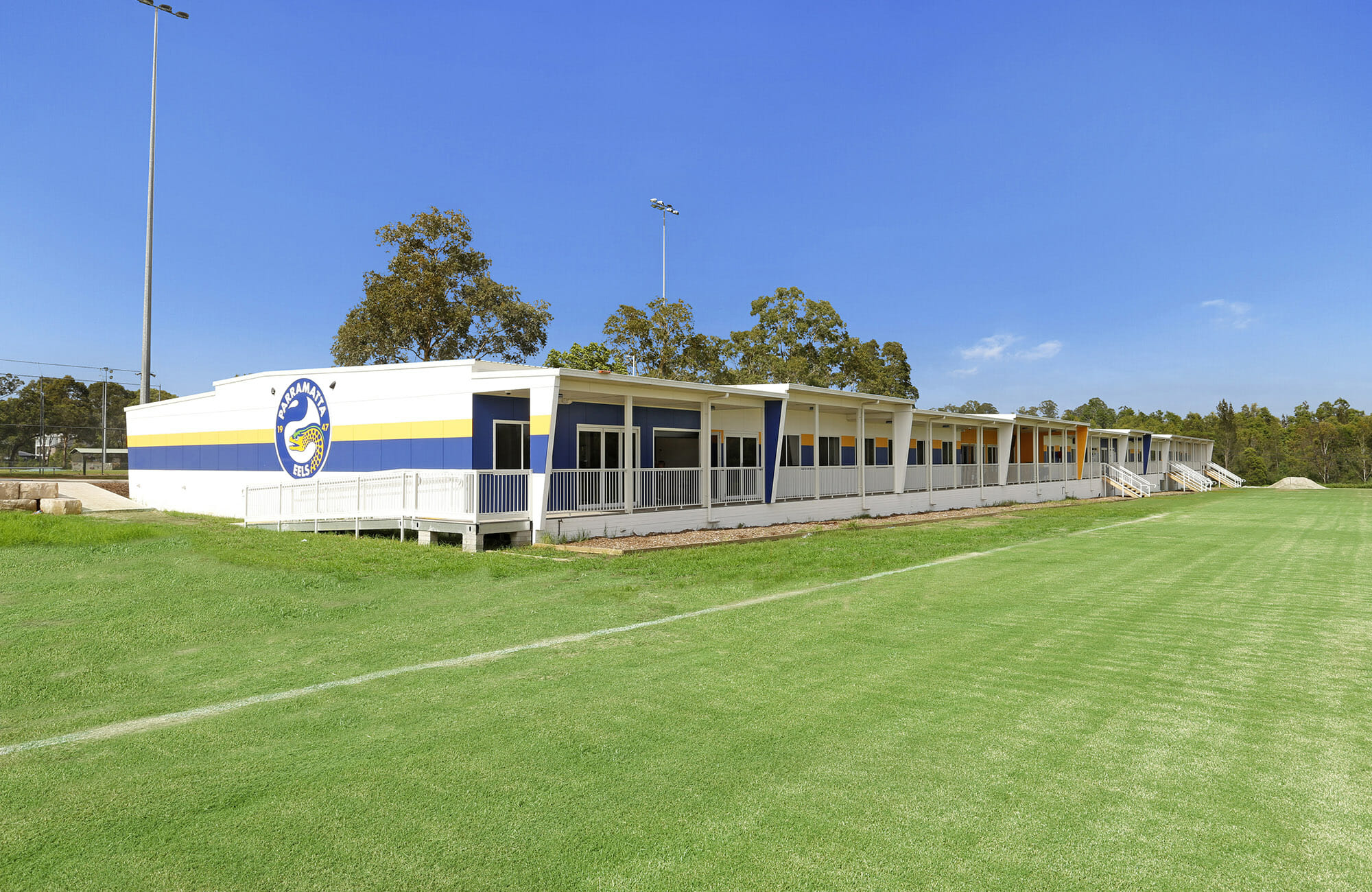 Main Category: Modular Building Design
Company: Fleetwood Building Solutions
Affiliate: Fleetwood Building Solutions
Location: Sydney, New South Wales
Building Use: Head Office and Training Facility
Gross Size of Project: 2100 Square Meters
Days to complete: 183
Award Criteria
Architectural Excellence
Showcasing architectural excellence and color, the new club office and administration building doubles as a training facility that pushes the boundaries of modular design and construction. The modular masterpiece was built on a greenfield site and seamlessly integrates with the surrounding local community flora and fauna. The facility was designed and built specifically to create a new "permanent" look and feel. Through a collaborative process with the sporting club we explored the limits of modular design to deliver outstanding benefits and utility for players and staff. Creating elegant structural and spatial solutions for modern athletes and open administration facilities allow these spaces to adapt to the changing future needs of the club. Constructed off site in 20 weeks (2,100 sqm), the modules were then separately transported to site and installed, the new structures smoothly blend indoor spaces and flexible areas for all patron to enjoy.
Technical Innovation & Sustainability
Fleetwood worked closely with the Parramatta Eels to propose a prefabricated Off Site Manufacturing solution to resolve key project hurdles; significant site access issues due to local council restrictions operating on site for long periods of time. This project procurement solution had the added advantage of greatly reducing disruption to residents who lived within the direct vicinity of the proposed site. A proven track record of design collaboration with previous national sporting organizations was a fundamental driver of the successful project. Materials and finishes are a considered response to the project brief, budget and site context. Working closely together, original material specifications and alternative choices were filtered through the lens of health, safety, quality and environment, with a focus on the club's values. A well-crafted project outcome delivering the offsite prefabrication "value" proposition of certainty through quality control, time, cost and value.
Cost Effectiveness
The catalyst for the project's procurement through offsite construction came about due to the urgent need for new facilities along with the inability for the project to be practically completed through traditional insitu construction. The project required a quick turnaround prior to the beginning of the upcoming season with minimal disruption to the local council of paramount importance. The result is a leading high performance national sporting facility consistent with the high-quality spaces expected, delivered by local businesses supporting Australian local industry and jobs. Our long term local supply chain ensures we have greater certainty and control over the on-time delivery and material provenance assurance needed. Project design, services, structural systems and construction methods used satisfy the high benchmark standards of the National Construction Code, with building offsite delivering superior and economical project outcomes to industry "best practice" standards.
See More Awards of Distinction Winners