Modular vs. Conventional Construction Comparison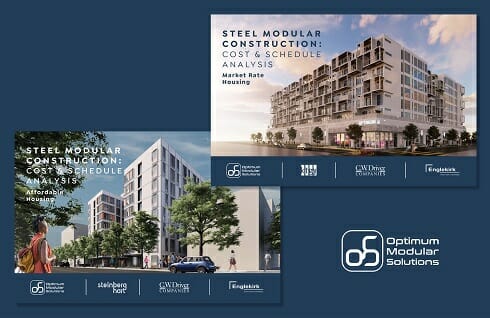 Main Category: Marketing Piece Entry
Entrant: Optimum Modular Solutions

Award Criteria
Specific Medium Used
Publication
Target Audience
Developers, architects, engineers, contractors and anyone currently working in the modular industry.
Methodology
Identified need. Assembled experienced team. Collaborated on content. Published. Launched. Marketed.
Message to be Communicated
With the right team and design, cost and schedule savings can be achieved utilizing modular systems.
Distribution
Printed form at marketing events and electronic form via websites, social media and email.
Entry Objective
To help build brand awareness for Optimum Modular Solutions as an independent, third-party modular consultant but ultimately, to help answer the common question relating to how much time and cost savings can be achieved utilizing modular vs. conventional construction. To quantify the potential additional revenue generated by completing a project in a shorter timeframe with modular systems. To highlight that modular construction can be utilized for market rate projects and not just affordable housing developments. To be a credible publication that raises awareness of non-conventional construction methods and helps market modular construction for everyone who works within the industry.
Effect on Sales, Visits, or Inquiries
The publication has been very well received and there has been a significant increase in inquiries from developers as to whether their projects would be a good fit for modular construction. Being modular manufacturer agnostic, several manufacturers have utilized the publication to supplement their marketing programs to good effect.
See More Awards of Distinction Winners