Ontario Aoyuan Properties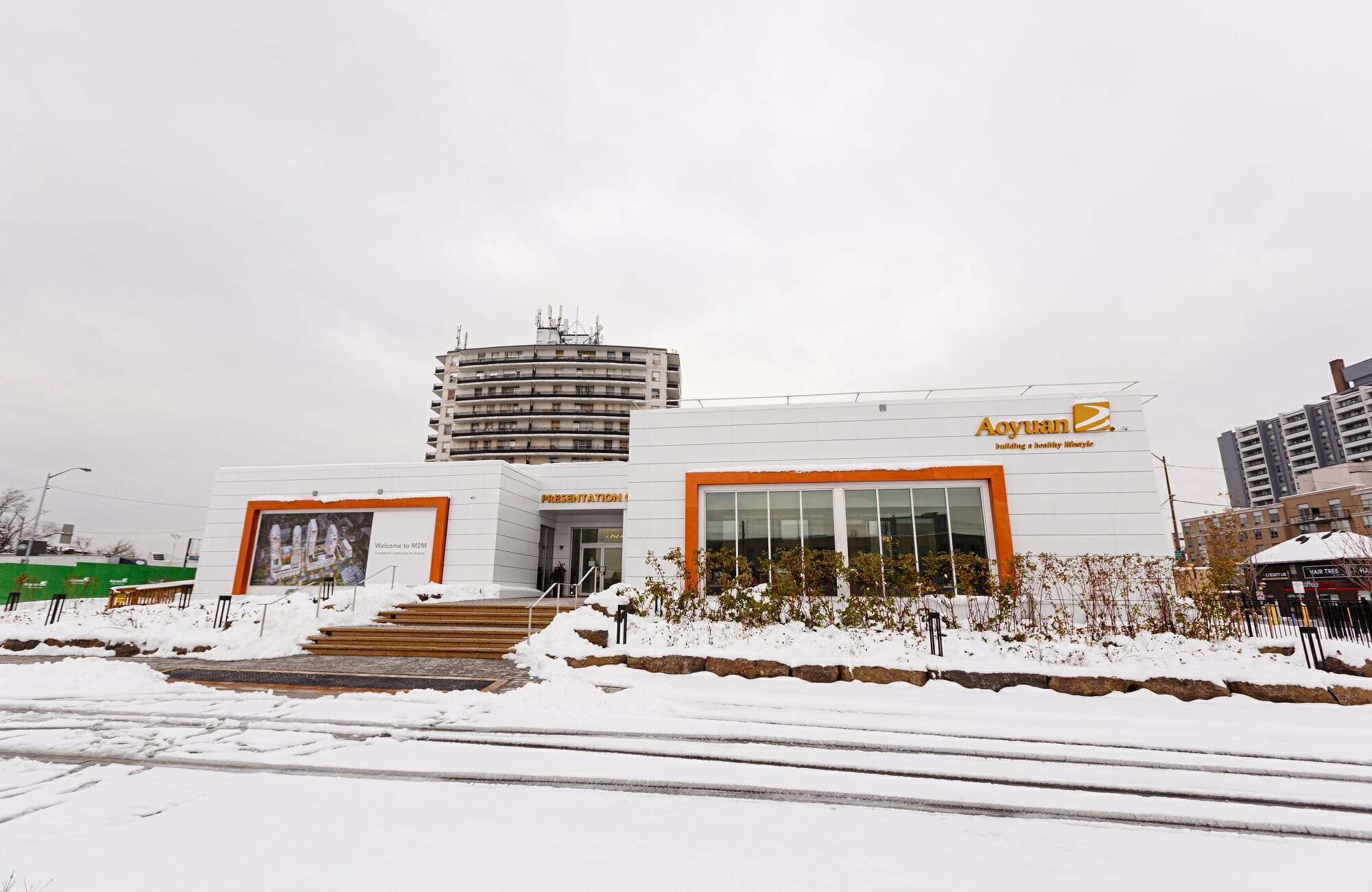 Main Category: Modular Building Design
Company: NRB Modular Solutions
Affiliate: 
Location: Toronto, Ontario
Building Use: Sales Presentation Centre
Gross Size of Project: 6324 Square Feet
Days to complete: 214
Award Criteria
Architectural Excellence
Ontario Aoyuan was looking for a high-profile, expansive sales office to showcase their first Canadian development project in downtown Toronto. As the site still supported a local grocery store and mini-mall until all permitting and construction was to begin, the necessary time to construct a 'stick-build' sales center was not an option. These circumstances presented a perfect fit for modular and an opportunity to showcase its capabilities from a grand perspective. Aoyuan interior designers provided a very expansive open concept floor plan which boasted 16-foot-high ceilings in the presentation room, large two-story glazing, and open studio space to create 'walk-through' model suites.
Technical Innovation & Sustainability
While temporary, the sales office was built using steel post and beam construction with three-inch concrete floor topping, and was installed on piers to below frost level to eliminate any shifting or cracking while in place. The piers were raised to further elevate the structure so that it could boast a large storefront appearance both on Yonge Street and at the main entrance. Exterior wall finishes on the building were installed on site by Aoyuan crews themselves to again showcase materials used on future builds. NRB Modular Solutions pre-installed all electrical rough-ins behind walls, and mechanical systems and ducts prior to shipping, leaving only crossover seams to be completed on site.
Cost Effectiveness
With this being a temporary sales office, the premise to construction was centered on appearance, grandeur and speed to market. The large roof hats over 80 percent of the building floor plan posed a number of requirements for innovative methods to evolve and help minimize construction on site, as well as keep cost within budget. The building will be relocated and re-used at another location even with the considerations of the roof hats.
See More Awards of Distinction Winners