Oak Ridge National Laboratory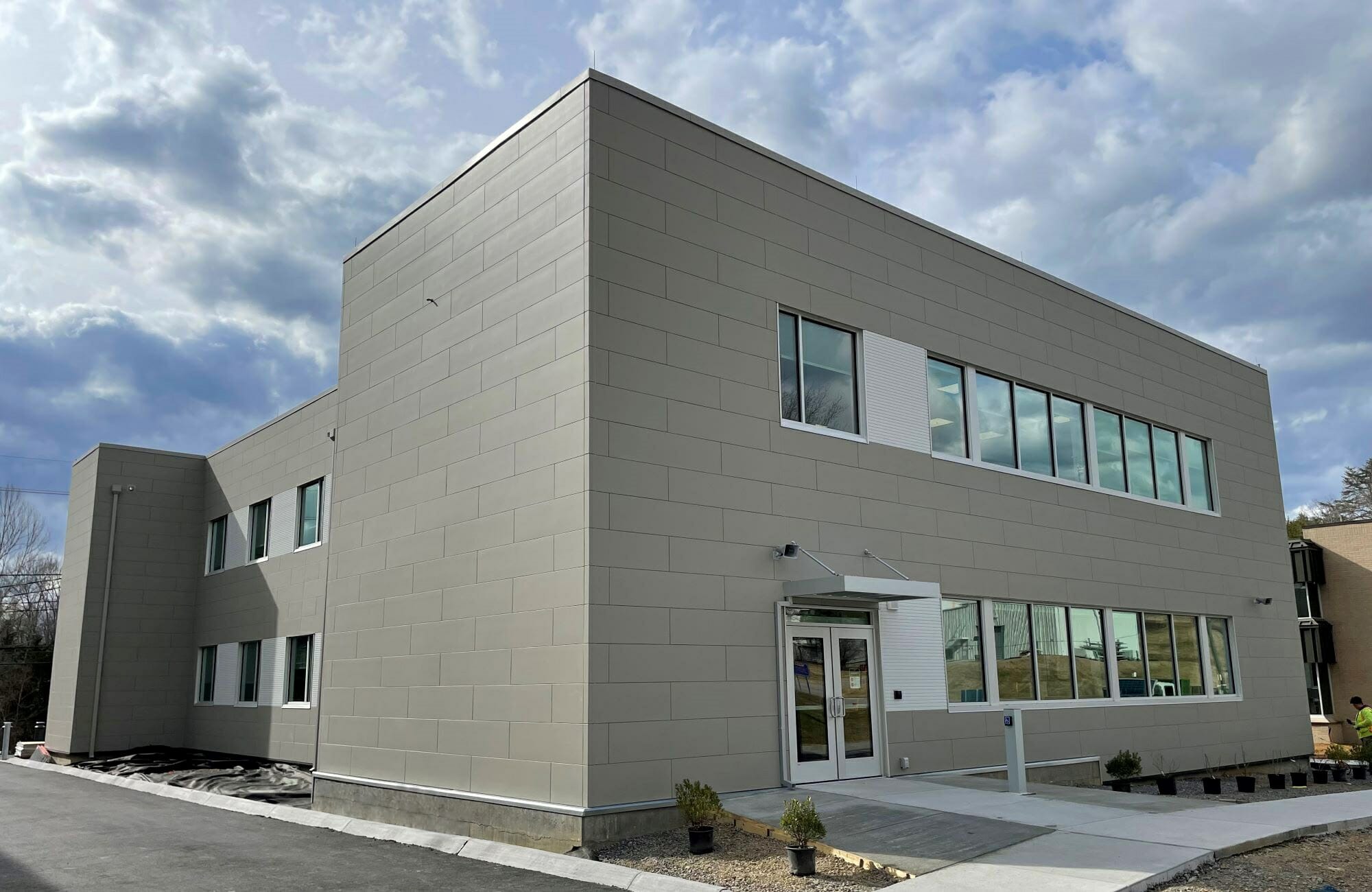 Main Category: Modular Building Design
Company: Satellite Shelters, Inc & Whitley Manufacturing Co., Inc.
Location: Oak Ridge, TN
Gross Size of Project: 11250 Square Feet
Days to complete: 275
Award Criteria
Architectural Excellence
The historical Oak Ridge National Laboratory is located near Knoxville, TN and is managed by the US Department of Energy. ORNL required a new office building to replace a demolished metal building that would maximize the confined space between two existing buildings. A two story building was designed that was comprised of (16) modules with lengths of 56'and extended on the outer modules to 66' to accommodate the stairwells and elevator. The floorplan on each level provided individual offices, conference rooms, and cubicles as well as a breakroom and restrooms. A common entry provided a reception area with an elevator and stairwell for access to the second floor space. The building was designed with a horizontal commercial glass configuration to coordinate with other buildings on the ORNL campus. The exterior was provided with a full perimeter 4' high parapet and Nichiha horizontally orientated panels in a neutral color.
Technical Innovation & Sustainability
To provide the most efficient and comfortable work environment the building was provided with (6) RTU's with each unit supplying a designated zone. A poured perimeter foundation with interior piers supports the building modules. The crawl space was provided with a vapor barrier and insulated exterior walls. A modular elevator was provided by Phoenix Elevator and was lifted by crane vertical then installed within the corner of the building after the modules were in place. This installation required exact measurements to ensure that the modules floors and elevator floor aligned in operation.
This was the first time that a modular elevator has been crane installed into an interior opening of a modular building. To provide a safe working environment on the roof a 4' high parapet was constructed on all sides of the building. The tapered TPO membrane roof has scuppers through the parapet the drain through exterior downspouts.
Cost Effectiveness
The climate in Tennessee required building specifications with 2"x6" exterior wall studs with a continuous air infiltration barrier and R-19 insulation. Rigid Insulation on the exterior of the facility provided an additional R-10 to the building envelope. The roof system was provided with R-38 insulation and finished with a TPO heat welded membrane. To achieve the desired finished product in the time frame required a combination of modular and site built construction was provided. The design started with the module CAD baselines provided by Whitely Mfg. The module configuration was shared with the other design team members who provided the final interior and exterior finishes as well as the structural design. To provide better energy efficiency the perimeter interior walls of the foundation were insulated with rigid insulation. The scope was divided to allow the manufacturing of the modules to proceed while the site work and foundation progressed simultaneously.
See More Awards of Distinction Winners