Monarc Condos sales office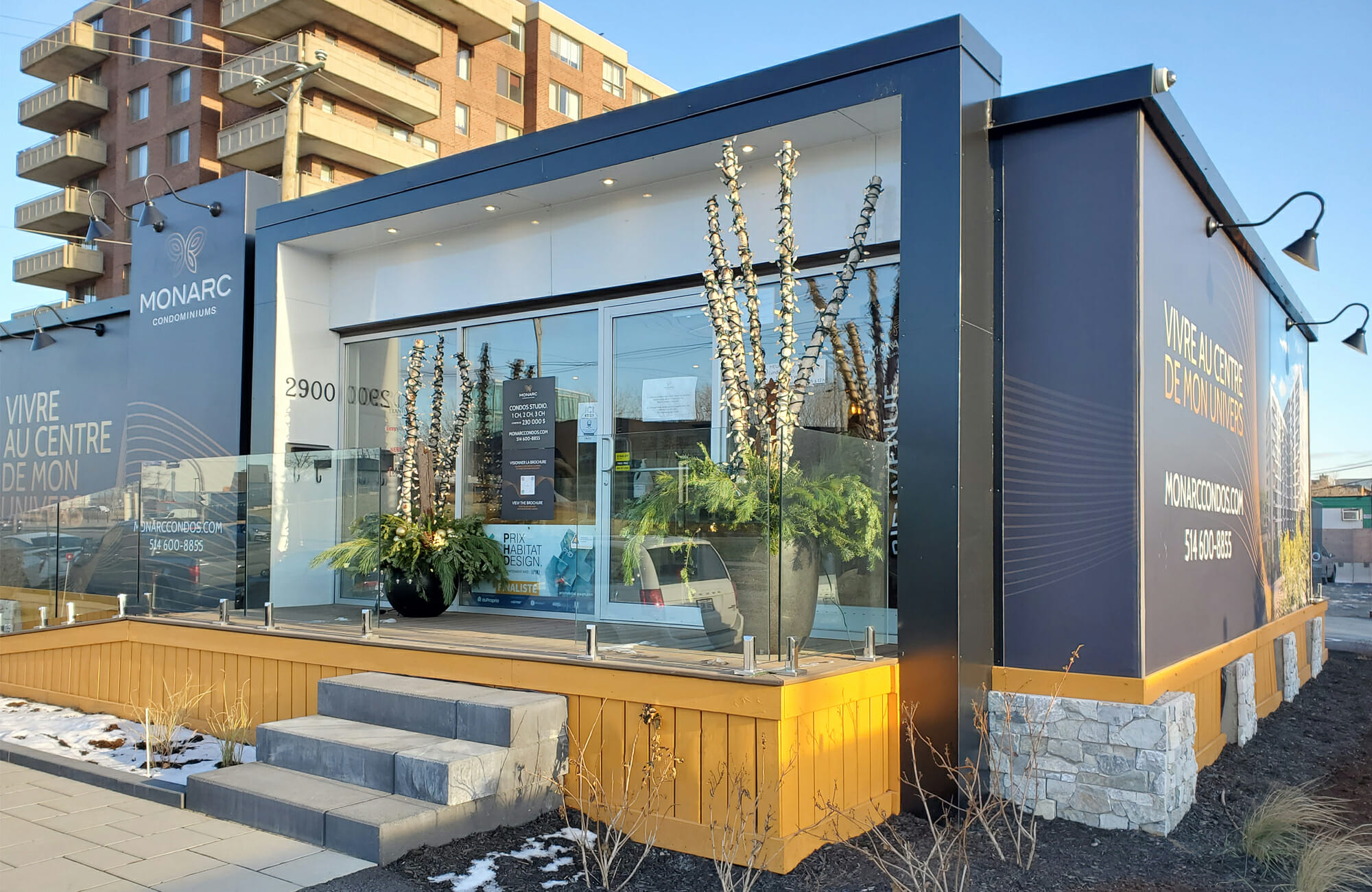 Main Category: Modular Building Design
Company: Corner Cast Construction Inc.
Affiliate:
Location: Ville St-Laurent, Quebec
Building Use: Sales office
Gross Size of Project: 960 Square Feet
Days to complete: 42
Award Criteria
Architectural Excellence
Corner Cast manufactured & installed this modular complex of 3 x 40' shipping containers in the spring of 2020 in Montreal, Quebec. The complex boasts a high end architectural finish, branded exterior cladding, gypsum board interior finish with recessed LED lighting, hardwood flooring, universal access & large aluminum & glass facades. The sales office is representative of the overall look and feel of the Monarc housing development which will be one of the largest retail & condo developments in Montreal. Located among numerous boutiques and restaurants as well as the beautiful Marcel-Laurin park which is adjacent with its lush and diversified flora, this sales office blends in naturally with the existing landscape & provides a visually attractive retail sales location. The interior design by Andres Escobar is used to showcase the high-end interior finish of the condo's which will be built, & to demonstrate the project to potential clients & collaborators.
Technical Innovation & Sustainability
This building was fabricated by recycling 3 x 40' HC used containers and were transported on container trailers to site, and then fully installed & commissioned in two weeks. The interior & exterior finishing eliminate the appearance of modules within the construction, but once the construction of the condo development is complete, the customer can then disassemble the units & re-use them for future sales offices. The installation of the complex was done on standard, recycled 2'x2'4' concrete blocks, making it extremely easy to re-locate once the project is complete. All units were built within the factory in Montreal within 4 weeks & then transported to site to be installed in May of 2020 for a total construction time of 6 weeks.
Cost Effectiveness
Through having the sales office constructed off site while permitting & civil work was being done, the client was able to have a working sales office immediately when the site was available. This enabled the customer to save time & begin condo sales ahead of schedule, saving the customer money & moving the project forward without delay. High labor rates in downtown Montreal were avoided by using off site construction methods. And the units were completed in 6 weeks leaving no downtime for the client & fitting within their operational requirements.
See More Awards of Distinction Winners