Modular Dorm Addition for CN Rail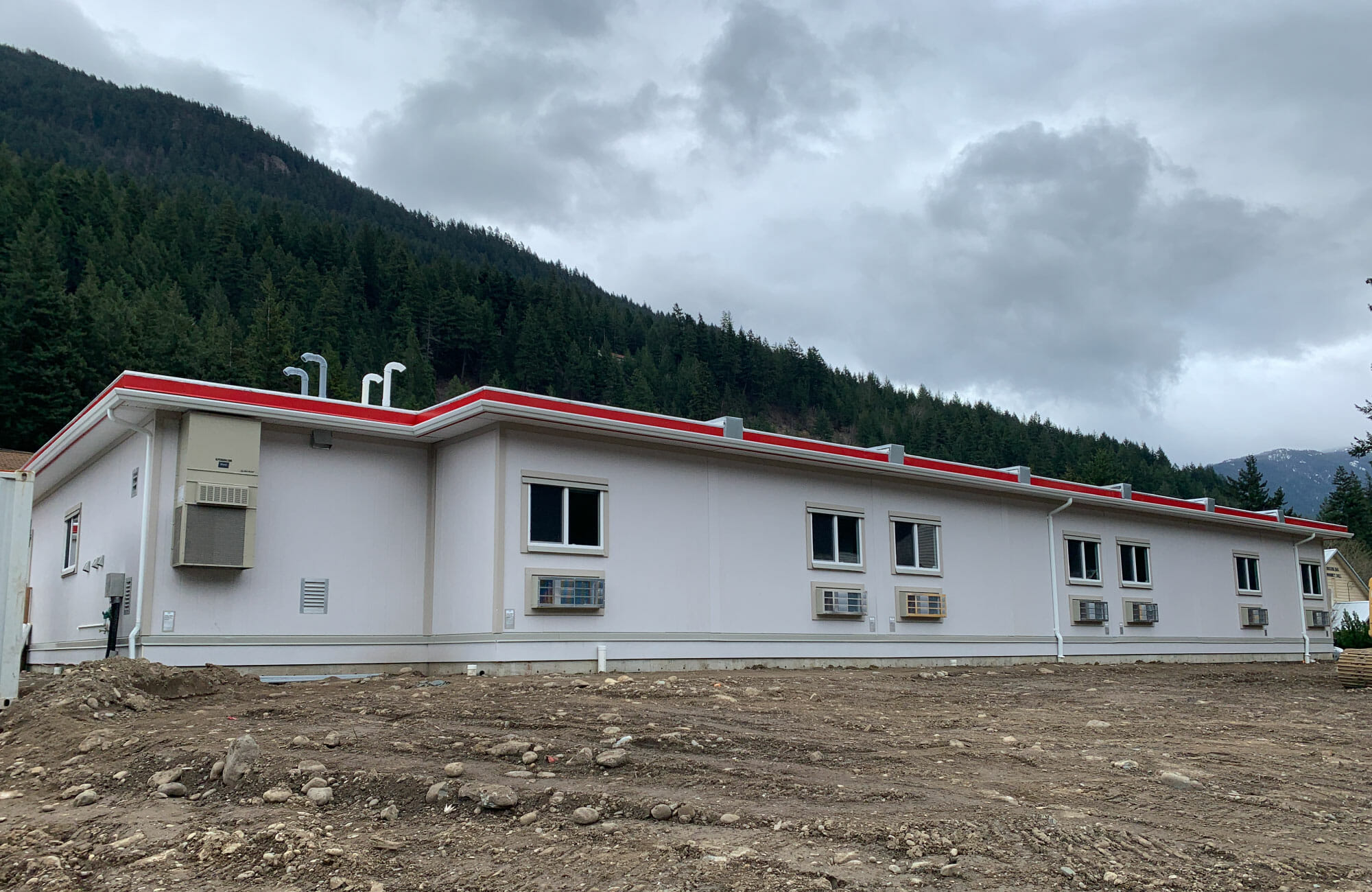 Main Category: Modular Building Design
Company: Black Diamond Group
Affiliate: Norco Trailer Manufacturing Ltd.
Location: Boston Bar, BC
Building Use: Overnight quarters for shift worker
Gross Size of Project: 4608 Square Feet
Days to Complete: 58
Award Criteria
Architectural Excellence
CN Rail has a location in the small town of Boston Bar, BC where they need a place for shift workers to sleep for the night. The company already had a Britco-built dorm in place with 20 suites, kitchen/dining facilities and washroom/changerooms. Britco was tasked with building a 14-room annex onto the existing building and one of the primary functions was to ensure the new building complemented the original structure; it needed to match, but it also had to meet the new and rigorous buildings codes. The building is accessed from new stand-alone entrances or by a modular corridor between it and the original structure. This building was built with 14 individual suites, each with their own washroom and a central laundry/locker area for all employees to use. The modular units include individual heating and air conditioning units in each room, modern and efficient LED lighting and lots of windows to allow natural lighting inside and provide views of the surroundings.
Technical Innovation & Sustainability
The building code required this structure to be extremely energy efficient. Britco achieved peak energy efficiency by using the appropriate insulation and high-quality vinyl windows that exceeded the BC Energy Efficiency Act. The building is fully handicap-accessible, and the exterior was covered with hardi-plank siding to provide the architectural appeal but to also provide a level of protection against inclement weather and sudden weather events like forest fire, which this region is particularly prone to each year. Finally, the modules were set on a site-built concrete foundation with a 3' crawl space, which provides a solid and stable placement for the building and also gives the owner access to all parts of the building for future maintenance as required.
Cost Effectiveness
Britco's approach to cost savings on the construction end of this project was to complete as much of the project as possible off site. Site disruptions that jeopardized the logistical timelines, or loud construction that distracted workers or interfered with workers' sleep schedules were not an option. Site disruptions such as these severely impact productivity, directly impacting cost to the client. The cost to complete all this work on site would have been too great to bear, hence the choice to proceed with a modular solution.
See More Awards of Distinction Winners