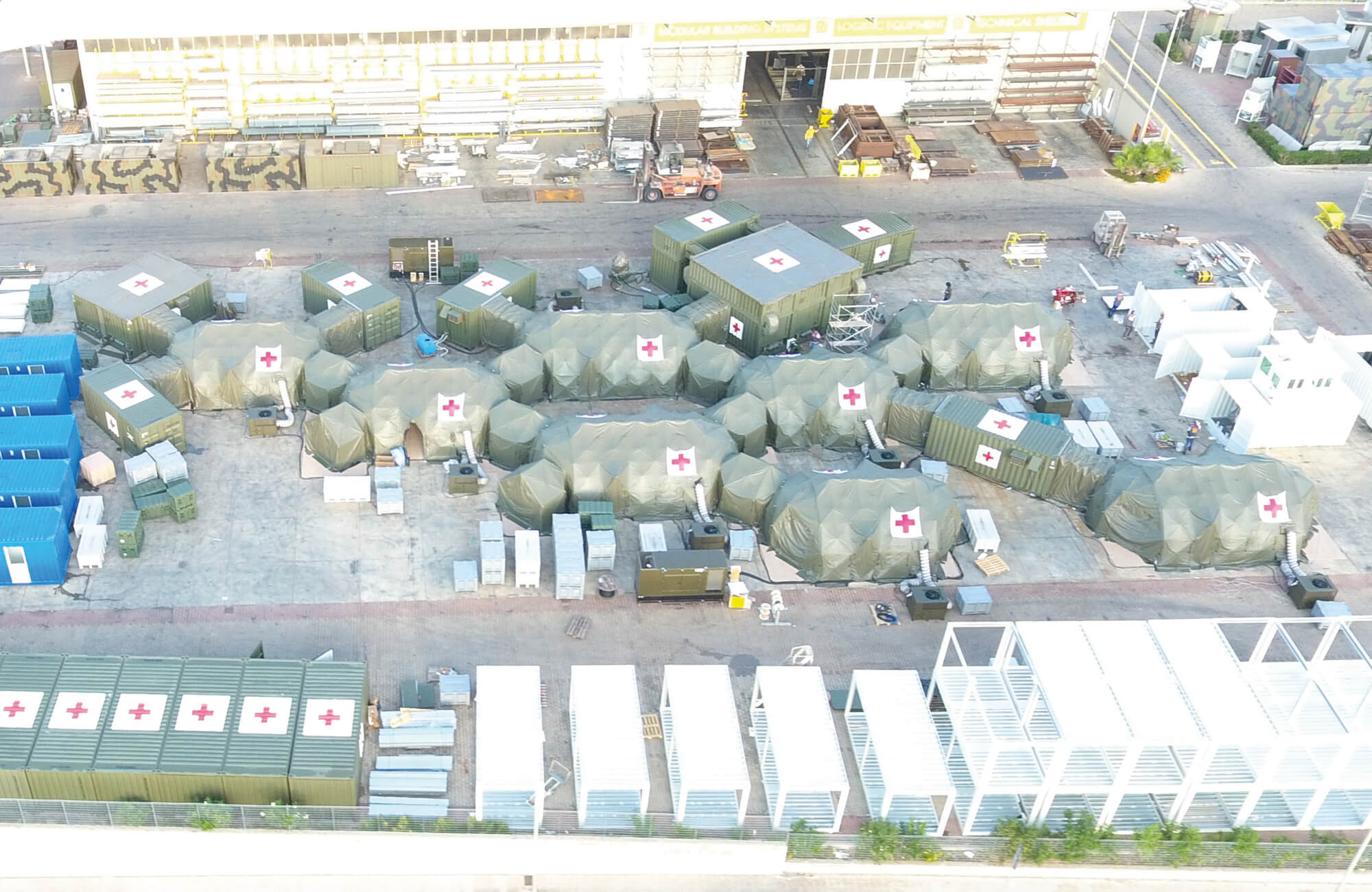 Main Category: Modular Building Design
Company: RI SpA
Location: Italian Army Sites
Building Use: Hospital
Gross Size of Project: 21528 Square Ft.
Days to complete: 274
Award Criteria
Architectural Excellence
Today's modular hospital buildings are an effective and affordable alternative to traditional construction. The architectural development of the hospital is configured to satisfy international medical standards and it is equipped with high state-of-the-art technology. Our project consists of using "hard modules" (Techno Shelter in size of Standard ISO 20' Shipping Container) and "soft modules" (Fabric Tactical Tent) interconnected by special corridors also designed and developed by "R.I. Spa". Mobile Hospital is organized by interconnected containers and tents in Triage, Emergency Room, Radiology and Echography Room, Surgery Room with Sterilization and Auxiliary units, Surgical Ward, Analysis Laboratory, a Pharmacy with its Warehouse and oxygen production unit, Management and Connection Areas.
Technical Innovation & Sustainability
Regarding the technologies that facilitated the projects delivery, the mobile solutions have adopted the prefabrication technology to avoid time-consuming in site construction work. The implementation of digital technologies such as Building Information Modeling (BIM) provides a digital representation of the project with a shared platform for the creation, management and communication of information during development allowing to accelerate the realization times. Mobile Hospital is designed to provide protection and safety to occupants and equipment, it also has the ability to be reassigned in a short time. It is easy to transport by truck, air, sea or rail. The complex is assembled quickly and flexibly allowing a quick response to medical needs around the world even in extreme conditions (-20°C to +45°C). Mobile Hospital is equipped with power generation and distribution, self-leveling systems, wastewater treatment, waste management as well as filtration, storage of water.
Cost Effectiveness
The first benefit of modular hospitals is its flexibility, which allows it to be reconfigured in short time according to the needs. This kind of solution can significantly reduce the building and installation costs. The savings are largely due to new technology, automation and economies of scale. It creates convenience for its patients and medical staff in the sense of space, time and functionality.
See More Awards of Distinction Winners