Massachusetts Biotech Confidential Client- Building 2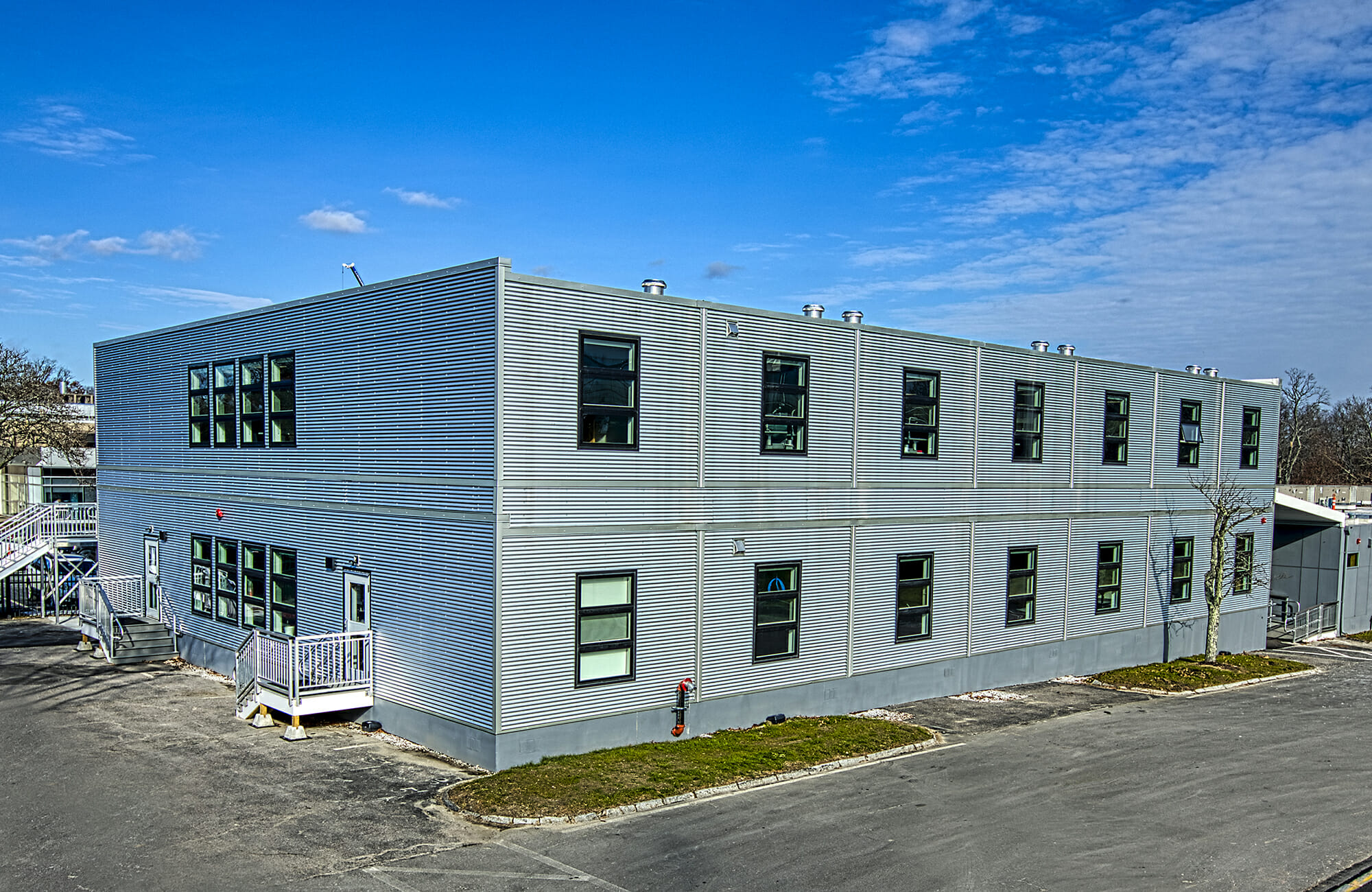 Main Category: Modular Building Design
Company: Triumph Modular
Affiliate: Whitley Manufacturing
Location: South of Boston, MA
Building Use: Office Space
Gross Size of Project: 13000 Square Feet
Days to complete: 176
Award Criteria
Architectural Excellence
A Massachusetts Biotech Confidential Client needed to relocate their manufactured support office staff to facilitate the renovation and expansion of the manufacturing floor space. The limited footprint necessitated the need for a two-story modular building to allow the client to maximize their occupancy. An additional consideration in the design included minimizing the reduction of available parking spaces. We used fourteen modules, 14' x 66' each, and stacked them 7 over 7, to create the new 13,000 square foot building. Using our Silverline Building System standard specification, we created a space with large, Energy Star rated Marvin Essential windows, Bard wall-mounted HVAC units that maximize fresh air ventilation, and a galvalume corrugated metal siding. The building features open office space, multiple huddle rooms and conference rooms, a kitchenette on each floor, and men's and ladies' rooms on each floor. An open atrium stairwell connected the two floors.
Technical Innovation & Sustainability
A major requirement of the client was fresh air ventilation. We installed a 3-ton HVAC system that was designed for 400 CFM of ventilation. This supplies fresh air changes every 15 minutes in each modular building, which exceeds the ASHRAE 62.1 recommendation for office buildings of 2-3 air exchanges per hour. The system uses MERV13 Filters which allow for enhanced air filtration. The ERV and Dehum options added energy efficiency for heating and cooling. The Silverline buildings included 2 large glass panel exterior steel doors to maximize the natural light. The entry doors were outfitted with keyless entry locks. This building also featured an open two-story stairwell with designed steel beams span.
Cost Effectiveness
The project was cost-effective because we were able to use our Silverline Modular Building Design Specifications. The standard features included large windows, heavy-duty steel doors with glass panels, Nighttime Friendly exterior lighting, LED lighting with motion sensors, wall-mounted HVAC units, and galvalume corrugated metal siding. The repeatability of the design kept costs down while providing the client with a superior product to a standard office trailer.
See More Awards of Distinction Winners