Mackenzie State Special School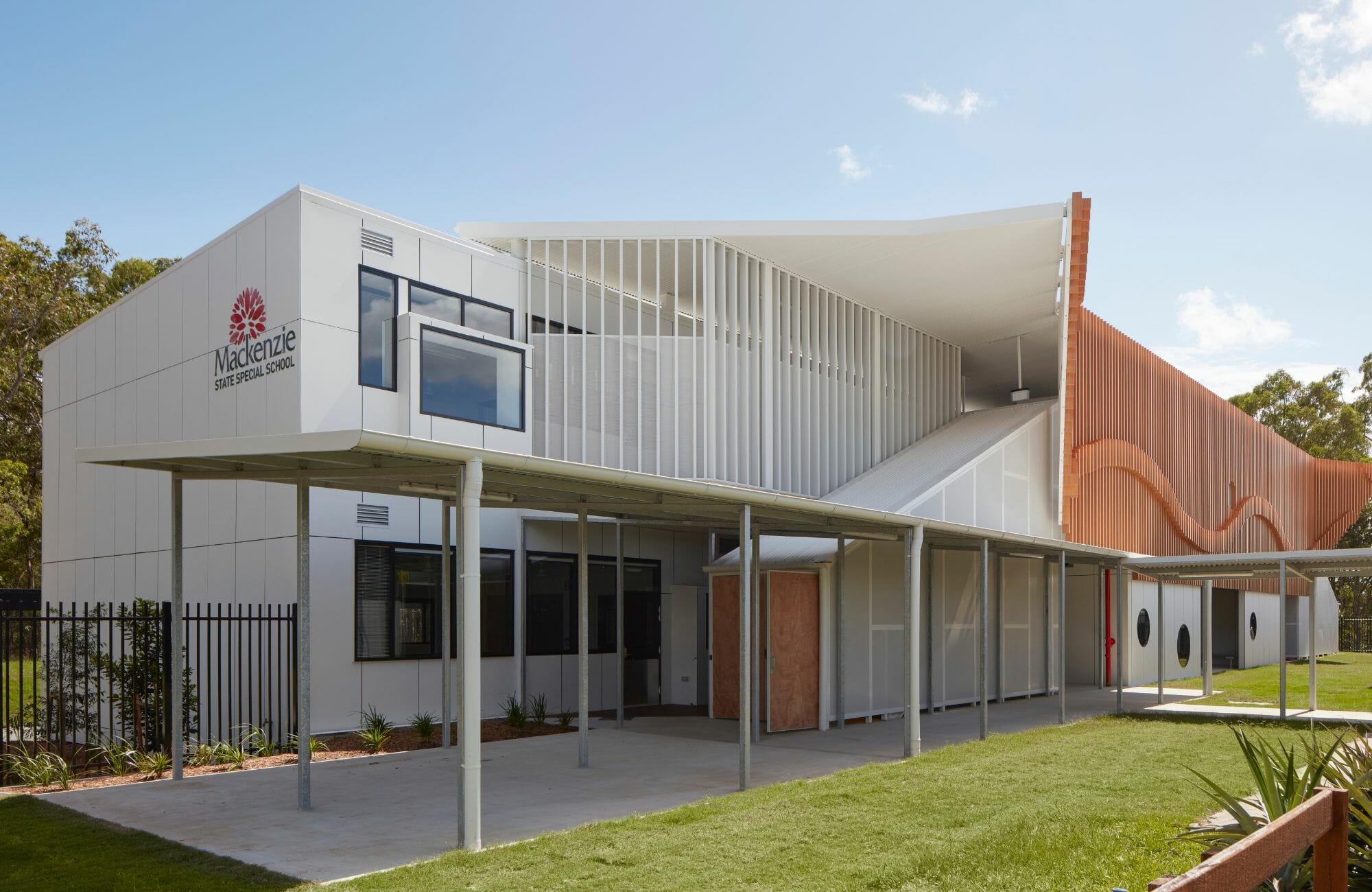 Company: Fleetwood Australia
Location: Brisbane, Queensland
Gross Size of Project: 13950 Square Feet
Days to Complete: 287
Award Criteria
Architectural Excellence
Designing Mackenzie State Special School to provide specialized learning environments for students with special needs led to a world-class architectural masterpiece. Our design team pushed boundaries to meet client requirements and provide accessible learning spaces to support school students and community. Functional and aesthetically pleasing design turned 43 modules into eight general learning areas, eight offices, two life skills areas, a therapy and sensory room and two outside learning areas to meet stringent requirements for students with disabilities. The design included sensory and therapy rooms, wide corridors, specialized bathrooms, hoist system, accessways, lighting and acoustic panels. Special organic features were included such as timber-effect screening that perfectly integrated with the leafy surrounds. The new wing provides a calming, supportive environment with complementary indoor and outdoor learning spaces to cater for more than 160 students at a time.
Technical Innovation & Sustainability
The stunning custom design and construct of a new school wing complements existing school facilities to support elementary and secondary students with special needs. Complex site preparation required cut works to provide a flush entry. The school featured dimmable lights, porthole windows, Autex acoustic panels to provide soft filtered light and calming learning environments, plus a Kleemann elevator for students with mobility issues. A full fire booster and assembly upgrade, dedicated fire and smoke shutdown terminals, AC push buttons enabling status blue light, plus a large civil package including access roads for a new carpark were all delivered. The design facilitated offsite manufacturing and assembly of modules such as fabricated deck sections with custom screening that formed part of the fire-rated solution. Controlled factory conditions ensured minimal on-site waste, environmental impacts (eg, local koala population remained protected) and reduced whole of life cycle costs.
Cost Effectiveness
Time &labor cost savings were maximized through a DfMA approach, reducing errors &standardized modules for rapid production at scale, increasing design, construction &procurement speed. The project was completed by deadline in late Jan 2022, ahead of the start of the new school year, minimizing costs &inconvenience from any project overrun. Trade requirements were modelled pre-construction in 3D spaces to optimize resource mobilization. Concurrent site preparation &module construction streamlined delivery &resulted in less trades on site. A fire engineer was engaged to provide advice &overcome unique obstacles with fire rating of the permanent modular building. Environmentally sustainable design reduced the heat load & air-conditioning costs for the school that operates in a tropical climate. Low emitting LED lights, fixtures &fittings also reduce ongoing costs. Durable finishes &fixtures combine to reduce cleaning &maintenance costs &reduce the whole of life cycle costs for this school
See More Awards of Distinction Winners