Los Alamos Multi-use Office Building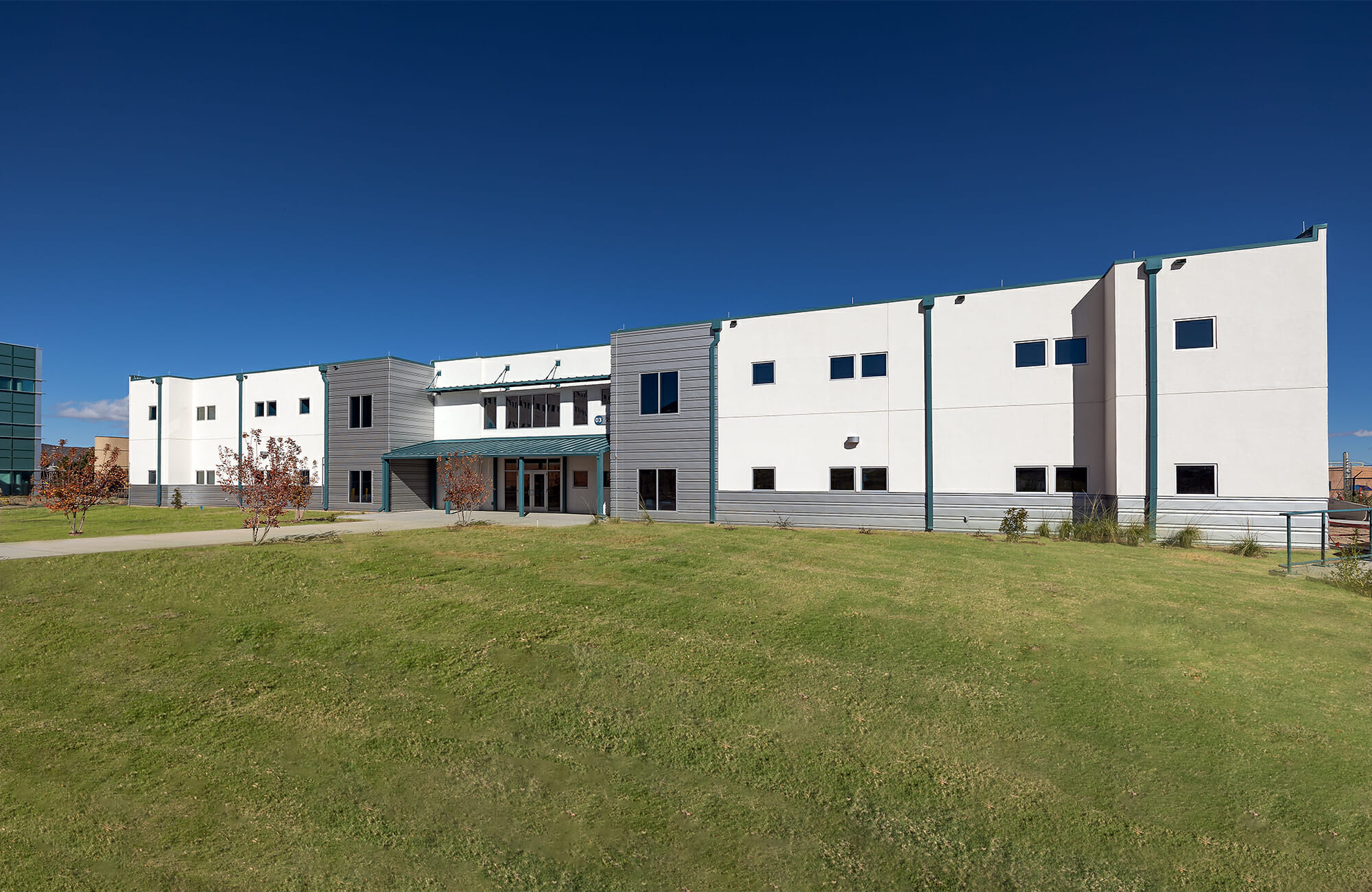 Main Category: Modular Building Design
Company: Ramtech Building Systems, Inc.
Location: Los Alamos, NM
Building Use: Multiple Use Office Building
Gross Size of Project: 22680 Square Feet
Days to complete: 422
Award Criteria
Architectural Excellence
Using a design-build project delivery approach, Ramtech partnered with Albuquerque-based Wilson & Company and Thornton-Tomasetti Engineering on the project. Ramtech's in-house design team generated the initial floor plan and exterior elevations while Wilson & Company was responsible for all the civil, electrical, and mechanical designs. Thornton-Tomasetti designed the concrete foundation and each of the site-built elements. The two-story building included 66 private offices, twelve open workspaces, breakrooms on each floor, four communications rooms, men's and women's restrooms with showers, mechanical and electrical rooms, a modular elevator, and two stairwells. The building exterior was designed to complement the surrounding structures including LANL's four-story main headquarters building directly adjacent to the modular building. The exterior cladding consisted of a combination of EIFS and horizontal steel siding panels, while the roof utilized a built-up SBS roofing system.
Technical Innovation & Sustainability
Ramtech's innovative slab-on-grade permanent modular construction system offered a clear span approach to the overall structure allowing for versatility in the floor space planning. The building was comprised of four 64' modules, sixteen 60' modules, two 44' and four 52' modules. The building was constructed as Type II structure and had to incorporate resisting elements for both wind and seismic loads inherent to the northern New Mexico area. The concrete foundation was designed as a footing/stemwall system resting below the frost line with an integral floor slab. Stair towers were constructed onsite with 12-gauge steel studs and connected to the modular building to ensure continuity of the horizontal diaphragms. Although the project was not required to be LEED certified, it had to meet the DOE's sustainability requirements. This mandated high efficiency mechanical and electrical systems along with increased exterior insulation and low consumption plumbing fixtures.
Cost Effectiveness
The closest metropolitan area to the Los Alamos area is over an hour and a half drive which typically results in higher construction costs for LANL and makes finding qualified local contractors extremely difficult. These challenges, along with the intensive technical reviews and high security protocols used at LANL, makes the use of off-site construction a huge benefit. The modular approach for this project allowed the building to be installed and weathered-in in less than half the time of site-built construction methods. A rigid offsite inspection program also saved the lab both time and money compared to using their own inspectors or a third-party inspection agency, while still remaining compliant with all DOE standards. The installation of life safety systems. such as fire alarm and automatic sprinklers as well as data, communication and security, were all performed by LANL approved contractors.
See More Awards of Distinction Winners