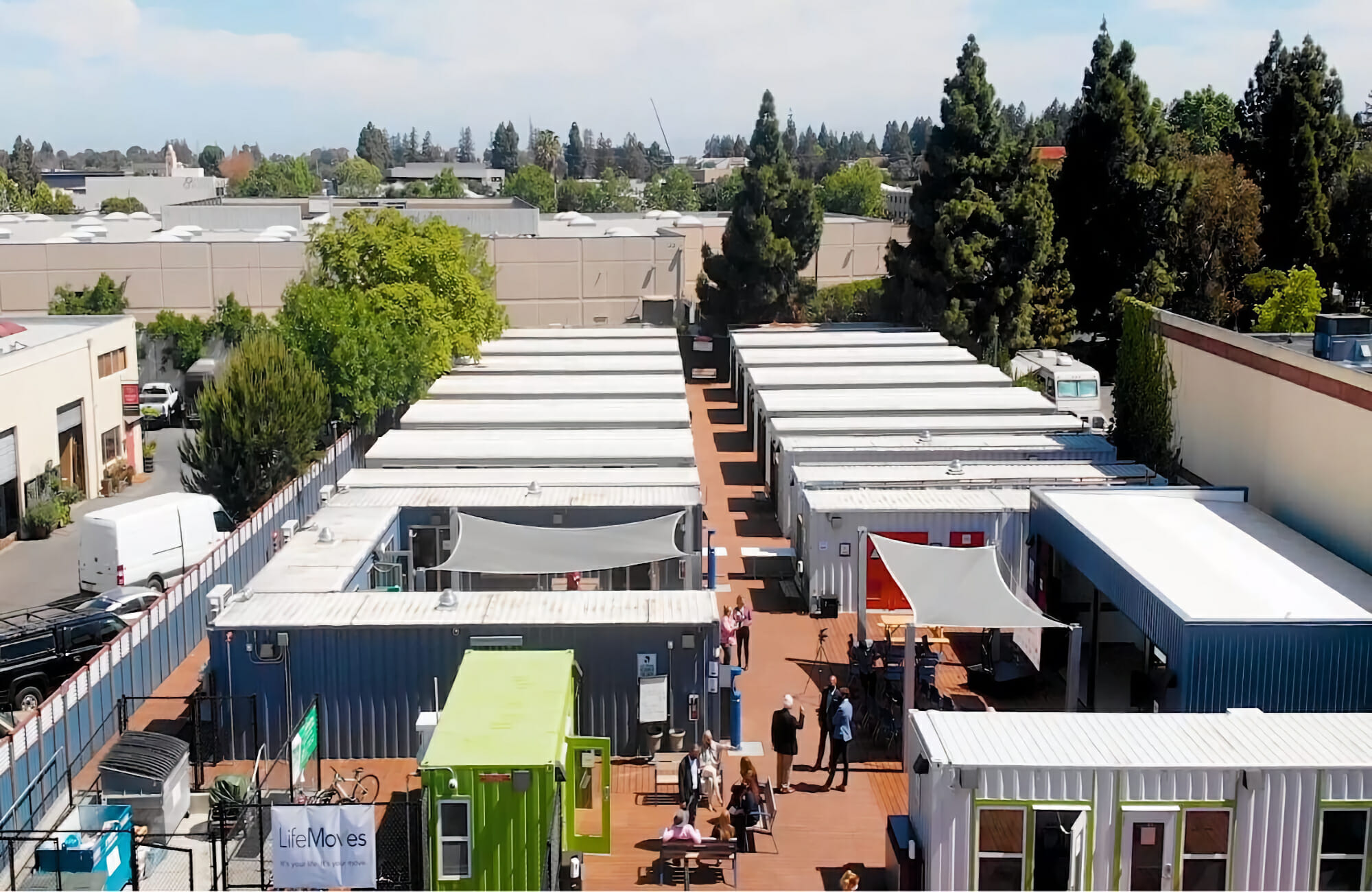 Main Category: Modular Building Design
Company: UrbanBloc Inc.
Affiliate: Falcon Structures, Connect Homes, Indie Dwell
Location: Mountain View, CA
Building Use: Transitional housing for homeless
Gross Size of Project: 17280 Square Feet
Days to complete: 126
Award Criteria
Architectural Excellence
The Homekey Mountain View project which provides shelter for 14 families and 88 single clients was thoughtfully designed specifically for the needs of its previously homeless clients by balancing dignity and privacy with the need to provide a warm, supportive and accessible community. These goals were central to the layout and design decisions. The layout includes a centralized common space with 2 bathrooms/shower units, a laundry unit, a food service area and a multi-use building, flanked by 22 sleeping units on one side and 7 family units on the other. Each sleeping room and BA/Shower has its own lock for privacy while the family units have integrated bathrooms for convenience. The staff offices have windows to provide light and visibility. The fixtures and finishes are durable, high quality bright and cheerful. The sleeping modules are private and cozy with built-in storage, a workspace and bed. The food service modules were designed to efficiently serve over 350 meals per day.
Technical Innovation & Sustainability
The project was completed from start to finish in 6 months. The rapid timeline demanded that the construction approach be reimagined in order to move quickly and mitigate risk. For this reason four modular vendors were selected each providing specific expertise for their unit type. An extraordinary effort was made to coordinate among the 4 vendors and the GC from early on in the design process through the installation especially with respect to uniformity in aesthetics, utility infrastructure, foundation connections, delivery and installation. Several technical challenges had to be overcome. A vapor barrier had to be installed and the foundations minimized due to the soil contamination issues creating the need for a unique attachment strategy between the units and the foundations. In addition, compact bathroom and shower units had to be designed and built to enable easy installation, meet COVID isolation protocols and withstand heavy use and potential abuse.
Cost Effectiveness
At $100k/bed (without land), this project was extremely cost effective to build. This was driven in part by lower overhead due to the speed to completion, the design using centralized utility infrastructure to minimize site construction costs, and the use of modular construction with its inherent cost efficiencies. By comparison, this project was 50% less than the cost of converting a hotel or renovation of an existing building for this type of use. Furthermore, LifeMoves reports that operating costs are up to 50% less than a traditional facility due to its layout and efficiency. This type of modular project will serve as a template for future projects and with modules able to be easily be reconfigured and adapted to different site types and shapes enabling future cost savings.
See More Awards of Distinction Winners