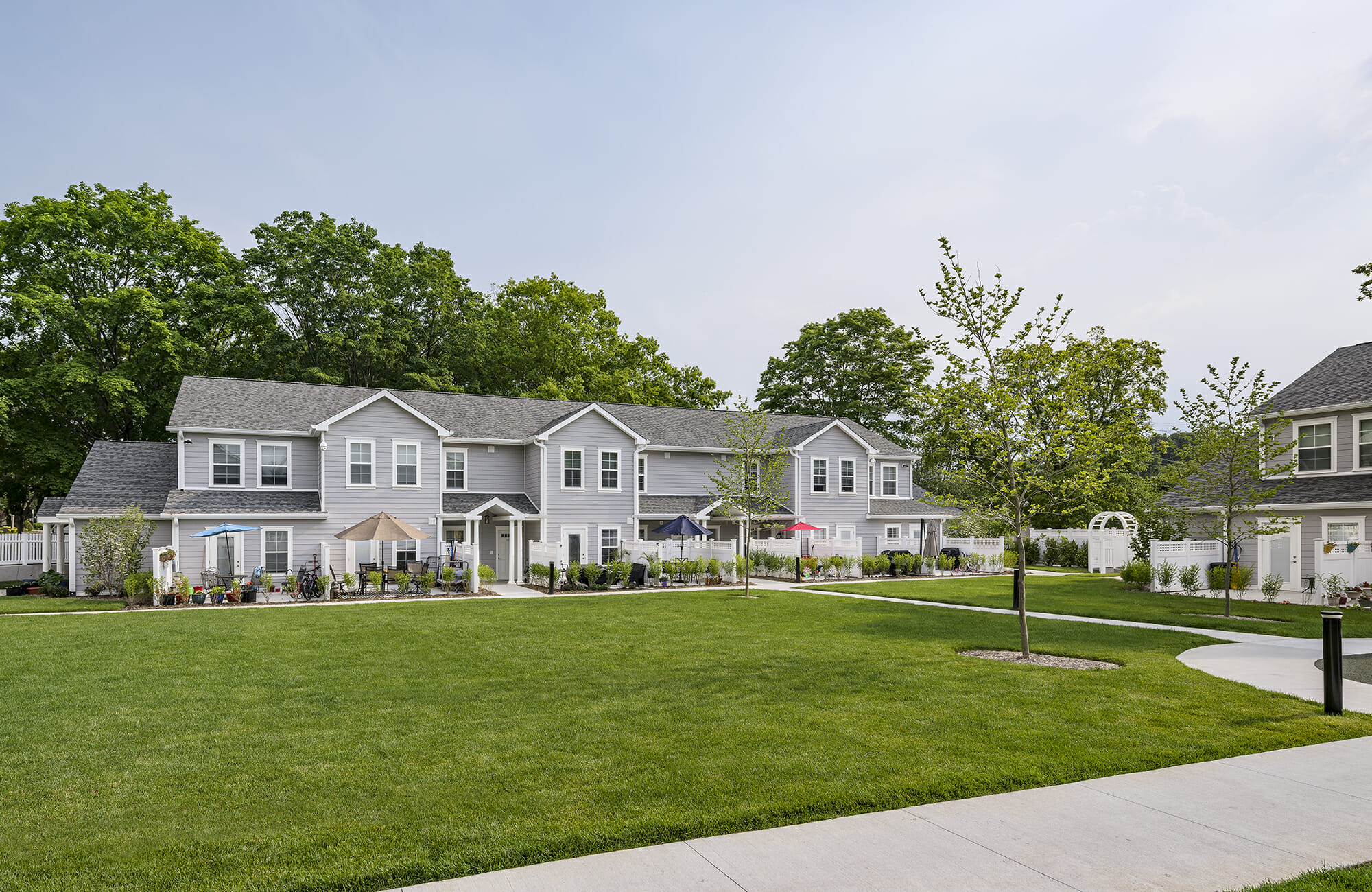 Main Category: Modular Building Design
Company: Stephen B. Jacobs Group, PC
Affiliate: Simplex Homes, Georgica Green Ventures, LLC
Location: Roslyn Heights, NY
Building Use: Multifamily Affordable Housing
Gross Size of Project: 82305 Square Feet
Days to complete: 397
Award Criteria
Architectural Excellence
Laurel Homes is an affordable housing project, developed in conjunction with the North Hempstead Housing Authority and Georgica Green Ventures, consisting of nine new 2-story buildings. The buildings are cladded with fiber cement shingles and pitched roof to match the surrounding context. The eight multifamily buildings, constructed of wood-framed modular units, will surround two main green spaces with playgrounds. There will be a total of 74 apartments, ranging from 1-Bedroom units to 5-Bedroom units. The 1-Bedroom units consist of one module. The 2-Bedroom and 3-Bedroom units consist of 2 modules. The 4-Bedroom and 5-Bedroom duplex units consist of 3 and 4 modules, respectively. A 2-story wood framed community building built on-site will center the development with a community room and laundry room.
Technical Innovation & Sustainability
Laurel Homes is an existing occupied development. To minimize displacing the families of the community during construction, the project was sited in a similar fashion as the existing site plan. The site will be demolished and installed in three phases. The tenants will move in as each phase is complete. The use of modular construction allows for most of the construction to be done off-site and delivered for installation to minimize on-site disturbance for the community. The project complies with the Enterprise Green Communities program and EnergyStar Certified Homes V3.1. It consists water-conserving plumbing fixtures, EnergyStar Appliances and low VOC materials.
Cost Effectiveness
Laurel Homes is a New York State Homes and Community Renewable project. an existing occupied development. The use of modular construction minimizes on-site construction and costs. The construction phasing plan takes into consideration the relocatability of the existing tenants. The buildings' energy efficient features allows cost effectiveness for the tenants.
See More Awards of Distinction Winners