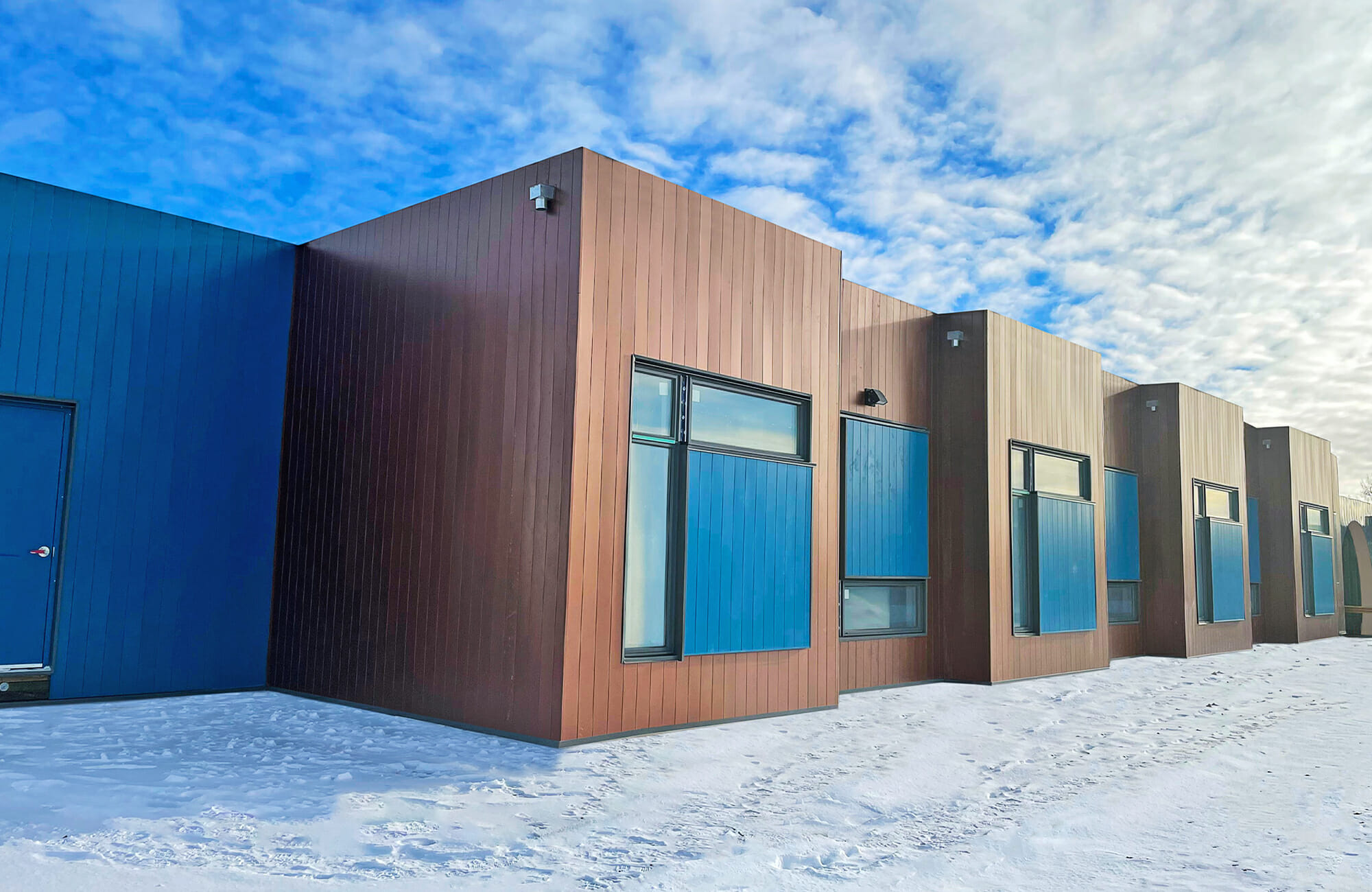 Company: NRB Modular Solutions
Location: Calgary, Alberta
Gross Size of Project: 7674 Square Feet
Days to Complete: 188
Award Criteria
Architectural Excellence
Located in Rocky View County, the Khalsa School wanted to expand its facility to accommodate increasing student enrollment. A comprehensive master plan helped locate and organize the modular additions within the built environment. These modular additions were designed in a way that reflects Sikh culture. The proposed phases mirror the architectural massing of the school, creating a school courtyard, defined by the surrounding classrooms. This allows younger grades to enjoy exterior space while still being in a supervised area. The architecture introduces a shifting pattern, creating an element of playfulness across the façades of the modular addition. The shifting of the modules is accentuated with traditional Sikh colours: blue, the colour of the warrior, and orange, representing knowledge and wisdom. Simultaneously, two messages communicate the totality of the architecture. While the structure's energetic façade connotes play, the colours speak to the Sikh way of life.
Technical Innovation & Sustainability
Prefabricated modular construction facilitated an expedited schedule during the summer holidays, which was one of the drivers for going modular. Using modular construction for the school was a decision based on reducing construction time and ensuring the quality of construction. With modular design, carbon emissions are kept at a minimum by reducing the need for equipment on site. Since all construction can be monitored, fewer mistakes are made, reducing time spent on construction, and further decreasing emissions. The cold climate means that the building must be adapted to cold weather. Hence, the project includes several thermal performance upgrades, from energy-certified windows and doors to extra insulation in all walls to boost R-values. Other features included high-efficiency HVAC systems for heating and warmth retention. The addition of these thermal upgrades has increased the R-value of the walls.
Cost Effectiveness
Modular construction provided a cost-effective solution for the Khalsa School. Most of the construction was completed in a controlled manufacturing facility, so project risk was reduced, along with the impacts of weather conditions and limited trade availability. By utilizing off-site construction methods, they were also able to realize significant advantages in scheduling compared to traditional construction. During the design process, the interior spaces were carefully planned to allow for integration with the existing school site. The project has a strong focus on energy efficiency, which provides long-term value and cost-effectiveness for the owner, including features such as LED fixtures and energy-certified windows and doors. Modular construction was the best choice to ensure cost certainty and a high-quality project for the children in the community to learn and thrive.
See More Awards of Distinction Winners