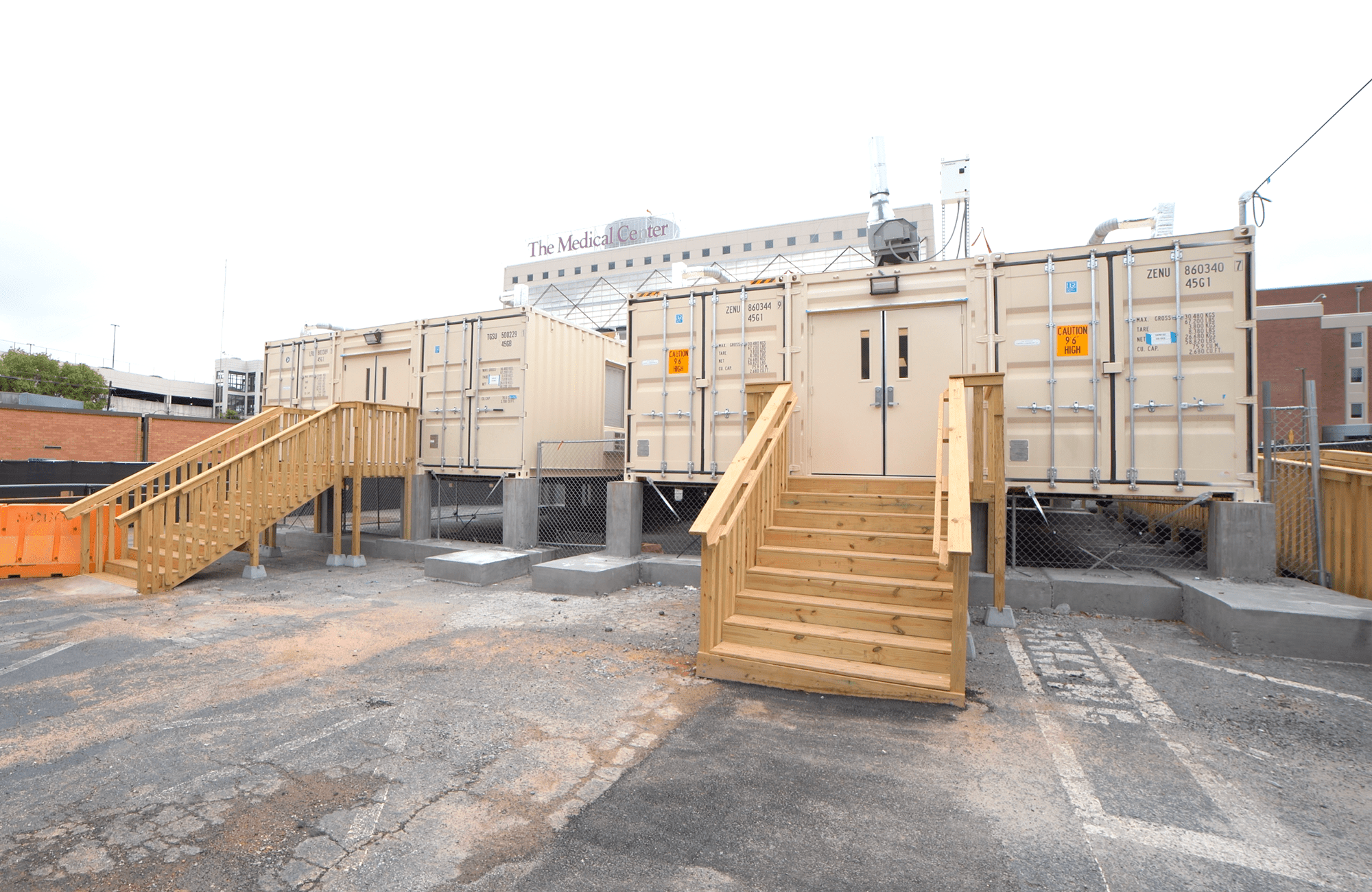 Main Category: Modular Building Design
Company: BMarko Structures, LLC
Affiliate: Choate Construction
Location: Albany & Macon, Georgia
Building Use: COVID-19 Temporary Hospital
Gross Size of Project: 6750 Square Feet
Days to complete: 36
Award Criteria
Architectural Excellence
The architectural excellence was rooted in the overall efficiency of the layout for the intended use. Each pod was comprised of 3 container modules, mated side by side to create a central corridor design that provided access to a total of 4 patients rooms, 2 rooms per container module. The corridor design allowed for an efficient mechanical layout to achieve the required air changes per hour and air filtration requirements in each individual room. A basic pier foundation allowed the building to be installed in underutilized parking lots with minimal site disturbance. Excellent planning and coordination between the mechanical engineer and the manufacturer were critical in the successful execution of prefabricating all of the copper lines for the headwall assemblies in such a compressed time frame.
Technical Innovation & Sustainability
The innovation lied in the ability to execute the project when the manufacturer's full-time facility was already at production capacity. In less than a week, a 100,000 square foot facility was leased, equipment was sourced, and over 80 part-time contractors were hired. From there, production was 17 hours per day, 7 days per week to deliver two hospitals in less than 5 weeks.
Cost Effectiveness
By partnering with suppliers, we utilized their existing inventory that allowed for cost-effective finish selections. In addition, we had suppliers also willing to partner in the endeavor and donate materials. Dennis Micahud, CertainTeed's R&D Director, reached out to BMarko and offered VinylRock™ ceiling panels and fiberglass insulation (value of ~$20,000) for free because they wanted to "do their part" with the pandemic.
See More Awards of Distinction Winners