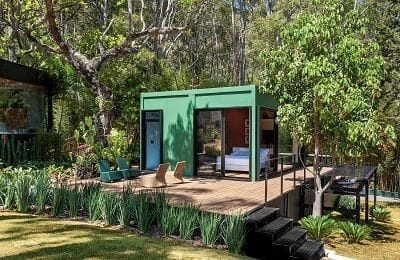 Main Category: Modular Building Design
Company: NRB Modular Solutions
Affiliate: CMC Modules
Location: Lapinha da Serra, Brazil
Building Use: Hotel, Master Suit, Bungalow
Gross Size of Project: 495 Square Feet
Days to complete: 23
Award Criteria
Architectural Excellence
Lapinha da Serra is located in the Brazilian Highlands, known for its natural beauty, wildlife, regional food, waterfalls and hiking trails. This bungalow was carefully designed to accent the surrounding living nature and provide guests with a memorable experience. Two modules were configured side by side, integrated with wooden deck to provide an open floor concept and used colors to distinguish each space. All in harmony with its surroundings. This master suite has been designed to be replicated throughout the property allowing for expansion of the resort. Its total area of 452ft², each module area 161,5ft². More than just a physical space, we shared an idea, a model to be easily adapted in other situations. Different layouts create different spaces that create different stories.
Technical Innovation & Sustainability
The two modules that were used on the project were built on CMC facilities. The structures are made out of heavy steel, giving a sturdy aspect to it. The outer and interior walls were built using a layering system. Inner walls are 3,0m (9'10") tall. The interior structure is made out of a light steel framing system. The center of the walls is filled with a 50,0mm (1,96in) thick EPS board. The outer layer is coated with a steel plate. These layers are built to provide thermoacoustic comfort and to decrease the propagation of flames. The modules were produced in an ISO 9001 certificated factory, using semi-automated production lines in a controlled environment. With a tight waste control, these modules are pre produced in work stations and all the parts are assembled and are ready to be transported to its destination. Modules are engineered in a way so they can be dismounted anywhere they are located. So it is possible to transport several modules at once.
Cost Effectiveness
The Project was conceived using two 15m² (161,4ft²) modules. Creating a master suite with a bathroom, kitchen, living room and bedroom in a 323ft² space, was a challenge. In order to clear space and to reduce costs, the plumbing system that supports the kitchen and the bathroom was placed inside a single wall, having this module acting as infrastructure, leaving the rest of the space free to get all the furniture, electronics and kitchen accessories. The project travelled from Mirassol, São Paulo, to Belo Horizonte, Minas Gerais to attend a architecture fair and then moved to its final destination, in Lapinha da Serra, Minas Gerais, travelling approximately 515 miles total. Both modules are connected by a metal plate. To dismount them to be relocated, a crew would remove the connection between the modules and then they are hoisted on top of a truck.
See More Awards of Distinction Winners