End of Trip Facilities and Changerooms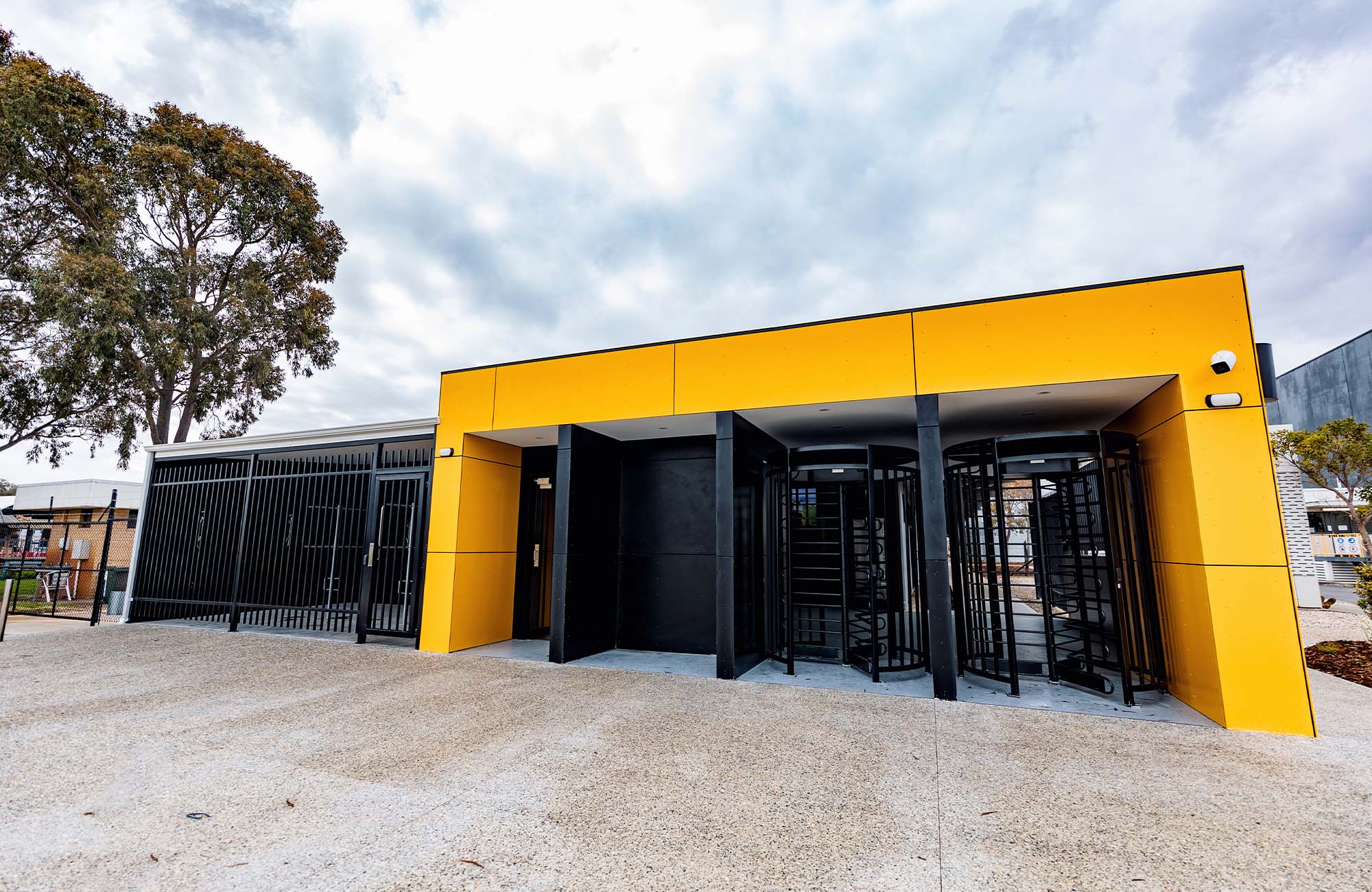 Main Category: Modular Building Design
Company: Fleetwood Australia
Location: Perth, Australia
Building Use: Changeroom, lockers, showers
Gross Size of Project: 5705 Square Feet
Days to complete: 300
Award Criteria
Architectural Excellence
This specialized building was custom designed for Westrac to serve 200 diesel mechanics. The bold and bright yellow entry statement and building design allows easy wayfinding for employee check-in and harmonizes with existing buildings in the precinct. The building is comprised of 10 modules, with a range of amenities including 221 lockers, bike racks, security turnstiles, 16 showers, 10 toilets and cleaner's store. The shower rooms are situated within the heart of the building to provide the utmost privacy. After entering through the security gates and a spacious entry hall, guests are welcomed with large floor to ceiling windows that provides ample natural light through the main corridor. Exterior highlight windows and reduced interior wall heights allow natural light to internally penetrate the centre shower area, reducing power costs and enhancing sustainability. Additional design features include smart design to interact with the existing verandah shelter and existing pathways.
Technical Innovation & Sustainability
The turnstiles provide increased security and seamless integration with the client's building access control systems. The building operates 24 hours a day, with motion sensors installed throughout, strategically placed on a timer to provide lighting only when in use, reducing energy costs while still allowing safe access. The building is designed to be female friendly, even though the workforce is currently 75% male mechanics and technicians. The building design allows for female workforce growth, allowing expansion of female-designated amenities in future, without requiring further engineering. Openings have been engineered with 'fake' walls, to be easily removed and re-configured. The concrete base building slab has been extended to allow heating, ventilation and air conditioning (HVAC) services to be supported and fixed to the modular structure, making relocation easy. The HVAC system is also optimized to reduce moisture levels and prevent mold and other moisture-related issues.
Cost Effectiveness
Fleetwood worked closely with the client to quote and design options supporting client plans and budget. Installed on leased land, our solution avoided the need for a new build at lease end, being capable of relocation to other sites. Our turnkey solution uses a concrete slab, being more cost effective for the large building area. Concrete slab thickness was doubled to match the floor levels of existing walkways and surrounds. This also offers improved thermal properties which saves further HVAC costs. The building finishes were carefully selected to withstand high traffic and reduce required cleaning and maintenance. A durable, high compact laminate was applied to minimize cleaning and repainting. High quality commercial grade tap wear was installed for long-term durability, and full height tiling was applied in wet areas to reduce maintenance and cleaning costs, resulting in significantly reduced whole of life costs over time.
See More Awards of Distinction Winners