Duffin Cove Oceanfront Lodging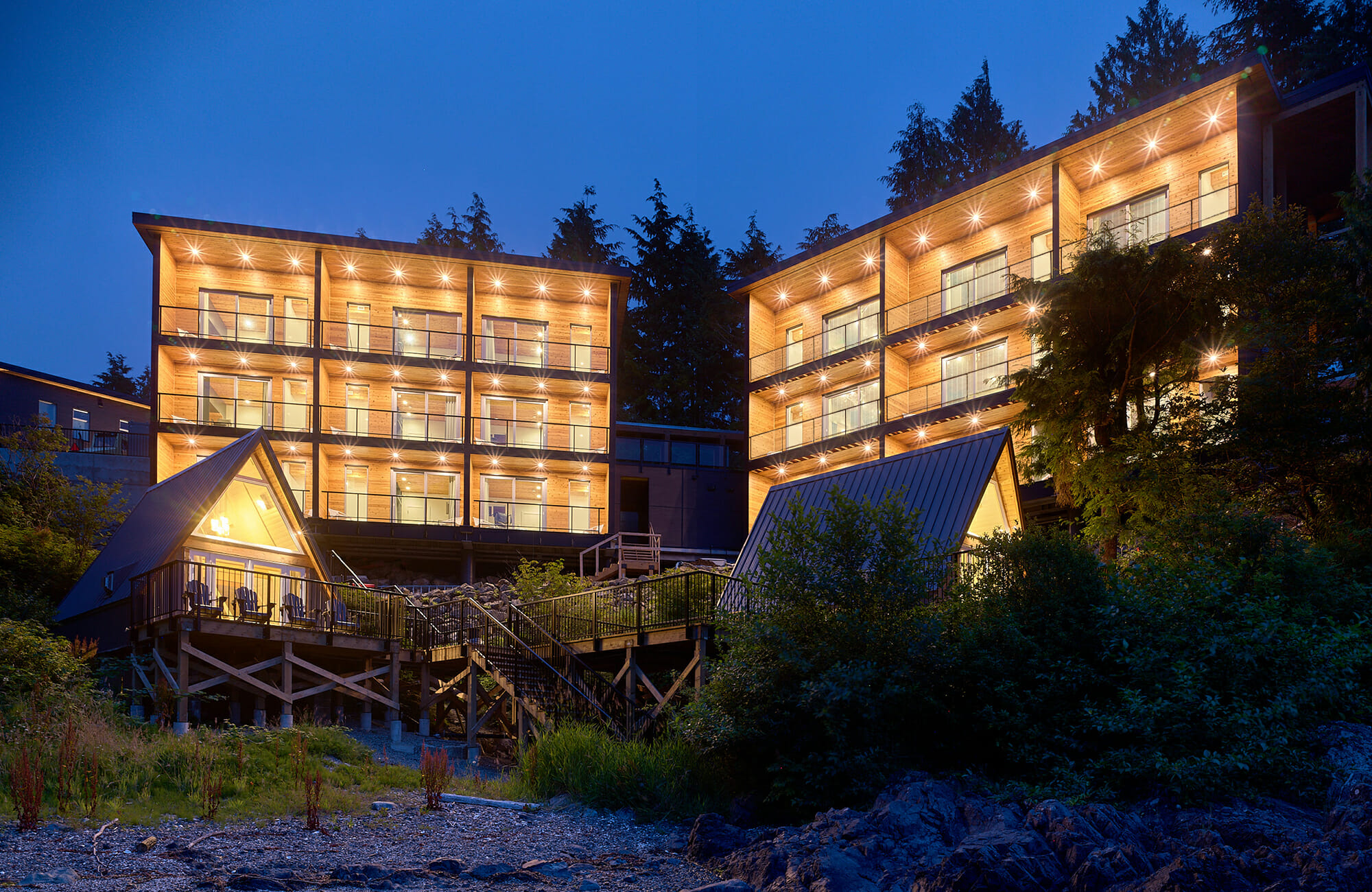 Main Category: Modular Building Design
Company: Nomodic Modular Structures Inc.
Affiliate: Muchalat Group
Location: Tofino, BC
Building Use: Resort hotel & staff accommodations
Gross Size of Project: 7850 Square Feet
Days to Complete: 939
Award Criteria
Architectural Excellence
The updates to Duffin Cove Oceanfront Lodging consisted of three new modular buildings: two hotel-style guest suite buildings consisting of 18 suites, and a reception/staff housing building. Each building consisted of three modules stacked vertically. The two guest suite buildings are connected by a heavy timber walkway with a concrete walkway finish. Each boldly-designed suite features a patio with breathtaking ocean views, premium fit and finishes throughout, and a fully tiled, floor to ceiling bathtub/shower area. The rooms and patio ceilings were finished with tongue and groove cedar plank to give the appeal that the room and balconies were an extension of the surrounding forest, and to reflect the historical construction of fishing villages along the West Coast. Additional features include a generous public plaza with numerous bike storage opportunities.
Technical Innovation & Sustainability
Due to limits in both access to site and availability for workforce housing, offsite fabrication was used for multiple items that were joined together on site with a 1/8" tolerance allowed between them. Nomodic was given the task of constructing the modular guest suite buildings in a challenging location – on oceanfront bluffs, 30 metres from the shoreline. After reviewing multiple foundation options (from traditional piles to a triodetic alternative solution), Nomodic managed the design and installation of an innovative rock-anchor pile and grade beam foundation to successfully place the buildings safely and securely along the challenging rocky shoreline. The galvanized structural steel base was fabricated in Vancouver and installed as a kit of parts on top of the concrete piles. The guest suite modules and heavy timber walkway were both fabricated off site in Cumberland; after they were installed, our onsite crew then framed the roof extension structure on the ground and craned it in
Cost Effectiveness
Naturally, one of the largest cost-effective methods in modular construction is the ability to reduce onsite construction time and overall construction schedule. Nomodic took advantage of this, completing the excavation, underground utilities, and foundation while the modules were being fabricated. Approximately 80% of the building's electrical, plumbing, sprinklers, HVAC, and carpentry were completed in the manufacturing facility, where trade labor rates are less than rates in the field. In a further effort to reduce costs, Nomodic completed numerous other components, including the galvanized structural steel base for the guest suite buildings, offsite.
See More Awards of Distinction Winners