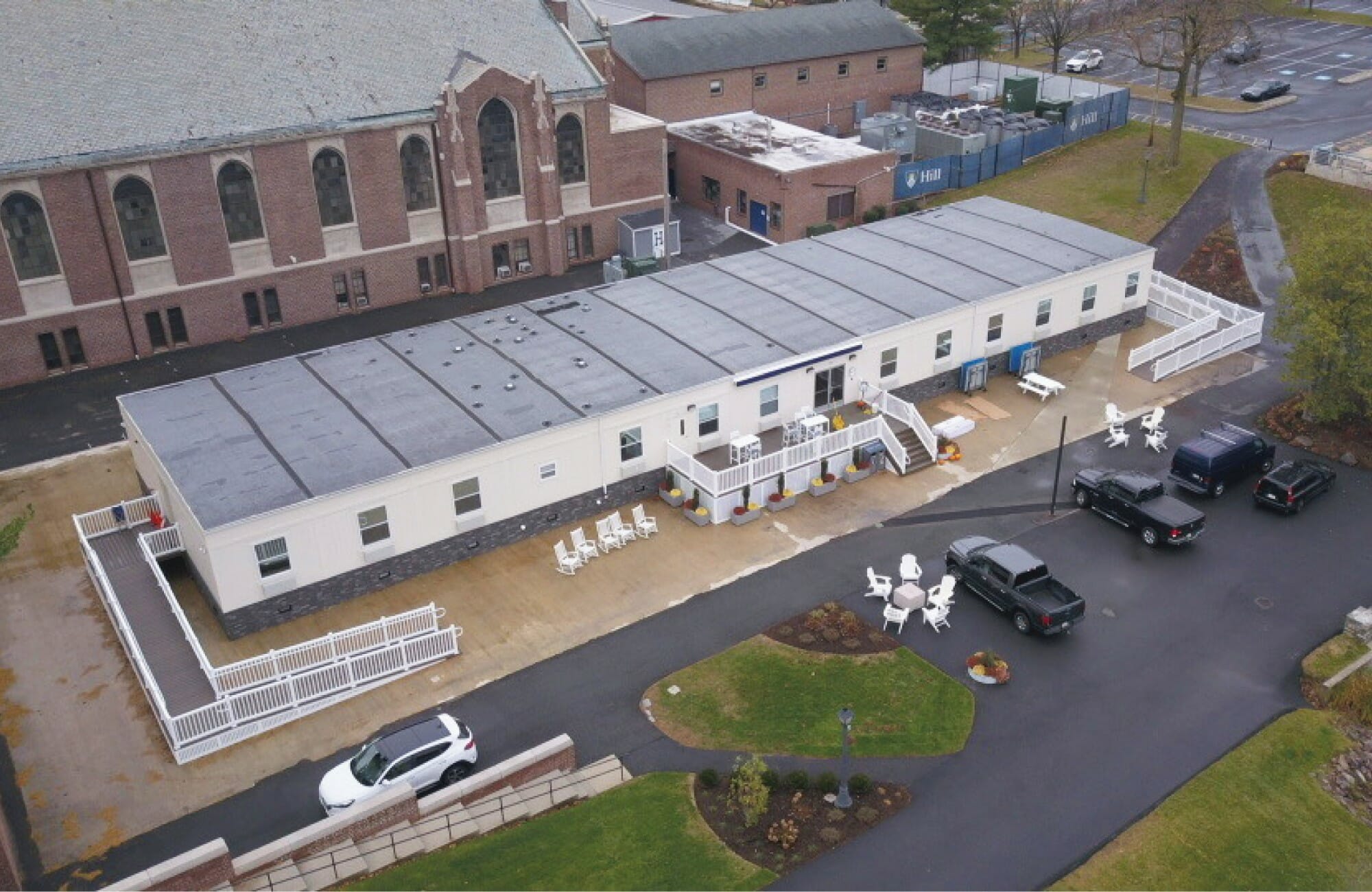 Main Category: Modular Building Design
Company: Vesta Modular
Affiliate: First String Space Inc.
Location: Pottstown, PA
Building Use: R-2 Residential
Gross Size of Project: 7056 Square Feet
Days to complete: 139
Award Criteria
Architectural Excellence
The Hill School, a private boarding high school, had an immediate need for additional dormitory space to support a growing student population and plans to renovate existing dorms in the future. Vesta Modular came up with a unique floorplan that housed 28 students, 1 staff room and 1 family staff room with a lounge space, laundry facilities, gang restrooms and a gender-inclusive restroom. The building is approximately 7000 sf, consisting of 14 modules set as a single story. The challenge was the site location, which was overlooking a dell and an underground creek, therefore no work could be done below grade. The school elected to use a site-installed faux ledgestone skirt around the perimeter to make the building stand out, as well as TREX decking and ramps to match the campus aesthetic. The new "Dellside Dorm" is a space for students to live comfortably so they can focus on their education.
Technical Innovation & Sustainability
Timing was the most important driving factor for the customer, so VESTA had to maximize the amount of work completed at the manufacturer to maintain schedule. This building had most components installed at the factory from the LVT flooring to the storefront glass doors. The faux ledgestone wainscoting on the building exterior was important to the customer to guarantee the dormitory did not have an "off the shelf" feel and was totally customized. We were able to complete this project on time so the students could move in as planned, ready for the new school year.
Cost Effectiveness
Since the existing site conditions did not allow us to perform any work below grade, we had to approach the foundation in a creative way, using wedge anchors and an existing concrete foundation slab and utilities from a previous modular classroom building. The building was designed with the plumbing centrally located and limited to three modules, minimizing the amount of manifolding and utility connections required during installation. The building was designed to be relocatable in the event the customer wants to expand in the future.
See More Awards of Distinction Winners