CWI Modular Building Nampa Campus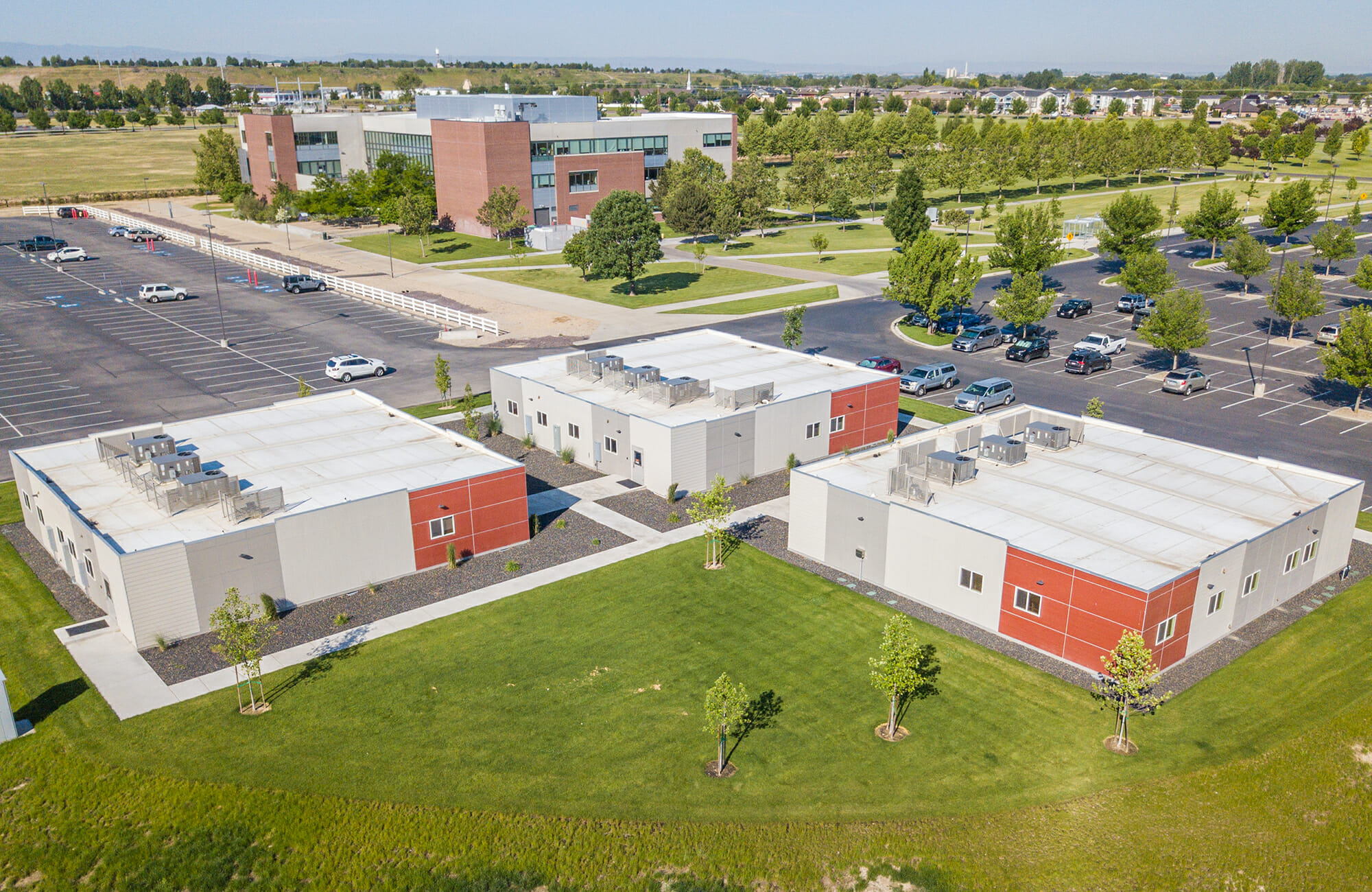 Main Category: Modular Building Design
Company: Pacific Mobile Structures, Inc.
Affiliate: Northwest Building Systems
Location: Nampa, ID
Building Use: Administration and Office Space
Gross Size of Project: 10800 Square Feet
Days to complete: 322
Award Criteria
Architectural Excellence
The College of Western Idaho's administration was outgrowing its space. Modular buildings were the most viable and cost-effective option to get the space they needed now while offering the option to repurpose and reconfigure the space for future needs. Pacific Mobile Structures provided three 60X60 modular buildings. The buildings were placed on an unused piece of land on campus in an L-shape, with sidewalks that wrap around each of the buildings and an open patch of land in the elbow of the 'L' to maintain an option to add a fourth building to complete the quadrant. A modified building height offered the appearance of traditional stick-built structures. The exterior of the buildings is composed of Hardie Plank and Panel customized with various textures and colors and utilized in various ways to match the existing structures on campus. Drainage spouts, roof mount heat pumps, fry reglets, and metal flashing across the top edges of the buildings complete the exterior for a finished look.
Technical Innovation & Sustainability
Because the College of Western Idaho has plans to use the buildings for additional purposes in the future, the buildings feature upgraded LED lighting units called Lithonia #2s that can be adjusted to accommodate future reconfigurations of the cubicle walls, both standard, and floor to ceiling, within each of the buildings. This ensures that the lights turn on above all cubicles and in all private offices and conference rooms with floor-to-ceiling cubicle walls with each new configuration. An app manages the light configurations on the janitorial staff's phones. They can program the lights to certain switches based on the needs of the cubicle configurations, and they can manually move the light fixtures in the ceiling, maintaining endless possibilities for the space.
Cost Effectiveness
The College of Western Idaho chose modular buildings for their expansion as a cost-effective alternative to stick-built construction that offers the flexibility to be reconfigured and relocated to accommodate the future needs of the campus. They also sought out the roof-mounted heat pumps as a cost-effective alternative to wall hung heat pumps.
See More Awards of Distinction Winners