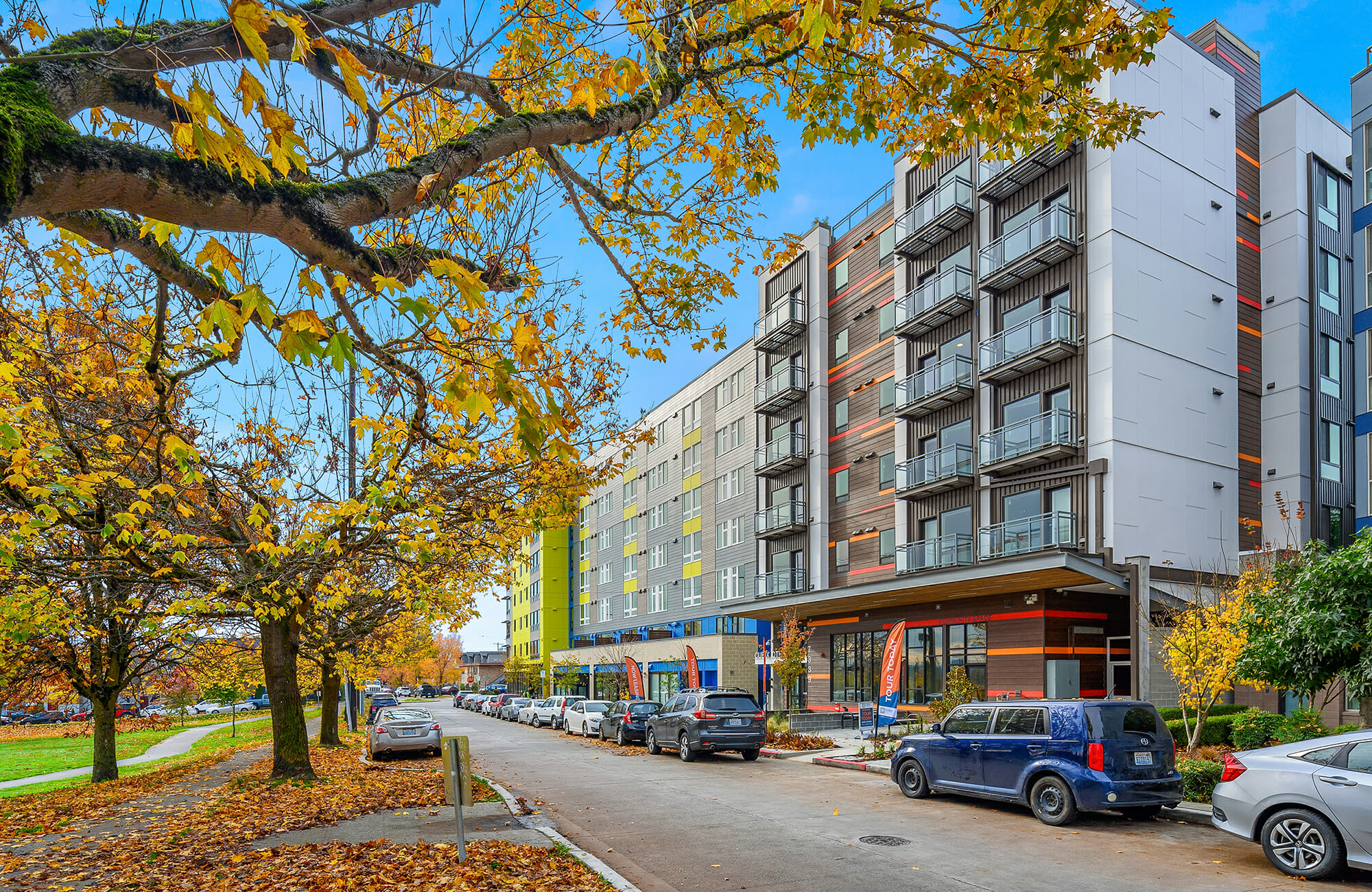 Main Category: Modular Building Design
Company: Jackson|Main Architecture
Affiliate: Acc U Set Construction, Inc.
Location: Seattle, WA
Building Use: Apartment building
Gross Size of Project: 41033 Square Feet
Days to complete: 928
Award Criteria
Architectural Excellence
Located near the Othello light rail station, Cubix Othello is a six-story modular structure with 85 units in studio and one to two-bedroom models. It was also the first building to utilize JMA's reconfigurable kit of parts, allowing for rapid iteration and development of future sites. The design is a single I form with a double loaded corridor spine and views of the community park across the street. The building spine is pushed north to open the southern façade with light and ground floor amenity space. The facade massing is rotated to maximize the angular site and continue the hemicycle mass created by the curved right of way and adjacent property proximity. The building is vertically modulated to respond to the adjacent building. The lower level is accentuated for street front engagement. The building modules are discontinuous to allow for ease of erection in the small site.
Technical Innovation & Sustainability
Cubix Othello develops it's modular approach based upon a concept dubbed Cubix, a repeatable set of modules that can be organized into studio and one to two-bedroom configurations. The concept allows for ease of planning, whether developing full cross-corridor modules or smaller organizational plans. In working with the client and the modular manufacturer very early in the process, this collaborative partnership provides multiple technological advancements including shared unit wet box construction, integrated accessible unit design and simplified MEP routing. Another innovation was developed through the structural design of the project. Using a drag-strut concept, the corridors act as a horizontal truss, holding the units toward the core of the building, and pulling those loads through the braces that lead back to the stair towers. This technique eliminated the need for hold downs and simplified the building set. Placement of the modules was completed in less than 8 days.
Cost Effectiveness
Cubix Othello is a housing project focused on workforce tenants. The target rent on the units was around $1,000 per month, an aggressive target for Seattle where rents can run double that amount. The project team worked hard to source readily available, easy-to-install, and cost-effective materials and equipment, specifically for the shower enclosures, solid surface countertops and plank flooring. The COVID-19 pandemic derailed plans to complete the building in early 2020. The delay was a challenge for managing costs because construction had already started in 2019 with the module set in August. The project was stalled for nearly a year which forced the team to hire a site contractor to finish the work. Final cost numbers are included, but the challenges that needed to be overcome far outweighed the ability of the ownership team to realize a cost-effectiveness thought to be possible. It should be noted that the modular build cost was quite economical and did yield good metrics.
See More Awards of Distinction Winners