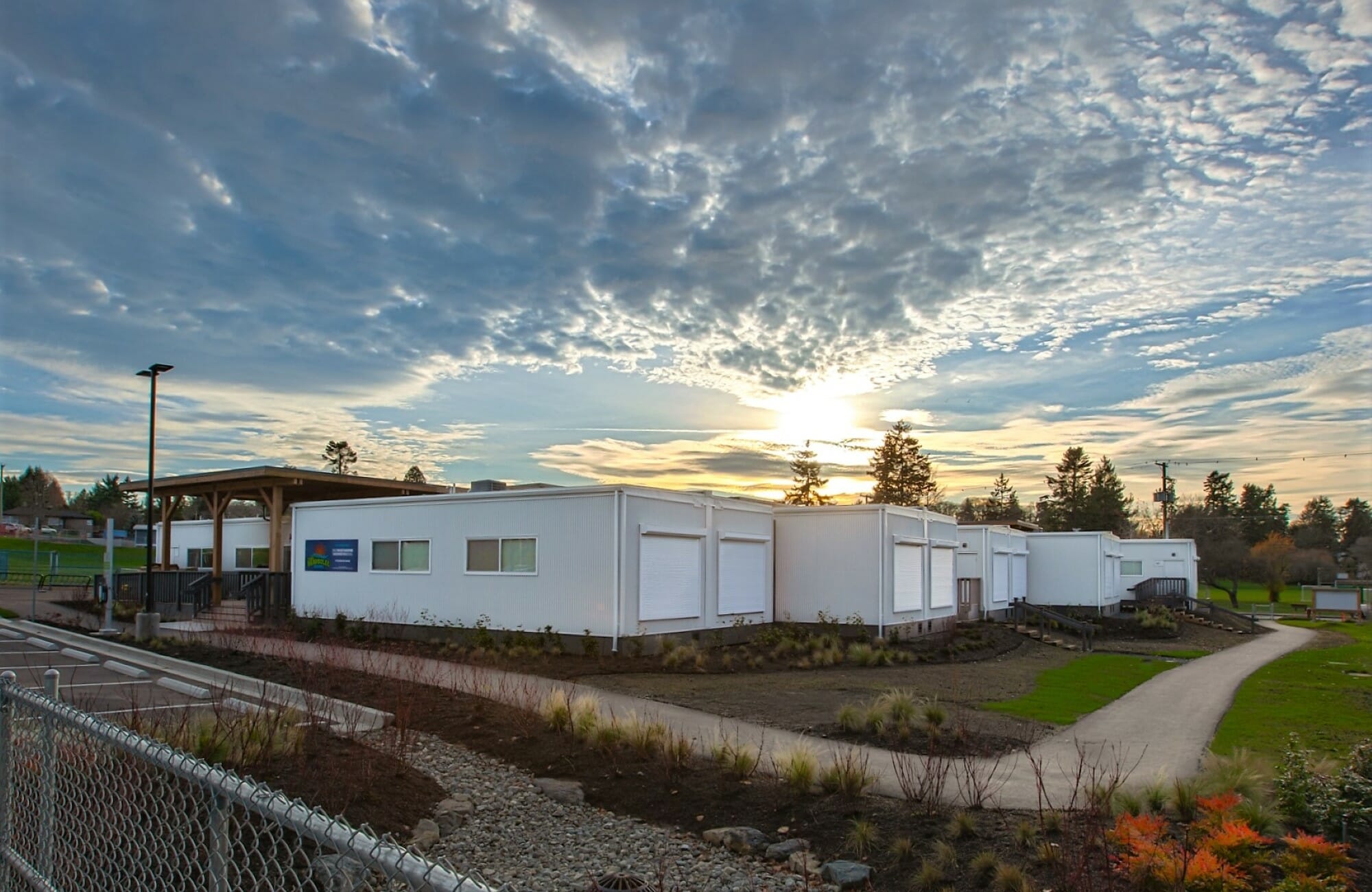 Main Category: Modular Building Design
Company: Fort Modular
Location: Victoria, BC
Building Use: Temporary Elementary School
Gross Size of Project: 11520 Square Feet
Days to complete: 164
Award Criteria
Architectural Excellence
The unique design incorporating a site built internal covered breezeway allows the stand- alone classrooms to feel as though they are constructed to replicate a fully integrated permanent elementary school. The offset building design adds visual interest and eliminates the typical cubic look of modular schools. The use of modular was chosen since the temporary school will only be sited at the current leased location for a maximum of 5 years. Modular buildings were designed to accommodate all of the functions of a standard elementary school which meant designing classrooms, a library, and administration offices. All classrooms were designed to be relocatable to a future unknown location. In doing so, all classrooms were built to meet the most extreme design requirements within BC. This includes maximum snow load, wind and seismic requirements to give the school district the maximum flexibility in relocating to any area of the province.
Technical Innovation & Sustainability
Sustainability was a very important aspect in the building of this facility as it was energy modeled and tested to use about 20 percent less energy than is currently mandated by existing building code. To achieve this level of efficiency, particular attention went into the modeling and design of the building envelope, attention to thermal bridging, and use of a highly efficient HRV and heat pump mechanical system. The result is a significant reduction in the operation expenses to maintain a comfortable indoor temperature and good air quality, which further helps the health of the occupants. Additionally, the building was constructed using wood frame modules which offers a more cost efficient and sustainable way to build, as it captures carbon, and allows for construction to be complete much sooner. It is also more efficient thermally and with the stand-alone nature of the buildings leads to a very soundproof school as it reduces sound transfers between buildings.
Cost Effectiveness
Due to the temporary nature of the project and the ability to re-use the buildings in another location, modular construction made the most sense versus other building methods. The speed of modular construction combined with a lower cost per sq.ft than site built construction made this building extremely economical. Using corrugated metal and simple junction details for relocatability was incorporated into the design which will make the building easier to deconstruct prior to moving to a new site. All mechanical and electrical systems are stand-alone systems which may result in higher up front capital costs, but will allow for lower life cycle costs in the future.
See More Awards of Distinction Winners