Cortellucci Vaughan Hospital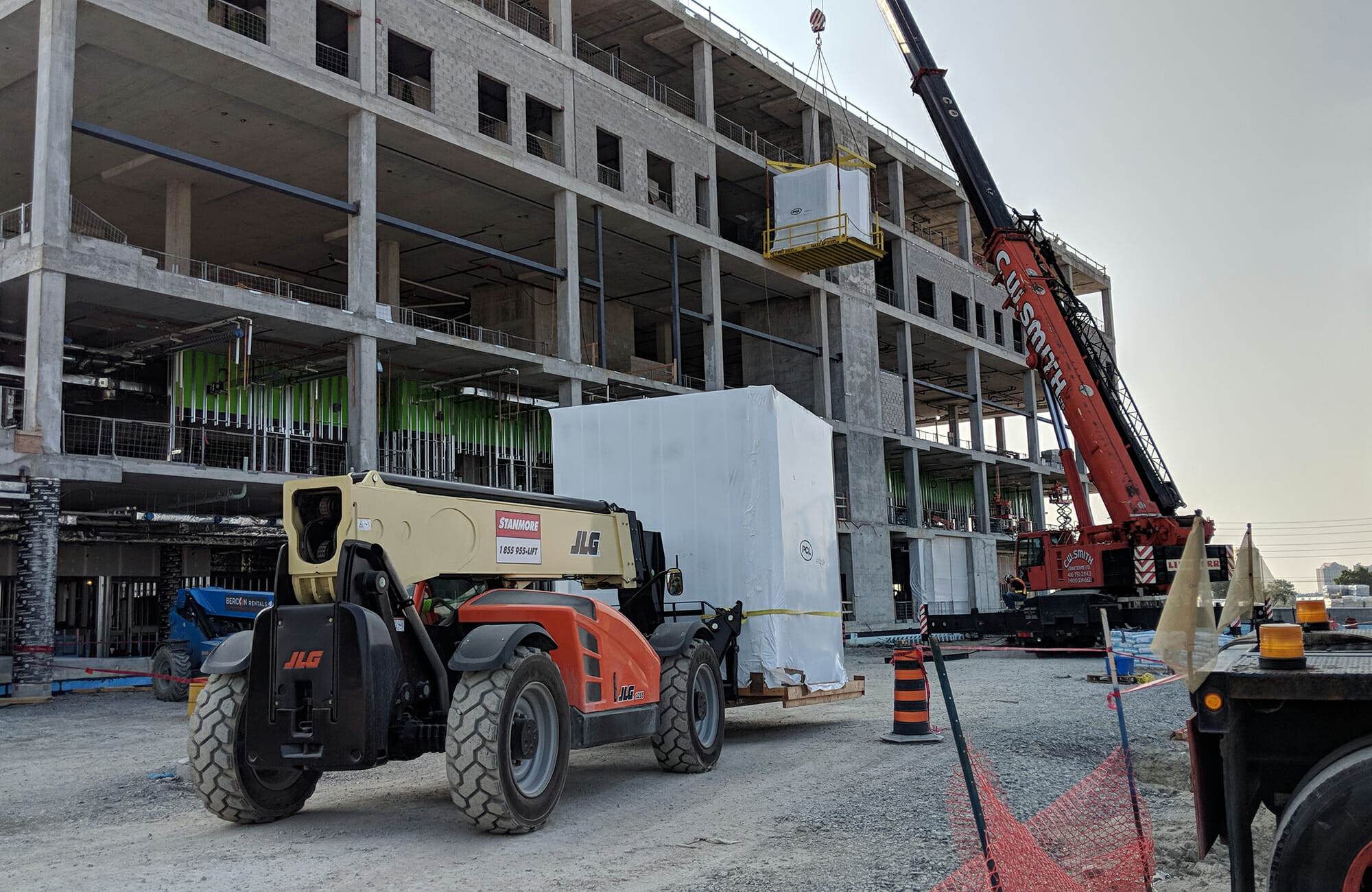 Main Category: Modular Building Design
Company: PCL Agile
Affiliate: 
Location: Vaughan, ON
Building Use: Bathroom pods for hospital suites
Gross Size of Project: 1200000 Square Feet
Days to complete: 424
Award Criteria
Architectural Excellence
The prefabricated pods resulted in the achievement of a level floor transition at patient room threshold as well as optimal drain slopes within the washroom wet areas. With each pod varying in size from 90 to 100 square feet, the team designed four types - Woman and Child, mental health, and medical surgical. Ten variations of the pods were built to ensure ease of installation and integration with the hospital layout. With 95% of interior construction completed offsite, each pod was delivered with flooring, wall protection, major accessories, M&E rough-ins and millwork. The interior of the pod ensured optimal space in the small area by having both the toilet and grab bars supported by wall posts and G90 sheets. During manufacturing, the exterior of the walls were left exposed to allow for safe and efficient mechanical and electrical inspection. Finishes were selected based on the hospital's interior design specified by the architect of record.
Technical Innovation & Sustainability
Each pod weighed approximately 5,000 pounds, so the team had to consider the strength of the concrete base. This led to the use of custom made high-density concrete floor. The strength of the floor was between 120 and 140 megapascal (MPa) and was achieved using ultra high-performance concrete. These floors were 15 mm thick at the drains, and could be cast and then stripped and handled in 12 hours. Key to maintaining production rates. Using CNC, PCL created forms which were built in an inverted position to attain the accuracy of a 0.1% slope. A custom hoisting cradle made of steel C-channels and HSS tubing was created to facilitated form release. The accurate dimensions and shape of each concrete slab was achieved by the team's adoption of the Bluco fixturing system. Laser scanning was used to maintain the accuracy of the as-built condition and mockups were tested prior to full scale manufacturing.
Cost Effectiveness
To minimize the high-risk of exposure to weather, it was crucial to protect the pod from water to avoid risk of mold formation, as the pods were planned to be delivered before the walls of the hospital were erected. High grade weatherproof products were used to withstand the weather and prevent any damage in between the time of delivery and partition wall erection. Preventative measures were taken during the shipping process to minimize water damage and ensure a long lifespan of the pod. Each pod was prepped for delivery by shrink wrapping the entire pod from top to bottom. The shrink-wrapped top was kept on even after delivery and installation on the slab, until the walls of the hospital were erected. The delivery sequence was planned with cost in mind. The pod was delivered to each level dependent on the placement of the concrete. The pods were placed after the reshores were removed, assuring that the concrete slab did not deflect after pod installation causing damage to the pods.
See More Awards of Distinction Winners